Margaret Cho appeared on Late Night with Seth Myers with some biting commentary for critics of her appearance at this year's Golden Globes appearance and comedy in general.
During the last Golden Globes in January, Cho played a stalwart, heavy-handed North Korean soldier with a decidedly skewed sense of what was entertainment.
"This is not a show." Cho said about the Golden Globes, while in character. "You no have thousands of babies playing guitars...You no have Dennis Rodman or any basketball at all."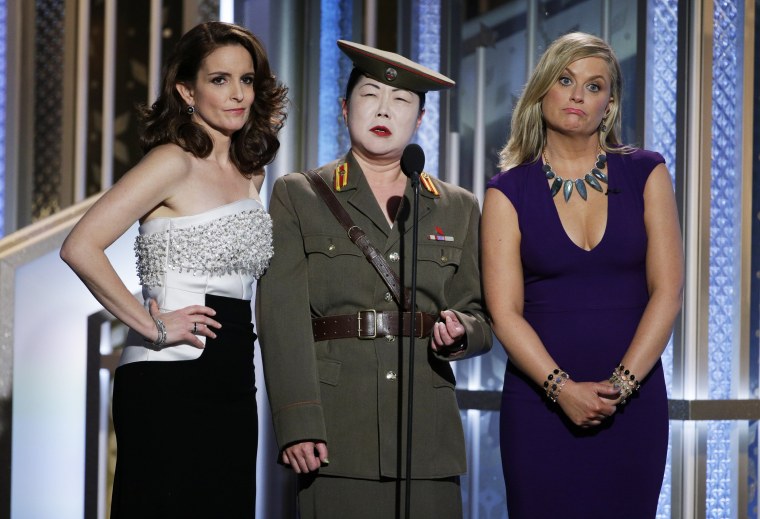 The character made numerous appearances throughout the broadcast, including closing the show with a stern, "Show over. I host next year."
Related: Golden Globes: Margaret Cho Gets Mixed Reviews
The portrayal was met with some criticism online, with detractors saying the character was offensive.
Cho responded soon after on Twitter and in interviews.
"I feel if there's negativity, it's other people's judgments about what they feel that Asian-Americans are allowed to do, really," Cho told Buzzfeed in January.
Related: Margaret Cho Responds to Critics of Her Golden Globes Cameo
Talking with Meyers about the backlash this week, Cho noted that much of the criticism came from whites, particularly from the U.K.
"A lot of [the criticism] came from England…England is where white people begin the whitening process, so they're as white as it gets. So they were really offended." Cho joked.
"I think what it is, is that white people like to tell Asians how to feel about race because they're too scared to tell black people," Cho continued. "It's easier, we have less melanin, we're probably not going to protest, there's no hashtag #koreanlivesmatter."
Cho also connected recent news events and national discussions around policing communities of color to the larger issue of how Americans discuss race, and how Asian Americans see themselves as part of that discussion.
"It's not just Eric Garner, it's not just Baltimore. For me, it goes back to Amadou Diallo and Rodney King," she said. "But whenever white and black people fight, Asians and Mexicans don't know what to do. Because we're like, 'Um, are we white?' We just want to be on the winning side."
"For comedians, we're just trying to, in a way, make people happy," Cho said. "I always think jokes are OK, you're able to say whatever."
Cho recently announced the release of a new hour special, coming to Showtime in September, and a two month national tour to begin in October.