"Master of None" co-creator Alan Yang took to the Emmy's stage Sunday night to accept the Netflix series' first Emmy Award, while also providing some lighthearted encouragement on how to increase diversity on screen.
"Asian parents out there," Yang said, accepting the award for Best Writing for a Comedy Series, next to "Master of None" co-creator and star Aziz Ansari, "if you could just do me a favor, just a couple of you: get your kids cameras instead of violins. We'll be all good."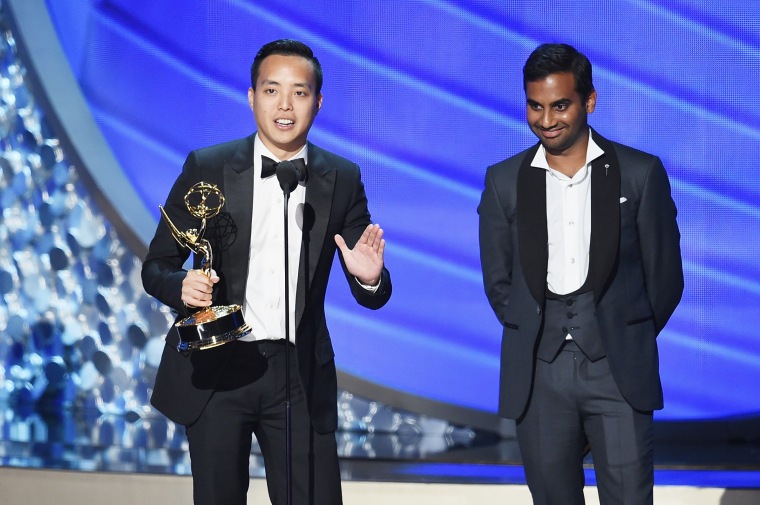 "Master of None" (which began shooting its second season last month) won Sunday night for its "Parents" episode, which focused on the relationship between immigrant parents and their children. On stage accepting the Emmy, Yang said that his own parents were the inspiration behind the episode. Last year, "Master of None" actor Kelvin Yu told NBC News that Yang and Ansari "manage[d] to be entertaining without encasing the parent characters in some kind of manufactured comedy template."
"There's an authenticity to the performances by Aziz's parents and the actor who played my father that no network has been brave enough to put on screen," Yu said.
RELATED: Kelvin Yu On Diversity, Hollywood, and How 'Master of None' Gets It Right
Along with being the first Emmy Award for "Master of None," it was the first Emmy win for both Yang and Ansari. "Master of None" had previously been recognized by the Peabody Awards, Critics' Choice Television Awards, and American Film Institute Awards.
RELATED: 'Master of None' Named Best Comedy at Critics' Choice Awards
Before leaving the stage Sunday, Yang said he believed in the power of the Asian-American community to change the conversation about diversity in Hollywood.
"Seventeen million Asian Americans in this country...and there are 17 million Italian Americans. They have 'The Godfather,' 'Goodfellas,' 'Rocky,' 'The Sopranos,'" Yang said. "We got Long Duk Dong."
Yang continued, "We've got a long way to go, but I know we can get there."
Follow NBC Asian America on Facebook, Twitter, Instagram, and Tumblr.