PHILADELPHIA — It was a proud moment for Sruthi Palaniappan when she got to introduce her state to the Democratic National Convention during the roll-call of votes Tuesday night.
"The point we were trying to drive yesterday is that our state is a state of female firsts," Palaniappan, an 18-year-old delegate from Iowa, told NBC News.
That message resonated loudly Tuesday as Hillary Clinton became the first female ever nominated of a major political party for the office of president.
Palaniappan, whose parents emigrated from India in 1992, is one of the youngest delegates at this year's convention. Back in April, she took the stage in Iowa with 40 to 50 other hopefuls to make her case in a one-minute speech why she should be part of the state's delegation, Palaniappan said.
"I wanted to drive the point that young people want to get involved in political discourse," said Palaniappan, who graduated high school this year.
Voters were convinced and elected Palaniappan as a Clinton delegate to represent her congressional district.
Palaniappan's time in Philadelphia so far has been packed with conferences as well as delegation and caucus meetings, visited by elected officials, party heads, and community leaders. Democratic vice presidential pick Sen. Tim Kaine (D-VA), Sen. Cory Booker (D-NJ), and former Democratic candidate Sen. Bernie Sanders (I-VT) were among those who spoke at Iowa's daily breakfasts, Palaniappan said.
Affordable education is a key issue for Palaniappan, who this fall will attend Harvard and major in government, with a minor in global health and health policy.
"I want to see everyone be able to go to school for free," she said. "I don't think that should be a burden or restriction to achieve you dreams."
"I wanted to drive the point that young people want to get involved in political discourse."
The Democratic convention got off to a rocky start this week as some Sanders delegates and supporters, including Asian Americans and Pacific Islanders, were still not sold on a Clinton candidacy. The delegate count was close in Iowa, with 23 pledged delegates going to Clinton and 21 to Sanders.
The remaining seven unpledged delegates, known as superdelegates, gave their votes to Clinton. Sanders supporters have criticized superdelegates, saying they unfairly favor establishment candidates.
Speaking for the Vermont delegation, Sanders moved to nominate Clinton at the end of the roll-call Tuesday evening to thunderous applause and cheers. He also spoke Monday, saying the November election must be about "bringing our people together, not dividing us up."
"I think when Senator Sanders addressed the convention, he did it impeccably," Palaniappan said
Palaniappan said she was happy to see Clinton adopting some of the policies Sanders promoted in his campaign, saying she believes Sanders can unite the party, but also added, "I think we also need to be able to listen to each other."
RELATED: Clinton Campaign Aims to Woo Sanders Voters, Millennials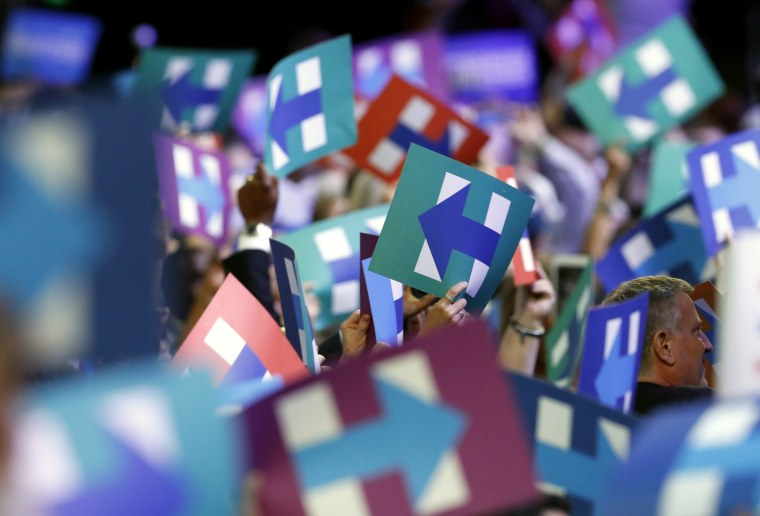 Palaniappan may have four years of college ahead of her, but she said she hopes some day to run for office.
"When I told my parents that I want to run for public office, they said, 'You probably won't make a lot of money,'" she said, noting there's a perception among Asians that their children should take on seemingly more lucrative jobs.
RELATED: Report: Only 14 Percent of State Legislators Identify as Minorities
But she said her mom and dad accepted her decision and are both extremely proud of all she's accomplished, Palaniappan said. Her father also accompanied her to Philadelphia.
"It's not necessarily about making the most money, but impacting the most lives," Palaniappan said.
Follow NBC Asian America on Facebook, Twitter, Instagram, and Tumblr.