For Steven and Millie Tani, retirement has opened a new chapter filled with costumes, conventions, and scores of photo requests from fans who affectionately declare the couple "relationship goals."
The Tanis, who have been cosplaying as popular Disney and Marvel couples for the past three years, became internet celebrities in 2016 when a photo of their "Captain America" Steve Rogers and Peggy Carter went viral at WonderCon. Since then, the San Gabriel Valley-based couple said they've been surprised by the media attention — some of which has even been international.
"Germany wants to write about us," Steven said. "Brazil and Japan want to write about us. It's crazy. We're normal people like everyone else. We're just having fun."
The Tanis, who are in their early 60s, were first introduced to the concept of cosplay by their daughter, Ann, who would cosplay as her favorite anime and manga characters in high school. While they actively supported their daughter's hobby — Steven would help craft her costumes, and they both took turns dropping her off at Anime Expo over the years — it wasn't until 2014, when the couple attended Mickey's Halloween Party at Disneyland that they fell in love with cosplaying themselves. Not wanting to attend a Halloween party in regular clothes, Steven and Millie decided to go as Carl and Ellie from the Pixar film "Up."
"Those characters made the most sense for us, because I already had the grey hair and eyebrows," Steven said.
"And the grumpy face," Millie added.
They spent some time preparing their costumes, hunting for tweed jackets and safari hats at thrift stores, selecting just the right suspenders for Carl's "old man" look. When the day of the party finally arrived, Steven said he felt self-conscious.
There's so many things we could be doing with our retirement, things we could be doing around the house. But life is too short to not do what you want to do. If you meet your soulmate or someone with your same interests, you have to go for it.
"I was so embarrassed to be seen in costume. I walked into the park with my head down," Steven remembered, laughing. "But then a kid dressed as Russell approached us and asked for a photo. Seeing him so excited made us kind of excited, too."
Carl and Ellie were a hit that night. Receiving so much attention from strangers felt unnatural, but not unwelcome, to the Tanis, who describe themselves as "pretty introverted."
Their shy personalities were what brought them together. In 1988, Steven was living in Boyle Heights in Los Angeles and working as a grocery produce manager when he decided to post a personal ad in the Los Angeles Times. For someone as shy in person as he was, writing a small column about himself felt like the best way for Steven to meet women.
Millie was working downtown at the time. Steven's ad caught her eye, and she placed it aside. When he posted a second ad a few weeks later, she instantly recognized it as having been written by the same person and decided to respond.
"His ad got my attention because it was so different from what the others said," Millie said. "It was honest: it said he was shy, didn't smoke, didn't party."
"It was very boring," Steven added. "But that's just the kind of person I am."
The two corresponded through written letters for months before agreeing to meet in person. When Steven drove Millie home after their first date, they sat in his car and talked for five hours.
"After the first date, I knew she was the one," Steven said. "When you meet your soulmate, you just know."
He proposed to Millie in April; they were married in September.
Years later, the couple is now not only used to the attention, but they they enjoy it. After having fun at their first Mickey's Halloween Party, they returned the following year as Bert and Mary Poppins, magic carpet bag and all. Their daughter suggested they keep in touch with their new cosplay friends through social media, so they set up Facebook, Twitter, and Instagram accounts under the name "Cosplay Parents."
Steven and Millie describe their lives as "cosplaying 24/7." Their recent costumes have included Wonder Woman and Steve Trevor, More recently, post-Steve and Peggy photo fame, they've cosplayed as Wonder Woman and Steve Trevor and brought back their Carl and Ellie costumes for Dapper Day 2017 at Disneyland. Their future cosplay plans at the moment include Indiana Jones and Short Round from "Indiana Jones and the Temple of Doom" and Eggsy and Roxy from "Kingsman: The Secret Service."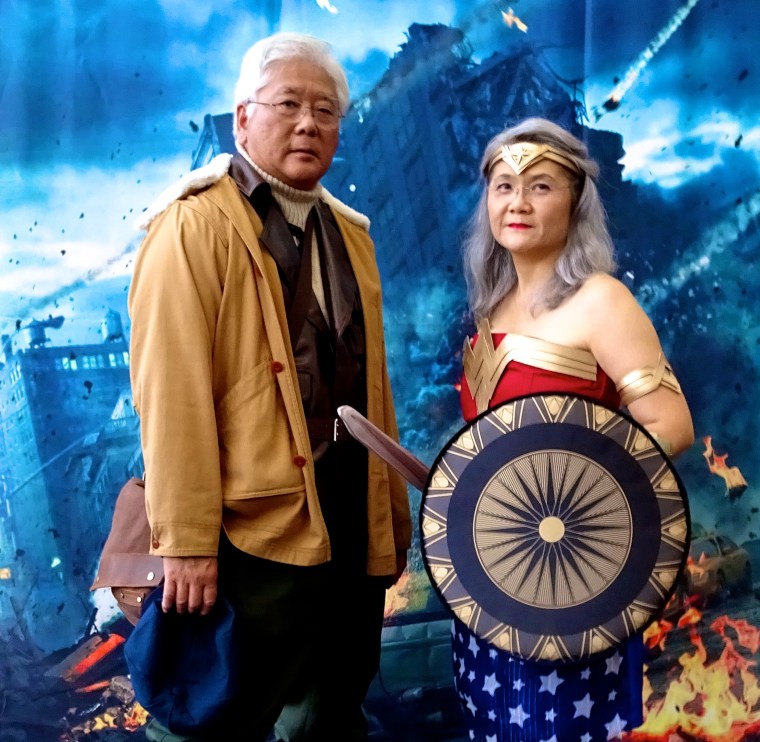 But when they're not spending months preparing their next looks, the Tanis say they enjoy going to the movies together. Their favorite kinds of movies are, of course, ones made by Disney, Pixar, and Marvel.
"There's so many things we could be doing with our retirement, things we could be doing around the house," Millie said. "But life is too short to not do what you want to do. If you meet your soulmate or someone with your same interests, you have to go for it. If you want to try something new, do it."
"Millie and I both grew up in strict Japanese American households, and we were raised to work hard and take things seriously," Steven said. "Now, we're learning to let loose."
Follow NBC Asian America on Facebook, Twitter, Instagram and Tumblr.