Ashley Liai assumed she was performing a regular co-choreographed dance with her boyfriend, Phil Wright, on July 12, the couple's eighth anniversary.
But halfway through their routine to John Legend's "You & I (Nobody in the World)" at the Millennium Dance Complex in Los Angeles, Wright got down on one knee.
The couple's proposal video has since gone viral, with more than four million views on social media. Wright's question took Liai by surprise in part because she thought he would wait two more years to propose on the couple's milestone 10-year anniversary.
"The first thought that ran through my head was, 'oh this is happening!' I was completely taken away by the whole experience, I really didn't think he would propose this year," Liai, 29, told NBC News.
"I feel like any proposal should reflect that couple's relationship, and it was perfect. We met in a dance class, and it's perfect that he proposed in that setting."
Dancer-choreographer Wright, 30, said he was ready to propose as their eight-year anniversary approached. Two weeks before the date, he called his cameramen and laid out an elaborate plan to shoot a special co-choreographed piece to embody their love story on the dance floor.
"I knew whatever I had to do had to be big," Wright told NBC News. "I really wanted it to be big, and I really wanted it to be really special for her. Let me go ahead and consolidate everything into one room — everything in that one room is something I love."
While the camera and lights were rolling, approximately 130 people — mostly Wright's dance students — watched the couple dance. The crowd knew it was the couple's anniversary, but didn't know Wright was planning on proposing, he said.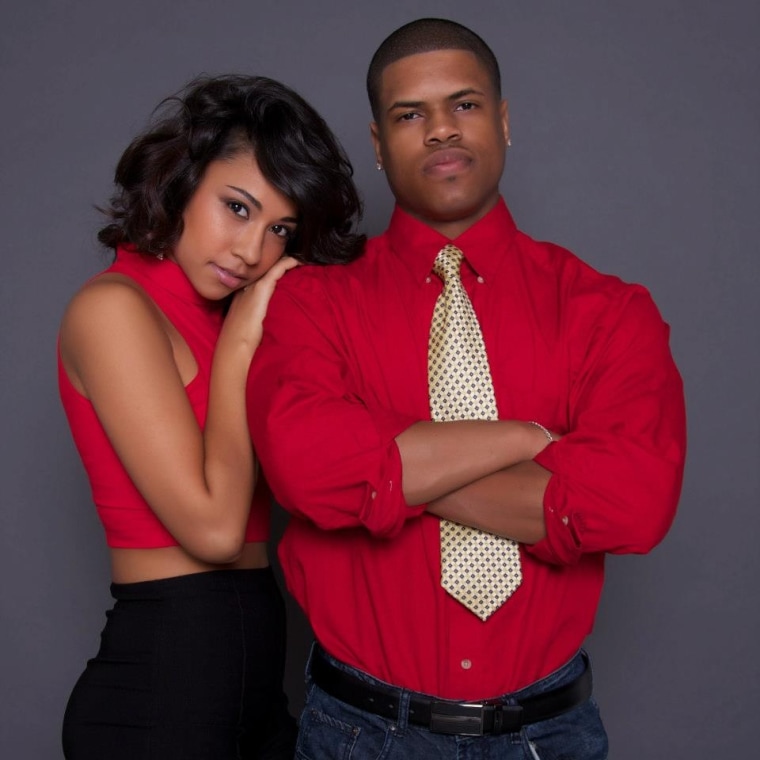 Wright said that he constantly checked his back pocket to make sure the ring was planted in place noting that the ring actually fell out of its box at one point so he had to distract Liai and put it back.
"I was so nervous because imagine if I had taken that ring box out and nothing been there," said Wright.
"I still would have said yes," Liai said.
Wright said he choose Legend's "You & I" because the song spoke to his and Liai's relationship and the hardships they had faced.
"I've always tried to make it very clear to Ashley that, 'hey, you're my girl,' no one else is out here," he said. "There's no other girl out here... although I'm traveling and working with females here and there, you're my home."
Liai and Wright first met at a dance studio where Wright taught hip hop classes in Miami in 2009. Liai was looking to take her first hip hop class as she was hoping to expand her dance training and eventually audition as a dancer for the Miami Heat. She took one of Wright's hip hop classes and was hooked.
"It wasn't love at first sight, but throughout the months of knowing him, I knew I wanted to be more than just friends," she said.
One of their first dates was at the dance studio. "He asked me and said, 'do you want to go to the movies or just hang out at the studio?' So we choreographed and we brought snacks and drinks," said Liai.
Over the years, Liai has trained in Polynesian, Hawaiian, Tahitian, Maori, and Samoan dance. She started her training at the age of 5 and began regularly performing through her family's entertainment company, Polynesian Proud Productions, Inc.
"Even when I was training, I was always still doing Polynesian [dance], we always did shows and I juggled both at the same time," Liai said. "And any chance I get, even if it's to choreograph, I always throw in my culture in there because it's important to me."
In 2013, Wright and Liai made the decision to leave Miami and move to Los Angeles to pursue their careers in dance and acting.
The couple said they spent about four months couch-surfing and living out of Liai's car until they could secure jobs and an apartment.
Liai said one of the hardest things was to leave her family and the family entertainment company behind, though she still frequently travels and visits home often.
"I made everyone in the room realize it was our eight-year anniversary so everyone knew it was a special day but didn't know how special it was going to get."
"My family is everything. I've always been with them and the family company," she said. "It's nice because I can still choreograph and [fly back]."
Since uploading the video on Instagram on July 15, Wright and Liai have been overwhelmed by the outpouring of love and responses.
"When it happened, it was just so surreal and I had no idea that it would be this year," Liai said. "I feel like any proposal should reflect that couple's relationship, and it was perfect. We met in a dance class, and it's perfect that he proposed in that setting."
The couple says they haven't decided on the wedding venue yet, but know it will be outdoors in Florida. "You & I" is expected to be on the playlist.
Follow NBC Asian America on Facebook, Twitter, Instagram and Tumblr.