When the House of Representatives voted earlier this year to repeal parts of the Affordable Care Act, Mai-Khanh Tran decided she would run for Congress.
For the 52-year-old pediatrician, who has been working in Southern California for 25 years, the bill was a direct attack on her patients.
"I saw the effort to repeal and replace the Affordable Care Act as something that would devastate the people I've been serving," Tran told NBC News.
"I think the effort to improve Obamacare would be something that, as a provider and as a small business owner, I would applaud and want to pursue."
In June, Tran, a Democrat, announced her run in next year's midterm election to represent California's 39th Congressional District, which is being represented by Republican Rep. Ed Royce. Royce has been a member of Congress since 1993.
Despite Royce's long tenure, Tran's candidacy could prove a threat. The district is one of the more than 50 Republican-held seats that the Democratic Congressional Campaign Committee is targeting in 2018. It also voted for Hillary Clinton over President Donald Trump in the 2016 election, with Clinton receiving 51.5 percent of the vote to Trump's 42.9 percent, according to data from the California Secretary of State.
And 2016 estimates by the U.S. Census Bureau show that it's a majority-minority district. Forty-eight percent of its population identified as White, with 31.88 percent identifying as Asian. In addition, 34 percent said they were Hispanic, regardless of their race.
"I think the demographics of Orange County have changed so much that our congressman does not represent the needs and the issues of the community," Tran said.
Patrick Mocete, Royce's campaign manager, told NBC News in an email that the 39th District is and always has been Royce's home.
"Every week Ed is out in his district; meeting with constituents, listening to their needs, and fighting for a stronger economy and a brighter future for the diverse communities he represents," he said.
Tran relocated to the district this year after previously living in the cities of Fountain Valley and Irvine, which are outside the district. Residency is not required to represent a district in Congress.
Tran said she doesn't think it matters that she's lived outside of the area because residents of Orange County care about the same issues: healthcare, education, and job creation. She also noted that she had both patients and employees who live in the district.
"I don't see me being that out of touch with this community," she said.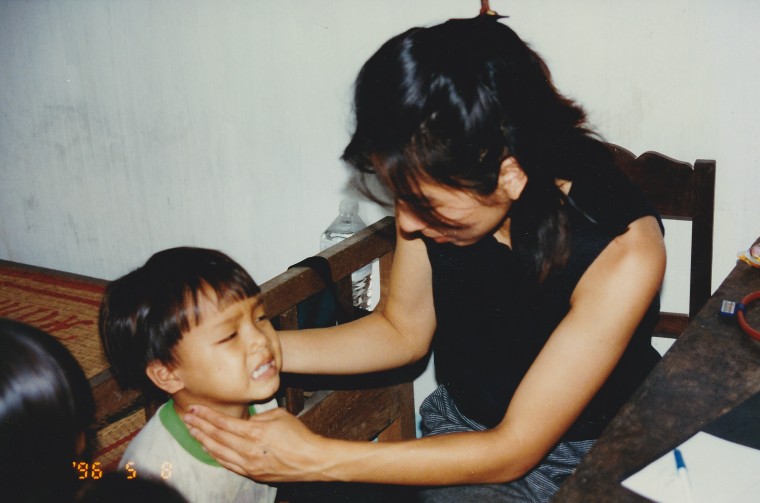 Born in Vietnam, Tran said she came to the United States as a 9-year-old in 1975 after the end of the Vietnam War.
Her parents sent her and her three siblings to the country first, Tran said. Six months after they left Vietnam, the family reunited in rural Oregon.
Tran said finances were tight when they came to the U.S. Her family lived in the living room of a one-bedroom apartment, she added, renting out the bedroom to make extra money. Tran's mom sewed and embroidered while her dad studied for a second career in. The kids spent summers picking berries to help make ends meet.
She left Oregon in 1983 to attend college at Harvard. She said she went on to work as a financial analyst on Wall Street for a brief period of time and then enrolled in the Brown-Dartmouth medical program for medical school.
Tran said she decided to become a pediatrician after reflecting on the flight from Vietnam.
"I remember how scared and how lost I felt, and how just uncomfortable the flight was," she said. "So for me, the ability to bring comfort and security to a child was so important."
Tran's central policy positions tie back to the well-being of children and health care.
She noted that she's entering politics as a health-care provider, business owner, and a patient, having survived breast cancer twice and undergoing multiple rounds of fertility treatments in her 40s. She said those experiences would give her insight into healthcare policy.
"I think the effort to improve Obamacare would be something that, as a provider and as a small business owner, I would applaud and want to pursue. But definitely not at the cost of cutting out insurance for millions of people in the country," she said.
The environment, gun safety, and women's rights are other issues of concern for Tran.
"I think the demographics of Orange County have changed so much that our congressman does not represent the needs and the issues of the community."
To face Royce in the general election, Tran must place in the top two of California's non-partisan June 2018 primary in which Royce will also run. In total, eight candidates have joined the race, including a former Obama appointee, a Navy veteran, and a former college professor.
Shortly after launching her campaign, Tran was endorsed by Emily's List, a PAC that supports pro-choice Democratic women.
"Mai Khanh's story is an inspiration and a testament to her determination," Shriock, the group's president said in a statement. "Now, she's running for Congress because she believes the families of the 39th district deserve better."
In August, Tran also received the endorsement of the chair of the Democratic Foundation of Orange County, Dan Jacobson. Jacobson cited Tran's toughness and experience as a doctor for his support.
"The question isn't so much why do I support her; the question is why wouldn't I support this great woman," Jacobson said in an email.
Tran's focus is now on fundraising and getting out into the community to listen to residents' concerns, she said. She added that she has cut down the hours she works at her practice by half to attend to campaign logistics at her new home.
"When I feel like something needs fighting for, I don't give up," she said. "I wanted to have a child, I didn't give up.... So I don't see me giving up in terms of making sure that this community has better representation and a stronger voice."
Follow NBC Asian America on Facebook, Twitter, Instagram and Tumblr.
CLARIFICATION (Oct. 5, 2017, 7:00 p.m.): An earlier version of this article stated that Tran completed her medical degree at Brown University. She enrolled in the Brown-Dartmouth medical program.