I spent the summer between my undergraduate and graduate studies teaching conversational English in Japan, in the suburbs of Osaka. That summer was a great adventure. I was fully immersed in a different country where I was unfamiliar with the culture and speaking basic Japanese that I had learned in less than one month's time. Even the food was unfamiliar: miso soup and salad for breakfast, takoyaki (octopus dumplings) as a snack, and grilled rice were delicious but unexpected. I craved a little bit of normalcy and chicken teriyaki was comfortingly familiar and readily available in Japan.
When I came back, I went to graduate school, taught elementary school for a number of years, fell in love, married, and became a mom. I love my life but there were times I longed for a great adventure. Again, chicken teriyaki was my connection to being a young Asian American in a different country. Since my children were very young at the time, a delicious kid-approved meal must be prepared in a no fuss way for a busy mom: marinate and broil on both sides.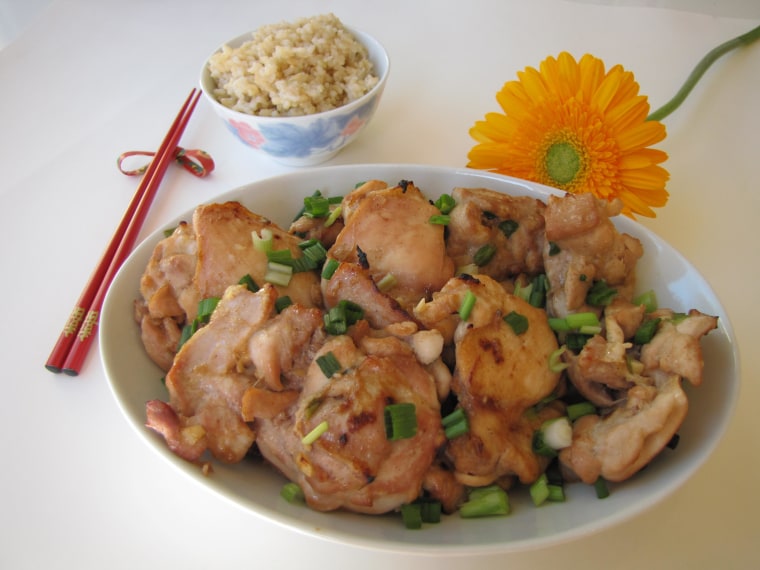 Broiled Teriyaki Chicken Thigh Recipe
2 trays boneless, skinless chicken thighs (approximately 12 pieces)
⅓ cup teriyaki sauce
1 scallion, thinly sliced (extras for garnish)
1 clove garlic, minced
Instructions
Use scissors to trim off the fat from the chicken thighs and place the thighs into a large bowl. Add sauce, scallion and garlic (if using) and marinate for 15 minutes.
Check that the top rack in the oven is 4 inches from the broiler element and preheat the broiler on high for a few minutes.
In the meantime, line a large baking sheet with foil for easy clean up.
Place chicken pieces on the baking sheet and discard marinade.
Spread the pieces out so that they lie flat and do not overlap.
Broil for 6 minutes and then turn over each piece of chicken and broil for another 6-7 minutes.
The chicken is ready when the meat looks caramelized (golden brown, with a few brown spots).
Serve with rice and a favorite vegetable side dish.