When Sarinya Srisakul went back to Thailand in 2007 to visit her family, she asked the taxi driver to take her to a firehouse.
"He was like, 'Why would you go see a firehouse? They're all corrupt,'" she recalled.
Srisakul, who works at Engine 5 in Manhattan, was doing what many firefighters do when they travel – visiting their brothers and sisters in a different department, hoping to exchange a patch or T-shirt while talking shop over a cup of coffee and a piece of cake.
But this was Thailand.
"They looked me up and down and said, 'They let women be firefighters in America?'" said Srisakul, who lives in Jackson Heights, Queens. "They didn't believe me. They wanted me to show them proof, pictures of me in my gear."
Srisakul, 34, is no stranger to such skepticism, often manifested in stares and double takes when she jumps off the rig at a fire or emergency. She is, after all, the New York Fire Department's only Asian-American female firefighter. And while the FDNY's mostly male, mostly white department is slowly beginning to diversify – the result of a 2009 federal court ruling that the FDNY's hiring process discriminated against firefighter candidates of color – Asian-American firefighters still remain the department's minority among ethnic minorities.
"It was a calling."
For Srisakul, who was born and raised in Mount Vernon, New York, the journey into the fire service was anything but preordained. It began in 2000, during her third year at Parsons School of Design in Manhattan, when she decided to drop out.
"I've been an activist my entire life and always wanted to help people," Srisakul said. With art, she said, she didn't see that happening. She took a job at the New York City AIDS Housing Network, a non-profit that assists low-income New Yorkers with HIV and AIDS. In 2002, a female friend who applied to become a firefighter in San Francisco urged Srisakul to take the test for the FDNY.
"I went to the orientation, and it was a calling," she said. "This was what I wanted to do with my life."
Srisakul, who speaks Spanish and Thai, passed both the written and physical exams. But her pride was quickly tempered by her father's disappointment.
"They told me not to do it...They don't view it as a very safe job, or even a prestigious job."
"My dad was like, oh well, good luck, you're going to fail anyway," said Srisakul, whose parents emigrated from Thailand. Her mother, a nurse, died in 1997.
Still, Srisakul pressed on with her plans. While waiting for the follow-up call from the FDNY, and with few other opportunities in an anemic job market, she did a two-year stint as a bike messenger. Srisakul eventually entered the fire academy in 2005, stepping into a physically and emotionally demanding three-month boot camp, and an environment that was anything but supportive.
Srisakul banded together with a group in the academy she calls "the minority squad" -- one female probationary firefighter and a handful of people of color. Over time, she even earned her father's respect, if not his unwavering support.
"My sister is a vice president at Goldman Sachs," Srisakul said. "If I did that, he'd probably be more proud of me."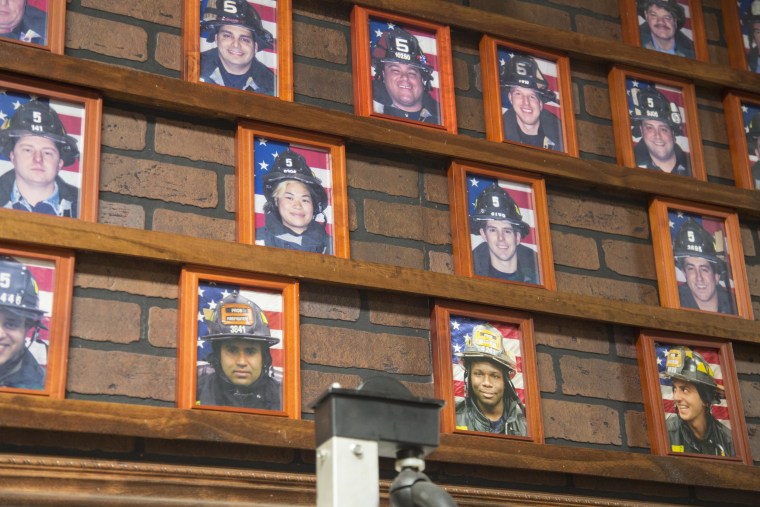 The changing face of the force
In the 10 years since Srisakul joined the FDNY, the number of minority firefighters has increased, inching up from around 10 percent in 2005 to 14.7 percent in 2014, according to Elisheva Zakheim, an FDNY spokeswoman. During that time, the total number of firefighters also rose from 8,800 in 2005 to 10,500 in 2014.
But the FDNY still remains one of 39 city agencies with the greatest proportion of white employees, according to the 2013 NYC Government Workforce Profile, a federally mandated report the city issues every two years. As of November 2014, the FDNY had roughly 933 firefighters who identified themselves as Hispanic, 504 as black and 110 as Asian, FDNY statistics show. There were also 44 women.
While the FDNY is not nearly as diverse as the New York Police Department, whose workforce now has more minorities than whites, the face of the FDNY does show signs of changing -- progress Zakheim credits to "extensive outreach and recruitment efforts to all communities."
In the November 2014 graduating class of 280 firefighters, for instance, 15 percent were black and 20 percent Hispanic, according to the FDNY's website. But among them, only five were Asian, said Lt. Steve Lee, president of the FDNY Phoenix Society, an organization that represents Asian-American firefighters and emergency medical service personnel.
"More Asians opt into civilian careers in the FDNY," Lee explained. "Some become EMTs and paramedics. But the least amount are firefighters. It's just the perception of career choices."
With the Asian population in the United States growing faster than any other race group, according to the 2010 U.S. Census, recruiting Asian Americans to join the fire service – especially those who speak a second language – has taken on added importance. This is especially true in New York City, where 27.5 percent of the foreign-born population is from Asia, and one in eight New Yorkers is Asian American.
"...the thing about this is you're implementing a culture shift into a civil service system."
Wayne Ko, a Korean-American, is among the new cadre of Asian Americans to join the FDNY. Ko, who grew up in Bay Ridge, Brooklyn, encountered firefighters for the first time at age 6, when a fire at his neighbor's house spread to his own. He remembers the fire engines pulling up to the scene, he said, and the firefighters jumping off their rigs to put out the fire. It was awe-inspiring, he said.
"They seemed bigger than life to me," Ko recalled.
Ko, 31, joined the FDNY in 2008, working first as an emergency medical technician in East Harlem. Then, four years later, he took and passed the promotional firefighter exam. Ko, who is fluent in Korean, entered the fire academy in January 2013, and in June of that year was assigned to Engine 6, in Manhattan's Financial District.
Similar to Srisakul's father, Ko's parents, immigrants from South Korea, were not supportive of their son's becoming a firefighter.
"They told me not to do it," Ko said. "They don't view it as a very safe job, or even a prestigious job."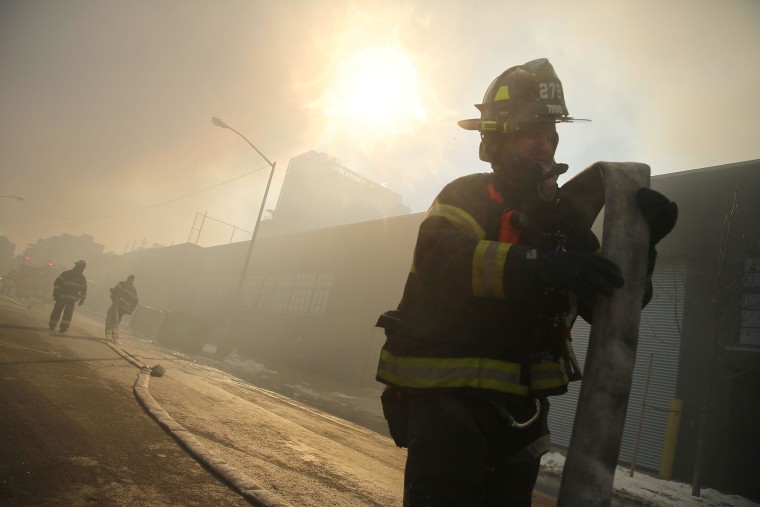 Unlike Asian-American firefighters, many Irish, Italian and German Americans who make up the FDNY's rank-and-file have lineage that extends deep into the department. Many can point to uncles, fathers and grandfathers who were also on the job. Ko, however, was the first in his family to put on a helmet and bunker gear.
"Asians don't really think about the fire department," he said.
Ko said he never experienced discrimination in the FDNY, either in his firehouse, which firefighters call the "United Nations" because of its diversity, or elsewhere. One former firefighter, Vietnamese-American Ming-Bao Pham, last year filed a lawsuit against the city, alleging that members of his two firehouses -- Engine 207 in Brooklyn and Engine 55 in Manhattan -- hurled racial slurs at him and hung his gear from a noose.
A spokeswoman for the New York City Law Department, Jocelyn Leka, confirmed in an email that Pham had filed a lawsuit but did not provide any further details.
Recruiting the next generation
Today, it is still rare to see Asian Americans on FDNY fire engines or fire trucks, a trend that Srisakul and Lee are working to change. Srisakul pointed out that attracting Asian Americans to become FDNY firefighters remains a formidable challenge. Their numbers are proof of this struggle. In 2005, when the department had 1,700 fewer firefighters than today, there were around 60 who were Asian American. As of November 2014, there were only 110.
"A lot of it is cultural," said Srisakul, who is also an FDNY recruiter. At Asian-American recruiting events, she said, children and their parents often dismiss firefighter work as "blue-collar" work, as a profession that is not noble.
"They'll say, 'I want to go into finance,'" Srisakul said. "Firefighters make more money than accountants, but they still want to be an accountant because that's what their parents want."
Lee expressed optimism that this attitude has already begun to shift.
"From the guys I've spoken to, a lot of Asians that immigrate to America didn't see civil service opportunities as a primary career choice," said Lee, whose father is Chinese and mother is Puerto Rican. "They would prefer their children to go into a more lucrative field. I don't think that's true in this day and age."
Lee's Phoenix Society, besides serving as a conduit between the FDNY and Asian communities, is also trying to introduce elements of Asian culture into the city's more than 200 firehouses.
One plan, he said, is to begin an East-Asian language program, offering classes in Mandarin, Cantonese and Japanese that are free of charge to interested firefighters. With Chinese representing the second largest demographic of foreign-born New Yorkers, many of them Mandarin speaking, it's a "tangible skill they can use at work," Lee said.
Another program still in the works, Lee added, is a cuisine course that promotes the health benefits of Asian cooking. "It's a radical idea but makes perfect sense for anyone who's ever had a meal at the firehouse," Lee explained. "The kitchen table is the heart and soul of the firehouse."
"The culture shift happening is good and it's happening now."
It appears that a culture shift is indeed afoot in firehouses across the city, firefighters say, as a growing number of minorities join the ranks of the FDNY. But Lee, one of only nine Asian-American FDNY officers, said it's too early to forecast how it will ultimately affect the department, in general, or Asian-American firefighters, in particular.
"It sounds great, but the thing about this is you're implementing a culture shift into a civil service system," Lee said, adding that he believes the FDNY should hire firefighters based on qualifications, and not to fill quotas based on race or gender.
Srisakul, who serves as president of the United Women Firefighters, a fraternal organization of female firefighters in the FDNY, said she is optimistic about how the department is going about diversifying its workforce.
"The culture shift happening is good and it's happening now," she said. "I do believe it as I see it changing so much. "
Thailand, where her father and many of her relatives still live, is a different story. Asked whether she'll ever go back to visit a firehouse there, Srisakul let out a hearty laugh.
"I've learned my lesson," she said. "Now, I go to the beach instead."