On paper, the premise of "Meet the Patels" feels familiar, but brother-sister duo Ravi and Geeta Patel are tackling the topic of arranged marriage in a new way.
The documentary, which opened in theaters Friday, follows 30-year-old actor Ravi Patel on a nationwide quest to find a wife through dates arranged by his parents, family members, Indian wedding conventions, and marriage websites.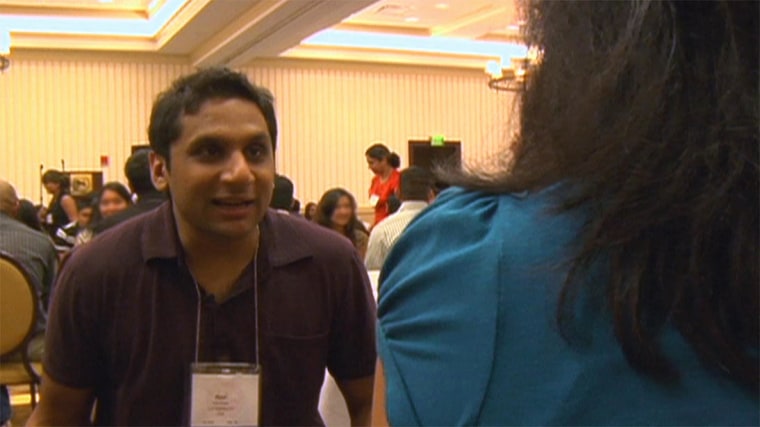 The idea for the film came about when Geeta Patel, a screenwriter, began playing around with her camera during the family's annual trip to India, and the family started discussing marriage options for Geeta and Ravi. Their mother, Champa Patel, known as a successful matchmaker in her community, was astonished that her own children were still unmarried. What she didn't know at the time was that Ravi had just broken up with his girlfriend of two years shortly before their trip to India.
Seeing how in love his own parents still were after 35 years of marriage, despite having only met for 10 minutes before they were engaged, Ravi decided to give the idea of an arranged marriage a chance.
"The reason we made this film is because we see so many people depict Indian parents as a joke and caricatures when they talk about marrying their kids off, and we don't have that experience," Geeta told NBC News. "We respect the process even if we don't partake in it the way they did. It just got us frustrated that no one saw it the way we saw it. They don't see that the Indian way is romantic and its true love. In America, we have nothing to brag about. We have the highest divorce rates we've ever had. We have the highest depression we've ever had."
"It's really just about loneliness, dating, conflict, family. It's about love."
Throughout the film, vintage family photos and comics break up the scenes to add depth and new dimensions to the Patels' journey. Though Ravi and Geeta's original intent was to make a documentary focused on modern-date arranged marriages, they eventually realized the best way to tell the story was through their own personal experiences.
"The experience that happened on-screen was my real life. To go on so many dates, it was a deeply introspective time for me. But even as a family, we evolved so much," Ravi said.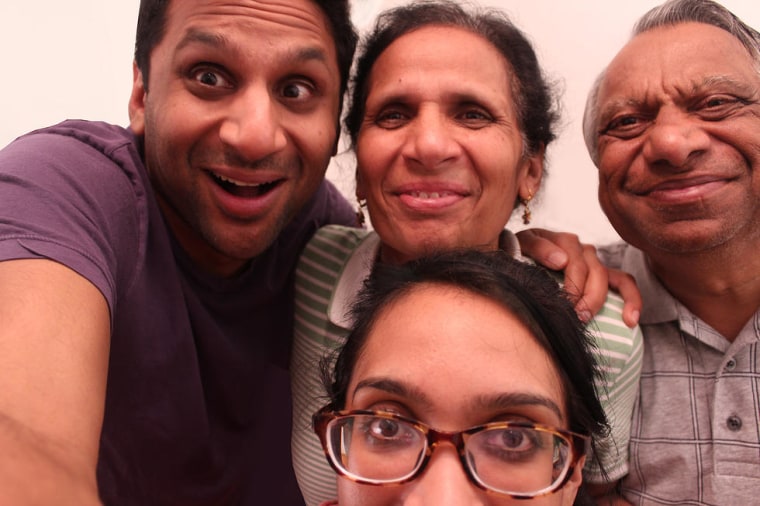 Initially rejected by the Sundance and Tribeca film festivals, "Meet the Patels" found success at the Hot Docs 2014 film festival in Toronto and was selected as an audience favorite. The film went on to show at several film festivals.
"All the gatekeepers said no, but we sold out every single screening we had last year and we kept winning audience awards," Ravi said.
The film has also found support through members of the Indian-American community, who've participated in their own outdoor marketing: through the use of yard signs. "My dad was like, 'What do you mean there's no outdoor advertising! That's unacceptable,'" Geeta said.
Both Ravi and Geeta say "Meet The Patels" is more than just a story about marriage, but about a full journey that will appeal to people of all ethnicities and backgrounds.
"It's really just about loneliness, dating, conflict, family," Ravi said. "It's about love."