CLEVELAND, Ohio — On Thursday, when Donald Trump is expected to accept the GOP's presidential nomination, New Mexico delegate Lisa Shin will take the stage at the Quicken Loans Arena in Cleveland, Ohio, to talk about her immigrant parents and the American dream.
"I can't believe they actually chose me, because to me there's so many more qualified people," Shin, a Korean-American optometrist and small business owner from Los Alamos, told NBC News Tuesday afternoon.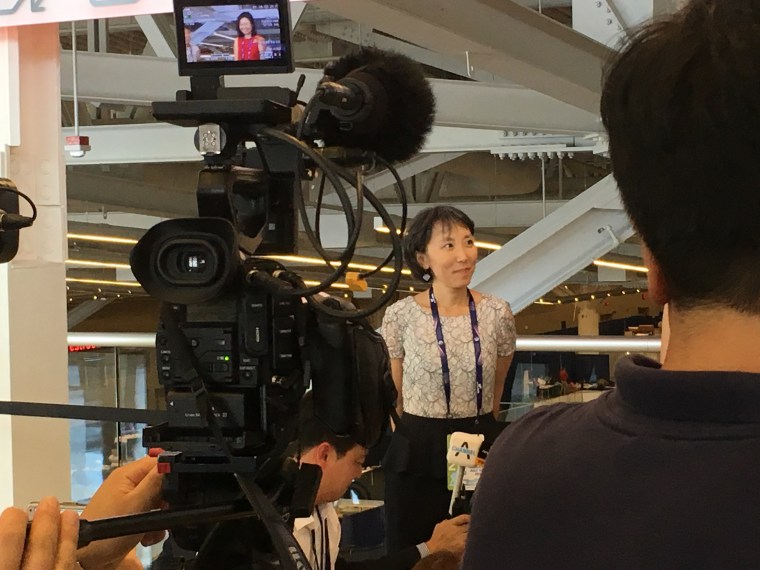 A life-long conservative born in the United States and elected as an at-large delegate in May, Shin has been attracting much attention lately, especially from Korean-language media, over her support for the real-estate mogul, she said. She joined the National Diversity Coalition for Trump and in April created her Korean Americans for Trump group, she said.
Shin hopes her efforts will convince Korean Americans to vote for Trump come November, but she faces an uphill battle. According to a survey of registered Asian-American voters released by nonpartisan advocacy groups in May, four out five respondents who identified as Korean had an unfavorable view of Trump — the highest number among all Asian-American ethnic groups.
"Of course, every Korean parent is thinking, I want a better life for my children than I had," Shin said. "It's the prosperity, it's economic freedom, opportunity, wealth, the ability to acquire wealth — it's very attractive, and I think Trump really aligns himself with that very powerfully."
Shin said she understands how Trump's rhetoric can anger some, from remarks he made accusing Mexico of sending people to America bringing drugs, criminals, and rapists, to his stance on banning Muslims from entering the country.
RELATED: Republican Diversity Coalition Plans Trump Election Strategy
"If I had been Trump I would have probably said it maybe in a completely different way," Shin said. "But he said it they way he did, and it got a lot of media attention."
She also dismissed allegations of plagiarism swirling around Melania Trump's speech Monday night.
"You know, I saw that and my thought is, aren't there common phrases to every speech?" Shin said. "It just seems like they're picking at something. To me, it was just such a beautiful message, just looking at the message and what she was trying to say."

On the issues at play this election season, Shin said enforcement of immigration law and respect for American law is vital.
"If you want to take the argument even further and look at South Korea, China, and these other countries [like] Japan. They have immigration policy and they actually enforce it," she said. "And they take it seriously because it's part of this concept of national sovereignty and national safety."
While always a Trump supporter during the primaries, Shin said she was also impressed with other GOP candidates, including Ben Carson, Sen. Marco Rubio of Florida, and Sen. Ted Cruz of Texas.
RELATED: Asian-American Voters Tip Toward Dems Headed into 2016 Election: Study
The GOP has seen support from the AAPI electorate steadily wane since 1992, a year when 55 percent of Asian Americans voted for Republican President George H.W. Bush, according to Cornell's Roper Center. For its part, the Republican party has sought to reclaim the AAPI voting bloc, creating a grassroots field program three years ago to win back an electorate that is expected to double by 2040.
Asked about how the GOP might attract more Asian Americans to vote Republican, Shin said the party should take a page out of the Democratic playbook in its engagement efforts.
"The great thing about Democrats is great Asian representation," Shin said. "I'm kind of unique in this situation, but really, the Democrats have many of me."
Follow NBC Asian America on Facebook, Twitter, Instagram, and Tumblr.