"Mele Murals" is a new documentary film that examines the complexities of contemporary Native Hawaiian cultural identity and the power of urban street art. Filmed over the past three years with ʻŌiwi TV, Hawai'i's first and only indigenous television network, the film shows the power of public art to help take on the challenges of the Native Hawaiian community.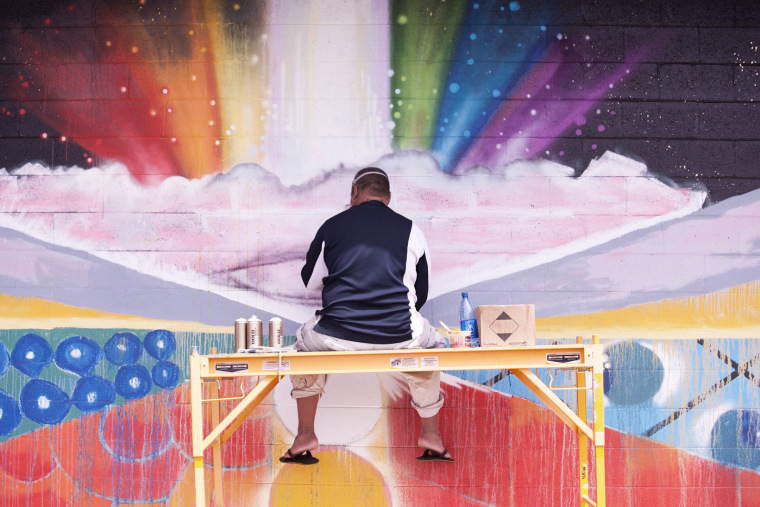 "We wanted to create a story that opens the veil for the viewer to get an intimate look into a genuine modern Native Hawaiian experience — resilience in the face of colonization, revitalization of the Hawaiian language and culture, and reconnecting and remembering an identity as Native Hawaiians," filmmaker Tadashi Nakamura told NBC News. "At the core of 'Mele Murals' is the resurgence of Hawaiian culture and language that is being led by a new generation of Native Hawaiian artists, educators, and youth."
The film features two former graffiti artists — Estria "Estria" Miyashiro and John "Prime" Hina — who become community artists trying to connect with people and place. The artists discuss their personal journeys to discover their history, identity, and responsibilities as Native Hawaiians as well as how they were brought back to the Native Hawaiian youth in the rural community of Waimea.
"As an artist it was a privilege to work with Estria and Prime," Nakamura said. "I continue to be inspired by their mastery of craft and dedication to truly serve their community with their art. They both continue to travel across the Hawaiian Islands helping Native Hawaiian youth create community murals based in the Hawaiian culture."
Though not completely finished, "Mele Murals" had its world premiere at the Center for Asian American Media film festival (CAAMfest) in California earlier this year. It is currently crowdfunding to finish post production and organize community screenings and art projects. The drive runs until May 27.
Follow NBC Asian America on Facebook, Twitter, Instagram, and Tumblr.