Backed by public outrage over recent cases of Chinese-American scientists accused of espionage, Asian-American congressional leaders will meet with Attorney General Loretta Lynch on Wednesday in hopes for substantive action by the Justice Department.
"I don't see why they would not investigate," Rep. Ted Lieu told NBC News.
Lieu, who joined more than 40 members of Congress earlier this month to call for a further investigation, said it was well within the attorney general's power to find out why Sherry Chen of the National Weather Service and Dr. Xiaoxing Xi, a U.S. citizen and Interim Chair of the Physics Department at Temple University, were suspected of economic espionage, only to have all charges against them later dropped.
Sherry Chen and Xiaoxing Xi were both accused in separate instances of obtaining and sharing sensitive information with China. Chen was accused last October, and the charges against her were dropped in March. The charges against Xi, who pleaded not guilty in June, were dropped in September.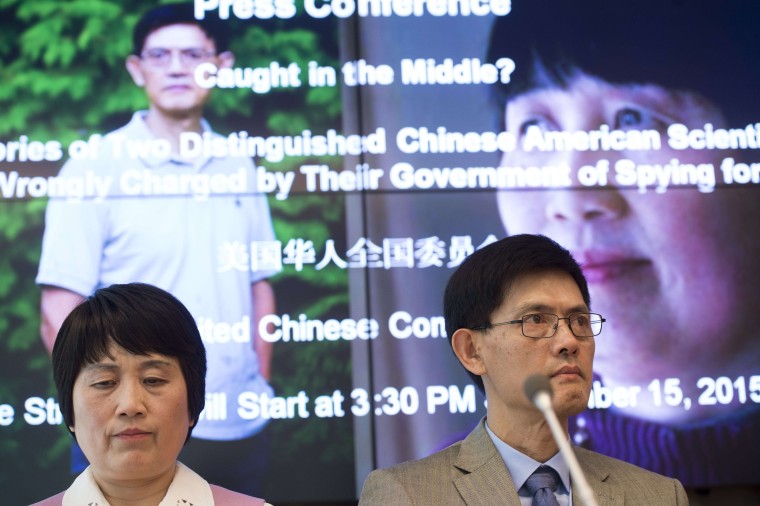 "[The attorney general] can order an investigation into why Sherry Chen or Dr. Xi were wrongfully indicted and arrested," said Lieu as he outlined possible results of Wednesday's meeting with Lynch. "She could layout a guidance letter saying that Justice Department officials are not to view Asian Americans with more suspicion. She could set up a task force looking at this issue. She could do a number of things. So I look forward to talking to her to see what she'd like to do."
RELATED: Despite Dropped Charges, Chinese American Scientists' Fight Not Over
The meeting with Lynch was called by Rep. Judy Chu, chair of the Congressional Asian Pacific American Caucus (CAPAC), and will come one day after Chu questioned the attorney general at a House Judiciary Committee Oversight hearing, with Chen and Xi present.
"While the charges can be dropped, the damage to careers and reputations remains," Chu said in a statement. "Worse, the growing perception that simply being of Asian ancestry or having ties to China can trigger an espionage charge is creating a culture of fear that makes Asian Americans feel unwelcome and afraid to pursue prominent careers. We cannot tolerate another case of Asian Americans being wrongfully suspected of espionage. The profiling must end."
Rep. Mike Honda added that he didn't want the issue to be "swept under the rug."
RELATED: Was Race A Factor in Sherry Chen's Espionage Case?
"I call on the Department of Justice to heed our call and conduct an independent investigation into whether race or ethnicity played a role in their arrests, " Honda said in a statement. "Furthermore, I call on both the National Oceanic and Atmospheric Administration and Temple University to fully reinstate Ms. Chen and Dr. Xi to their former positions without reprimand or reprisal and provide each of them with a formal apology."
Earlier in the week, a groundswell of public support—more than 70 organizations— joined the National Council of Asian Pacific Americans (NCAPA) and the National Asian Pacific American Bar Association (NAPABA) in signing a letter that called for an independent investigation.
"I think the breadth of support for our letter—and more organizations continue to add their names—demonstrates that this is not a Chinese American issue or an Asian American issue," Christopher Kang, national director of NCAPA, told NBC News. "It is an American issue that strikes at our fundamental values when American citizens are targeted for their race, ethnicity, or national origin."
Lieu said the patterns that emerge in the cases of the scientists are troubling.
"When you have the facts before you, that these were wrongful arrests and indictments, either these were a stunning lack of competence and professionalism among a lot of people in the department of justice," Lieu said. "Or there's something else going on, where people looking at a set of facts are inferring suspicion and bias based on ethnicity and race. It's got to be one of those two to have multiple cases happening of Asian Americans being wrongfully indicted for spying. Neither of those are good outcomes. That's why it's important to see what the attorney general says."