Community members and some staff of a California mental health organization serving Asian Americans and Pacific Islanders asked the Alameda County Board of Supervisors Tuesday to end the contract between the county and the organization, two of its employees told NBC News.
Amy Lam, health equity program director of Community Health for Asian Americans (CHAA), said around 90 people attended the supervisors' meeting to voice concerns about the 20-year-old organization, including that many CHAA board decisions have allegedly been made "by proxy" — with a member of the board voting without attending meetings — and that the interim executive director and finance director both hold seats on the board of directors.
"We work with eight to 10 different immigrant and refugee communities, all of whom are really concerned about this, and really, frankly, [are] worried that if things aren't rectified that their communities will be left out of the gap and not be able to have the services that they need," Lam said.
A letter, signed by "concerned CHAA staff and management," was also delivered to the board of supervisors Tuesday. The seven-page document, provided to NBC News, raises allegations about CHAA's governance, including unsound board practices, a lack of communication with executive management, and trouble maintaining a minimum of five board members.
"We respectfully request that the Alameda County Board of Supervisors to pull its $1.77 million in Behavioral Health Care Services contracts for 2016-17 and reallocate the funds to a community-based organization that has sound leadership and organizational stability on at least a temporary basis," the letter reads.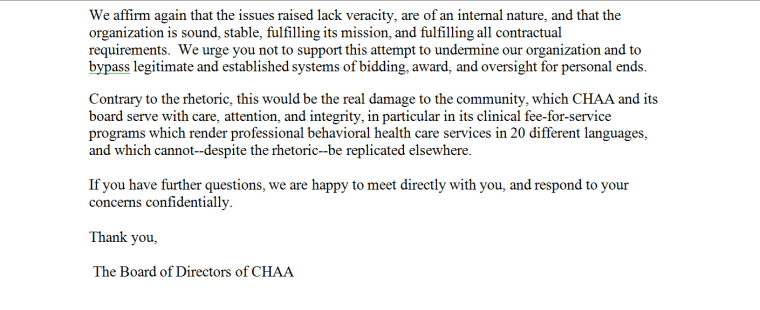 John Chung, CHAA's board president of 11 years who was appointed interim executive director in April, told NBC News by phone Monday that his organization has been audited annually and that those audits have turned up no problems for the last 10 years. He also denied that CHAA's board decisions were made by proxy and said the organization's bylaws were written specifically to allow staff to serve on the board.
"This is not unusual for a nonprofit, and we're specifically in compliance with our bylaws," he said.
In a letter to the board of supervisors dated May 24, CHAA's board of directors urged the supervisors not to reallocate what it says is $1.6 million in funding, adding that many of the concerns raised are human resource issues and that a small group of dissatisfied CHAA employees is attempting to use the board of supervisors' meeting to push its own agenda.
"We affirm again that the issues raised lack veracity, are of an internal nature, and that the organization is sound, stable, fulfilling its mission, and fulfilling all contractual requirements," the letter reads.
CHAA's contract comes up for renewal at the end of June.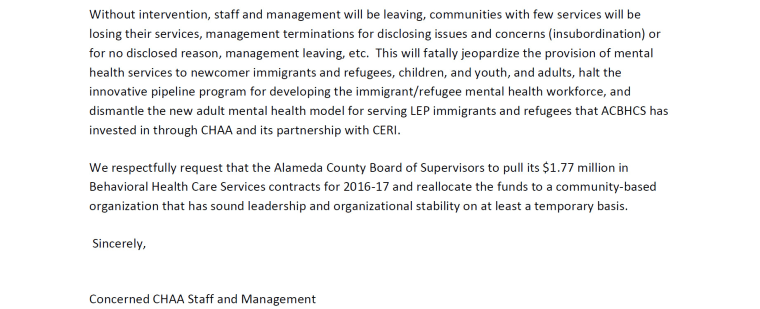 Lam and associate director Sean Kirkpatrick said that between 2012 and 2016, CHAA has had two interim co-executive directors — Kirkpatrick was one of them for three-and-a-half years until March 2016 — and one executive director who resigned in April after three weeks. Kirkpatrick, who has been with CHAA for 13 years, returned to his original title of associate director, he said.
Lam, a CHAA employee for three years, said staff have made multiple requests during the past three and a half years to participate in recruiting and hiring a new executive director, but added that "what we've received in return is silence."
Chung called the accusation an "absolute mischaracterization."
"There was a process drafted to engage staff, and the staff went ahead and appointed themselves as executive director, and the board did not take this recommendation," he said.
A Change.org petition, which as of Thursday morning had more than 700 signatures, also accuses Chung of creating "a workplace environment of fear, hostility and intimidation" at CHAA's Oakland office.
"Most of these things are internal human resources issues, so I'm restricted in what I can say about them, but I can say that these allegations are untrue," Chung said.
The Change.org petition calling for the reassignment of CHAA's funding to another group was begun on May 19, less than two weeks after an Alameda County Board of Supervisors Health Meeting addressed a fiancial audit critical of Asian Community Mental Health Services (ACMHS), another group with county contracts serving Alameda County's Asian-American and Pacific Islander community.
That audit was ordered after allegations of financial mismanagement were raised in a Change.org petition and at a January board of supervisors meeting. On May 9, Supervisor Wilma Chan said she would ask ACMHS Executive Director Philip Patrick Sun to resign if he did not respond to a letter she sent requesting a face-to-face meeting.
Chan's office did not return a request for comment. An email sent to Sun on Monday was not answered.
Follow NBC Asian America on Facebook, Twitter, Instagram, and Tumblr.