James Syhabout realized he had packed like his mother would.
Before coming to New York for events celebrating the release of his first cookbook, "Hawker Fare: Stories & Recipes from a Refugee Chef's Isan Thai & Lao Roots," Syhabout had put the necessities into his suitcase — brass dowels used to make sesame lotus blossom cookies; shrimp paste; a batch of "jaew bong," a dip made with Chinese pork floss, tamarind, burnt chili, and garlic; and his wooden mortar and pestle, large enough to fit a football.
"My suitcase was like an immigrant's," the 38-year-old Syhabout said, laughing. "I took a picture of it like, 'Man, I'm traveling like this is how my mom came to America.'"
The luggage served the two Michelin-starred chef, a refugee of the U.S. "Secret War" in Laos, well at Wildair, a small restaurant in Manhattan's Lower East Side where Syhabout hosted his first dinner, an eight-dish menu, celebrating the book.
For the meal, Syhabout picked dishes that were important to him and that he thought would be unfamiliar. Instead of papaya salad ("I didn't want to make papaya salad because everyone knows it"), Syhabout served a long bean salad with crab, shrimp paste, and tamarind pounded in his mortar. To represent laab, a Lao meat salad also eaten in Thailand, Syhabout served a raw shrimp paste with toasted rice powder.
"I wanted to bring the full flavors of funk, spice, bitterness, earthiness. Something that differentiates from the Thai food we all know," he said.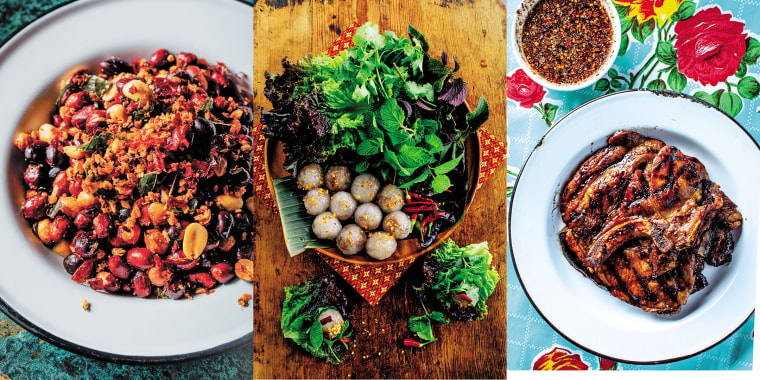 Syhabout was born in northeast Thailand in the Lao-majority region of Isan, which was historically part of the Lan Xang Kingdom, the pre-French colonialism precursor of Laos.
At the age of two, his family left the country as refugees after the fall of Saigon in 1975 and the ousting of Sisavang Vatthana, the last Lao king, eventually landing in Oakland, California.
His parents started a Thai restaurant with his uncles on his father's side. It was there that Syhabout first started working with food, prepping chiles, garlic, and shallots with his brother after school and during weekends while growing up on West Coast hip-hop and looking up to Dr. Dre and Michael Jordan.
I know I wanted to tell a story. I also wanted to touch on things I was kind of embarrassed about growing up and my personal struggle — even as a teenager, being a person of color, being in Oakland.
It was during high school, after watching a show about fine-dining chefs and kitchens while flipping through channels, that Syhabout decided he wanted to go to culinary school.
After graduation, Syhabout attended the California Culinary Academy in San Francisco before working in two pan-Asian-with-Western-influence restaurants as a way to ease into Western cooking. He also staged at Masa's, a now closed San Francisco restaurant that had earned a Michelin star.
Syhabout then landed in the kitchen of Manresa, a restaurant in the San Francisco Bay Area's South Bay and today the holder of three Michelin stars.
"I told him about my stage with Ron Siegel at Masa's," Syabout recounts in "Hawker Fare" about meeting Josef Centeno, Manresa's original chef de cuisine. "I failed to mention my real experience on purpose—Betelnut and Xanadu might disqualify me from even getting a chance, because they were casual and Asian."
In 2005, Syhabout left the U.S. for a one-year tour of Europe, cooking in a series of internationally renowned kitchens in the U.K. and Spain. Once he returned, he decided to set out on his own. Syhabout opened Commis in 2009, a fine-dining restaurant in Oakland, a city, he calls in his book, "without one." It took less than four months before Commis earned its first Michelin star. In 2016, it earned another and is currently the only restaurant in the San Francisco East Bay with that distinction.
But it wasn't until Syhabout offered to take over the lease of his retiring mother's restaurant in 2011 that he would revisit Lao cuisine. He decided to open "Hawker Fare," a casual restaurant focused on the kind of food he loved to eat growing up that he had neglected in his career.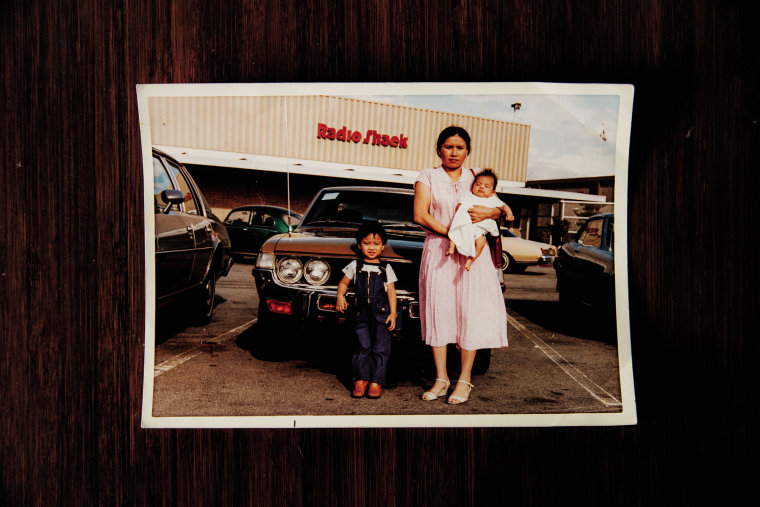 "Hawker Fare," co-authored with writer John Birdsall and scheduled for release Jan. 23, is two parts cookbook, one part memoir.
The first 125 pages of the 350-page book trace the Syhabout family's journey to the United States — from having their name changed by an immigration officer, to the scattering of a "Lao Ghetto" after the 1989 Loma Prieta earthquake and the divorce of James' parents in the wake of the failure of the family restaurant. It also details James' rejection and eventual embrace of Lao cuisine.
Basing his first cookbook on Hawker Fare as opposed to Commis was an easy choice. He wanted his first book to be about the dishes that were most important him.
"I've never had an Asian role model, per se," Syhabout said. "Now, cooking casual food and being recognized for it, I think it gives kids like me more encouragement."
My suitcase was like an immigrant's. I took a picture of it like, 'Man, I'm traveling like this is how my mom came to America.'
"Hawker Fare" was written over a period of three years, starting in 2015. About a third of the way through their first draft, Syhabout and Birdsall decided their material wasn't personal enough and started over.
"I know I wanted to tell a story," Syhabout recalled. "I also wanted to touch on things I was kind of embarrassed about growing up and my personal struggle — even as a teenager, being a person of color, being in Oakland."
Describing his book, Syhabout invokes other Asian-American chefs, including Momofuku's David Chang and Kogi's Roy Choi, who first met Syhabout in 2010 at an event celebrating new chefs hosted by Food & Wine magazine and wrote the foreword of "Hawker Fare." Syhabout sees their generation as trailblazers for future chefs.
"I think a 16-year-old cook now can say 'I want to open a restaurant like Momofuku, play loud music, cook whatever the f—k I want," Syhabout said. "When I started cooking, I didn't have those examples."
The last course of the Wildair dinner was coconut ice cream with banana jam topped with a fried sesame cookie in the shape of a lotus blossom. It's a dish that Syhabout regularly serves at Hawker Fare, which now has a location in San Francisco.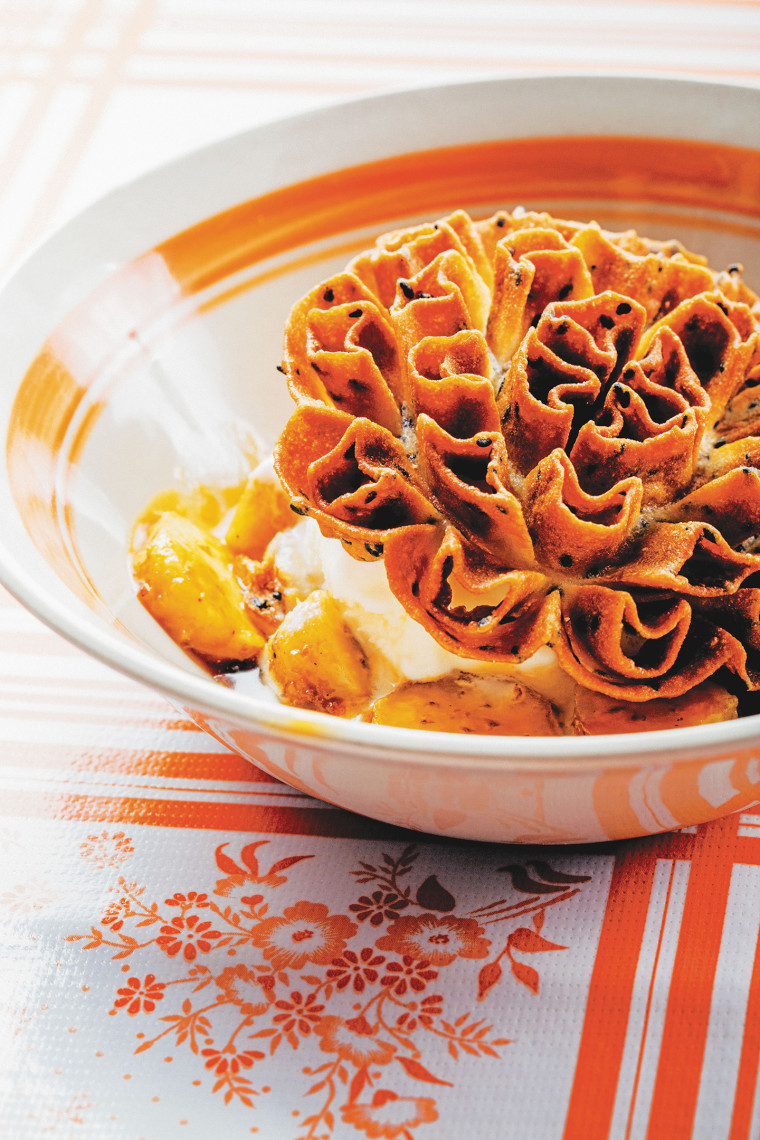 In the book, Syhabout writes that he "resisted putting fried bananas with ice cream on the menu since it's a Thai restaurant cliché. This sundae's a compromise, a rearrangement of familiar elements, same same but different."
The day after the dinner, Syhabout said that while developing the dish, he wanted to deliver the "same sensation, same satisfaction" as fried bananas and ice cream, but in a different way.
"I got creative with it, but I'm still cooking in the tradition," he said. "This lotus blossom cookie, that's something you make during Buddhist holidays. … It's — for the lack of a better word — deconstructed fried bananas and ice cream. Done the James way, but it's still traditional."
Syhabout had just finished a meeting in New York and was a few hours from a public talk with Anthony Bourdain and Wylie Dufresne celebrating his and Dufresne's new cookbooks, both released on Bourdain's publishing imprint with Harper Collins and Ecco.
"I'm still trying to figure out what this all means," Syhabout said, referring to the American Dream. "Being in America alone, I'm at the center of the world. I have friends from Ethiopia, Scandinavian friends, friends from South America."
"Yeah, we're all different," he added. "You know, learn from that. We're all learning. Most of this country is made of immigrants. … You can be Caucasian, but once upon a time, you were an immigrant. You've gotta realize that. That's why this country is beautiful."
Follow NBC Asian America on Facebook, Twitter, Instagram and Tumblr.