Sokunthea Vorn is one of the fortunate ones. The 20-year-old from rural Cambodia is studying English literature at the university level in the capital city of Phnom Penh. She dreams of becoming an English teacher one day, but above all else, she wants to use her education to get a job and be able to support herself.
"If you don't go to school, you have no ability to find a good job," Vorn said. "You just get married and have a family and take care of the children, and you have to depend on the husband."
Many of the girls back in her home province of Takeo didn't get as far as Sokunthea. Many were forced to drop out of secondary school before graduation to help their families earn money. For those who don't get married, the garment factories are the best option. There, women work six days a week producing clothes for global bands like H&M and Walmart for $128 per month, says Vorn.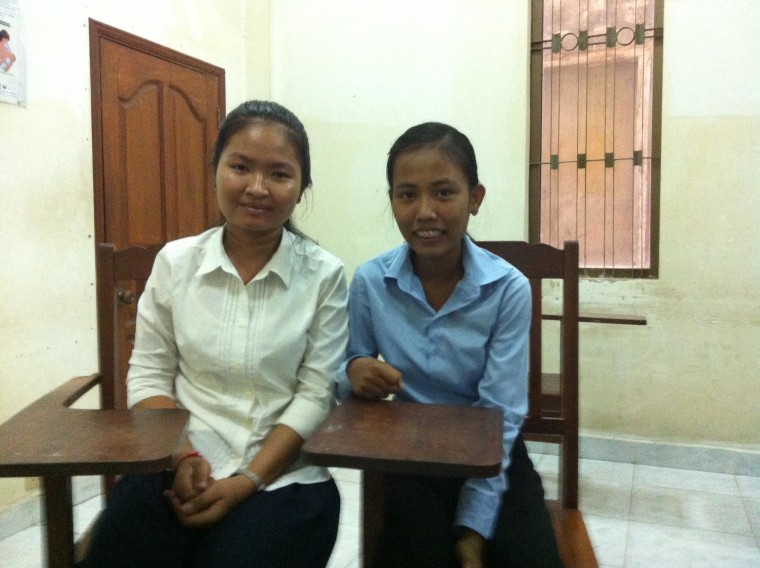 Across the world, more than 62 million girls are not in school, a statistic that U.S. First Lady Michelle Obama and the U.S. Peace Corps hope to improve through a recently announced initiative called "Let Girls Learn"; the program brought Mrs. Obama and Peace Corps Director Carrie Hessler-Radeletto to Cambodia today.
Building upon existing programs and creating new ones, the initiative seeks to offer better educational opportunities, reduce health barriers and empower young girls. The collaborative effort between the U.S. Department of State, the U.S. Peace Corps, the U.S. Department of Education and the U.S. Agency for International Development, will focus on low-income countries.
"By empowering girls with the gift of knowledge through Let Girls Learn, we can empower a generation of doctors, engineers, and educators who can transform the world's most vulnerable communities," Acting USAID Administrator Alfonso Lenhardt said in a statement announcing the program.
"It's more common for a girl to drop out and earn money to support a male sibling to get a higher education than the other way around"
Cambodia is one of 11 countries to be a part of the initiative initially. The other countries are Albania, Benin, Burkina Faso, Georgia, Ghana, Moldova, Mongolia, Mozambique, Togo and Uganda.
Mrs. Obama's visit to Cambodia will be the first time a First Lady of the United States has visited the southeast Asian country. In 2012, President Barack Obama became the first U.S. president to travel to the country when he visited to attend a summit of Asian leaders.
The First Lady's appearance will help make the case to policymakers in the Cambodian government to push harder for gender equality in education, says Silas Everett, Cambodia country representative for The Asia Foundation, a non-profit organization that provides scholarships to girls from poor, rural families so they can complete their secondary education and go on to university.
Though Cambodia has made significant gains in educational equality in the past 20 years, there's still pressure on girls to drop out early, Everett says, especially if a parent must choose between educating a son or daughter.
"It's more common for a girl to drop out and earn money to support a male sibling to get a higher education than the other way around," he added.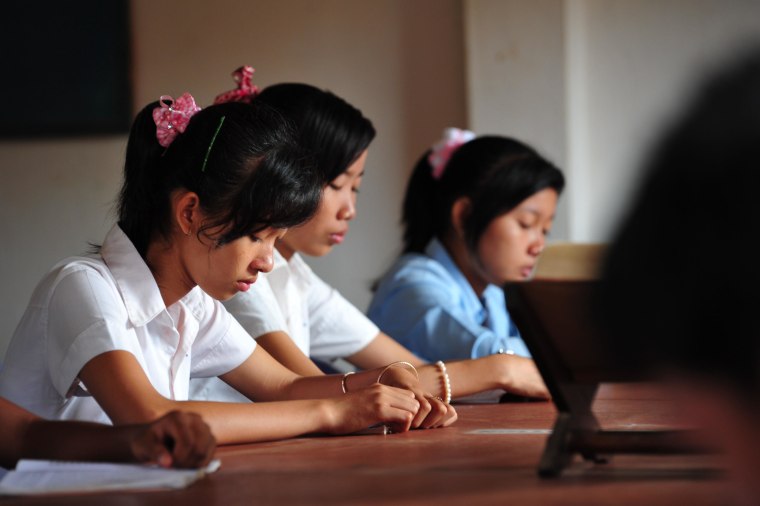 In Cambodia, primary school includes grades 1 through 6, while secondary school covers grades 7 through 12. According to a 2011 report for the U.S. Agency for International Development, the national dropout rate was about 12 percent for both sexes. But females had a higher dropout rate at every secondary level except for grades 9 and 12.
The growth of certain sectors in Cambodia, including the female-dominated garment industry, can tempt families to cut their daughter's education short so they can instead earn money, says Everett.
Violence against girls seems to be another factor in the gender imbalance. In rural areas, secondary school students often have to travel quite far to reach their school, and some parents are hesitant to send their daughters out of fear for their safety, he adds.
The Cambodian government has launched several initiatives - including a recent action plan to prevent violence against women - that stresses the importance of education for girls, but there is still a long way for the country to go, specifically at the secondary level, Everett says. He added that more infrastructure, better management practices, and a continued focus on alleviating poverty in rural areas are necessary to improve access to education for girls.
According to the World Bank, more than 10 percent of Cambodians in 2011 lived below the poverty line of $1.25 per day.
"We must not forget the impact that poverty has on all children," Everett said. "From a gender equity perspective, boys and girls need to be able to access school and benefit from education opportunities equally because we now have the evidence that gender equity contributes to an increase in gender equality."