After Michelle Yeoh's Oscar win, critics are pointing out it's not just about her finally earning her moment in the spotlight — but more about Hollywood's finally catching up to Yeoh. 
Yeoh's win, for her role as frazzled immigrant laundromat owner Evelyn Wang in "Everything Everywhere All at Once," makes her the first Asian to take home the best actress award in the motion picture academy's 94-year history. It's no doubt a milestone. 
But experts point out that given the decades when Yeoh was overlooked as a serious actor and the work it took for her to be seen as a contender, the Oscar is also a symbol of the enduring barriers that Hollywood gatekeepers have put up against Asians and the insufficient progress that has been made. 
Yeoh, they say, has succeeded in spite of them.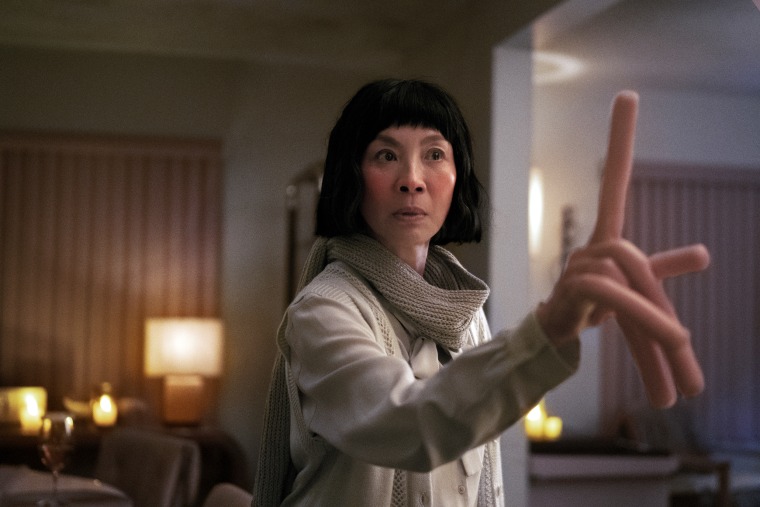 "It's just hugely monumental because of all those biases that exist in the industry and just racism," said Ana-Christina Ramón, the director of the Entertainment and Media Research Initiative at UCLA. "To overcome all those hurdles of what exists in terms of the academy — that's huge."
She added: "I think it's almost disrespectful that they haven't honored her in the past." 
The academy declined to comment. 
The lack of acknowledgment of Yeoh, who's only now getting her flowers after a 40-year international career, reflects systemic issues in how the Western film industry continues to dismiss and "other" Asian actors, experts say. Yeoh, an industry veteran, first became a respected action icon in Hong Kong cinema in the late 1980s. As with many other Asian actors, her foray into Hollywood, with the 1997 James Bond film "Tomorrow Never Dies," involved stunts and martial arts. 
Daryl Joji Maeda, an ethnic studies professor at the University of Colorado, Boulder, and the author of "Like Water: A Cultural History of Bruce Lee," said Hollywood has embraced international stars like Australians Nicole Kidman and Russell Crowe, who have multiple Oscar wins and nominations. But for Asians, who have few opportunities and often resort to martial arts as an important avenue into Hollywood, there's a stigma. Even when martial arts-heavy films gain critical acclaim, like 2000's "Crouching Tiger, Hidden Dragon," they rarely get any acting nods. 
"If martial arts is one of the main routes into Hollywood for Asian actors, and martial arts actors are not taken seriously, we have a situation that admits them only on the fringes and relegates them to the margins," he said.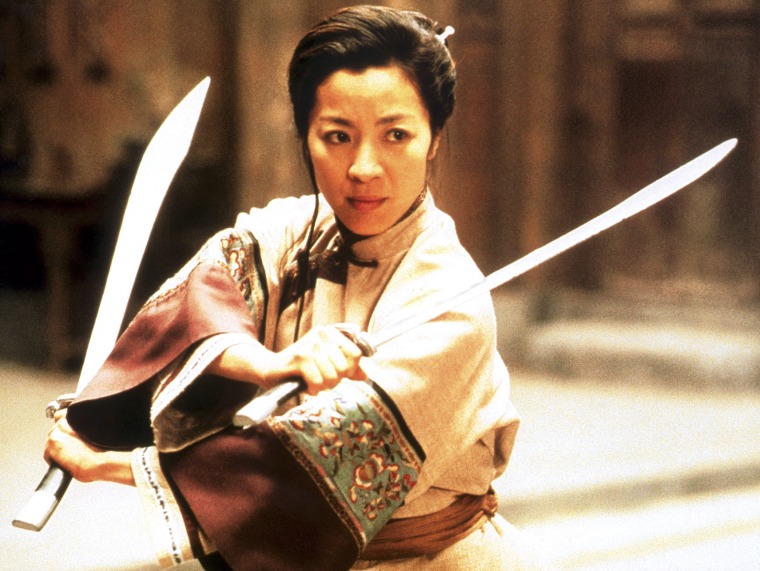 Maeda added that although action stars of all races encounter similar perceptions, others have been able to genre-jump with more respect and ease. 
"Actors of Asian descent who are martial arts stars are pigeonholed into that one type of role," Maeda said. "Tom Cruise can be an action star in the 'Mission Impossible' movies and also be nominated for an Oscar for a serious role in 'Born on the Fourth of July.'"  
Anthony Ocampo, a sociology professor at Cal Poly Pomona, also said there are double standards for Asian actors when it comes to how additional rigorous physical training and skills are interpreted. He said there has been little acknowledgment of how Yeoh's stunt work and action expertise enrich her acting abilities. But when it comes to white actors, who put their bodies through weight fluctuations or coaching, their efforts are lauded as examples of dedication to the artform. 
"When Natalie Portman got to a certain body shape to be able to play a ballerina and she learned ballet, people were applauding her. When Hilary Swank had to transform into a trans man or a boxer for 'Million Dollar Baby,' everyone was applauding," Ocampo said. "That kind of artistic appreciation or hard work is not recognized when an actor of color is doing it like Michelle." 
Ramón and Ocampo noted a similar lack of appreciation for Asian actors who have picked up several languages for different roles, particularly if they have accents. Throughout her career, which has included "Crouching Tiger," 2005's "Memoirs of a Geisha" and the 2018 blockbuster "Crazy Rich Asians," Yeoh has acted in English, Cantonese and Mandarin. 
"If you have an Asian accent or any accent associated with an immigrant of color, you're seen as less intelligent, less smart, less nuanced. You are seen as very one-dimensional," Ocampo said. "It doesn't work the same way as, say, a British accent or a French accent." 
He added that the additional effort Asian actors make and the mental toll it takes are akin to the labor that people of color and immigrants do in the U.S. Ultimately, the final step that pushed Yeoh toward an Oscar nod was playing a vast array of multiverse characters in "Everything Everywhere," Ocampo said. 
"Folks don't realize that under the surface, there's a whole lot of labor that goes into trying to be equal," Ocampo said. "It's almost as if actors of color have to play 50 different roles in one movie in order to get one nomination. That's what Michelle did. That's what Stephanie [Hsu] did."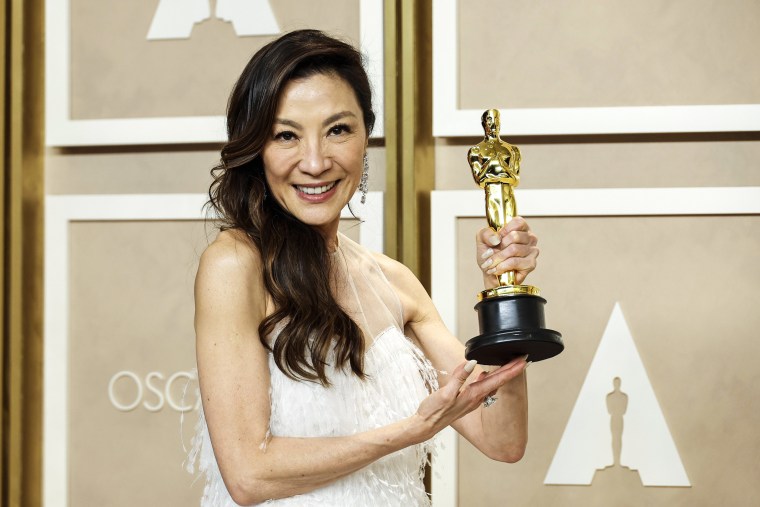 Experts say the Academy Awards space has long been inaccessible to Asian actors. Just over 1% of acting nominees have been Asian, and among them, four have taken home the prize. In Yeoh's category, one other Asian actor, Merle Oberon for the 1935 film "The Dark Angel," has been nominated. But her background remained unknown until after her death, as she concealed her South Asian roots throughout her career. But a white actor, Luise Rainer, won for portraying a Chinese slave in the controversial 1937 drama "The Good Earth." With this single win from Yeoh, experts said, the industry doesn't get to pat itself on the back. 
Ramón said true progress comes from a consistent uplifting of marginalized communities. And more work can be done to recognize voices of color, particularly worthy filmmakers who may have less star power, across all categories. Maeda also said that if the industry goes several more decades without an Asian winner, it will have learned little from the movement for Asian representation. 
"It's too soon to tell, but let's hope that we are not having to ask the same question four decades from now," he said.