In Michigan, Muslims are observing the holy month of Ramadan, which runs from June 6 to July 5, not only by fasting and praying, but also by fighting hunger. The Michigan Muslim Community Council's (MMCC) annual Ramadan Fight against Hunger campaign hopes to collect and distribute over fifty tons of food to people across Michigan, according to the non-profit organization.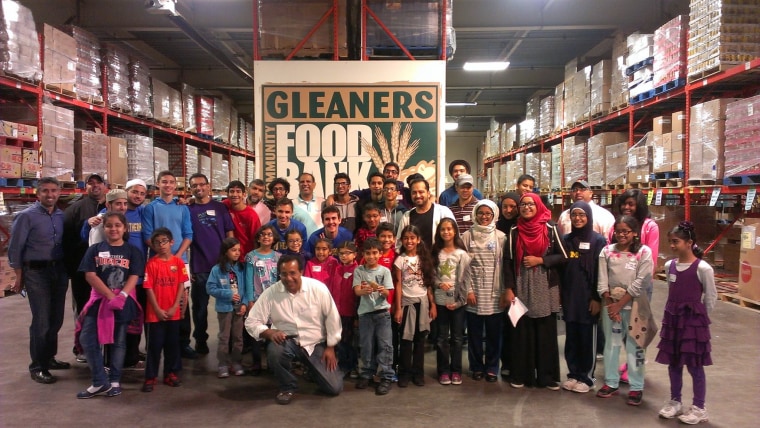 "Every year, the Michigan Muslim community collaborates with partners to organize volunteering events during the month of Ramadan," Sumaiya Ahmed, MMCC communications director told NBC News. "Two pillars of Islam are fasting and charity. During this blessed month of Ramadan, there is no better way to give back than to gather masses of people and have them do something for those in need while fasting. This is not something that is done just in Ramadan, but we like to emphasize its importance during this month."
According to organizers, some volunteers are sorting food at food pantries like Gleaners Community Food Bank in Detroit and Forgotten Harvest in Oak Park. Other volunteers are packing hundreds of boxes of food to be delivered or picked up for at-risk families at Zaman International Hope for Humanity and the Amity Foundation. The Flint Muslim Food Pantry is providing free food and water to Flint residents. Several mosques have organized canned food drives and set up food collection boxes. Fifteen mosques are offering dinner every night for local families and neighbors at the end of the daily fast.
RELATED: Michigan Muslim Community Organizations Join Forces to Help Flint Water Crisis
"As Muslims are facing pangs of hunger from their fasting, we will remind them that many people in Michigan are hungry due to poverty," Nausheen Razvi, the coordinator of the effort, said in a statement. "This really motivates people to get involved."
According to the non-profit Feeding America, in 2014, about 1.6 million Michigan residents were food insecure, including almost twenty percent of all children.
In a related project, MMCC is also organizing and delivering Ramadan gift packages to local Muslim foster children — many of whom have been placed with non-Muslim families — and local refugee children. Working with Michigan Department of Health and Human Services, MMCC has identified 75 Muslim children in foster care and about 25 refugee children in need of holiday support.
Follow NBC Asian America on Facebook, Twitter, Instagram, and Tumblr.