Sunday night's surprise ending to the Miss Universe Pageant saw host Steve Harvey accidentally announce Miss Colombia Ariadna Gutierrez the winner, only to backtrack on air moments later and announce Miss Philippines Pia Alonzo Wurtzbach the winner.
Wurtzbach told The Philippines Daily Inquirer after the pageant that she had a tough time celebrating her win. "I felt calm when I was called first runner-up because I felt it was fate. But when they announced that I was Miss Universe, I had mixed emotions. I was happy because I really wanted to win but felt sad for Miss Colombia," she said.
Philippines presidential spokesperson Edwin Lacierda praised Wurtzbach following the pageant for being graceful throughout the competition and during the announcement. "In the first few moments of the original announcement, she showed tremendous poise and control, and even more tremendous graciousness when the real verdict was finally announced," he said.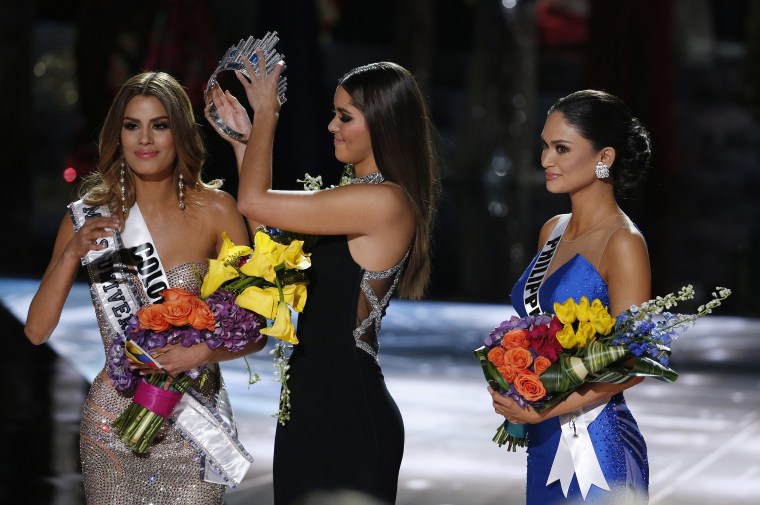 Past Miss Universe winners from the Philippines, however, have openly criticized the pageant and its host for what happened. Margarita Moran-Floriendo, the most recent winner from the Philippines who was crowned in 1973, told the Philippines' GMA News that the situation was "unfortunate."
RELATED: Praise for Miss Colombia's Graceful Reaction to Miss Universe Mistake
"It robbed her from the glory of that moment, of the excitement and waiting to be called Miss Universe and hearing the rejoice of all the Pinoys watching it," Moran-Floirendo said. "That was the most unfortunate part of the whole contest. Unfortunate but she won. That's all that matters really."
Gloria Diaz, who was crowned as Miss Universe in 1969, was more critical. "[Steve Harvey] should pay a fine of 100 thousand dollars to Ms. Columbia and to the Ms. Universe," Diaz said in an interview with media in the Philippines after the pageant.
RELATED: Host Steve Harvey Botches Miss Universe Announcement
Online, the announcement was met with shock and excitement, including from Broadway star Lea Salonga and writer and activist Jose Antonio Vargas:
But the embarrassment of the debacle was directed mainly toward Harvey, who took full responsibility for the error while announcing it on television, as well as online after the pageant ended.
Harvey's initial tweet, however, misspelled both "Colombia" and "Philippines," prompting the Manila Bulletin, a newspaper in the Philippines to respond to his now-deleted tweet:
But despite the jokes, some Filipinos including Salonga and Vargas are focusing on the positive win for Wurtzbach, rather than insulting Harvey for the mistake:
The official Miss Universe Twitter account posted an official statement, calling the situation a result of "human error," and apologized to both contestants and to their families and fans: