"A sparkly, Pinoy-pride colored light bulb," is how Filipina-American teacher Marcie Dunham describes her initial idea for Beep Beep Books. "Buy a jeepney. Fill it with books. Make learning magical. Inspire children."
When Super-Typhoon Haiyan (also known as Yolanda) devastated the Visayas region of the Philippines on November 8, 2013, ripping off roofs and leveling schools and libraries. Everything inside those buildings -- including the books -- was also lost.
"Beep Beep Books is a mobile book library project of Pandoo Foundation," says Eva Gamboa, Volunteer Coordinator, "to provide story books and hope to the children in disaster-hit areas."
Jumping onto the bright multicolored cheer of a refurbished jeepney—the ubiquitous and most-loved means of transportation in the Philippines—the project collects new and used books, puts together "starter sets" of 100 children's books to help school libraries restart, then delivers them to remote rural communities in Cebu Province with a team of storytellers and teachers.
Even the book collection boxes are in the shape of a jeepney.
"Our major aim is to bring new teaching methods, lessons and resources," said Gamboa. "We want to foster a love of reading in children by engaging them in storytelling, giving them better access to books, and a thirst for learning."
Funding comes from local donations, the It Matters Initiative, and the Pandoo Foundation -- connected to an online video game in development called Pandoo Nation that gives youth players opportunities to contribute to real world international development projects.
Reporting for this article made possible by Rotary International.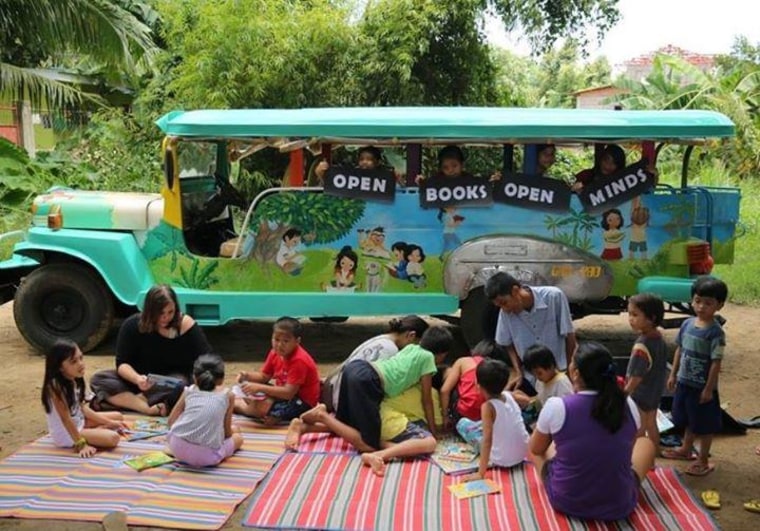 IN-DEPTH
SOCIAL