"Crazy Rich Asians" has been celebrated as groundbreaking for everything from Asian-American representation in Hollywood to portraying strong, self-assured female and male leads in a genre that often plays immaturity for laughs. But the romantic comedy also challenges stereotypes about motherhood, womanhood, and mother-child relationships in American and Asian cultures.
Unlike the mothers in fellow book-to-film adaptation "The Joy Luck Club," which hit theaters 25 years ago, the women of "Crazy Rich Asians" are not defined as tiger moms or immigrant moms, traditional or assimilated. And according to the actresses who brought these women to life, blurring those lines is another form of representation.
"In 'Crazy Rich Asians,' you're going to see a really wide palette of different mothering styles from Asian mothers," said Singaporean actress Tan Kheng Hua, who portrayed Kerry Chu, mother of actress Constance Wu's Rachel.
"Any presentation of variety just presents more details, and more details is really the way to fight stereotypes, because then you are offering audiences greater information to come up with their own conclusion about what they identify with, what they think is right, what they want to do, what they would like to or what they believe in, and their own values," Tan added.
The actress said the relationship between character and Wu's was like the one between her and her own daughter: a closeness that "may seem very Western in that rather than the sort of parenting style that dictates and tries to organize children's lives, Kerry actually comes down to Rachel's level and relates to Rachel as an individual in her own right," Tan said.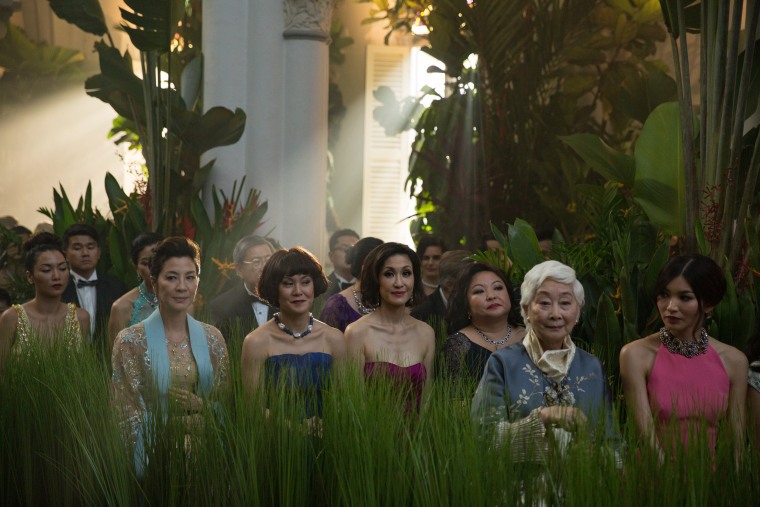 In contrast, Michelle Yeoh's Eleanor Young and Janice Koh's Felicity Young are "more old-school" in the way they view parenting, Koh said. While Eleanor defers to her critical mother-in-law on how to raise her son, Felicity does "parenting by discipline, parenting by control" for her daughter, Astrid, portrayed by British-Chinese actress Gemma Chan.
"You don't get to see a lot of the mother-daughter relationship in the movie, but that perhaps comes across in the way Astrid carries herself," Koh said. "She is very controlled. I think it's a reflection of also how it's also kind of the culture in the rich family."
"Rather than anything to do with race, it's the circumstances that influence the decisions made," added Amy Cheng, who portrayed Jacqueline Ling, the mother to Amanda, an ex-girlfriend of leading man Nick.
"I lived in Perth for a while and saw moms who are Caucasian, who also put their children through enrichment programs to do well. Do we call them tiger moms? No. Because that label is only used for Asians," Cheng, a mother of two sons, said. "It opens up a dialogue and makes you question. And I think that's what this movie does."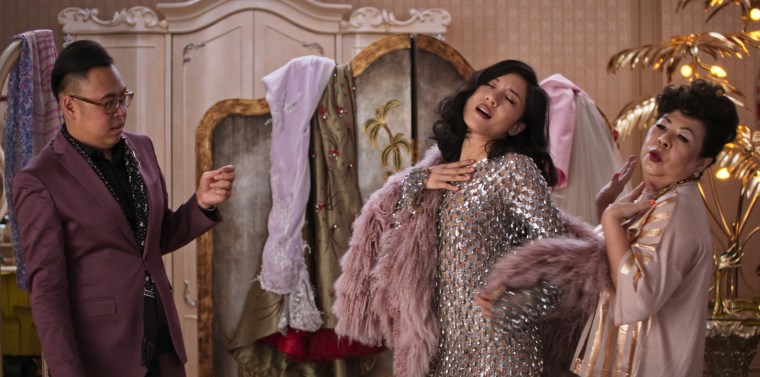 The film also includes a "supermom," as Singaporean actress Koh Chieng Mun described her character, Neenah Goh, the mom of Awkwafina's Peik Lin as well as a grown son, two young twin girls, and three dogs.
For Koh, playing a "not very well-educated Singaporean" who wants everything Singapore was and is for her children wasn't difficult — she just drew on her experience with her own mother.
"My mother, she got married in the 50s, had me and my three other siblings, and whatever we wanted to do — whatever vision we had in life — she encouraged," she said. "So the way I am, what I do, how I approach life is all due to my mother. And this fantastic woman, who's now 85, is one forward-looking woman and I hope I will be like that if I ever get a chance to nurture somebody younger."
Ultimately, motherhood and parenting across cultures and for rich and poor have more in common than many may realize, Janice Koh said.
"Sometimes this culture of controlling their kids and who they marry then gets passed down from generation to generation, which is not necessary, but it's what you see reflected even in the monarchy and the royal family," she said. "But there is a time and place and context where it has to be brokered and that is what Eleanor does by the end of the movie and that's wonderful: She listens and she admits and submits."
Follow NBC Asian America on Facebook, Twitter, Instagram and Tumblr.
CORRECTION (Aug. 28, 2018, 5:31 p.m. ET): An earlier version of this article misstated the last name of an actress in "Crazy Rich Asians." She is Amy Cheng, not Cheung.CORRECTION (Aug. 29, 2018, 5:52 p.m. ET): An earlier version of this article misquoted Amy Cheng, an actress in "Crazy Rich Asians," about not calling Caucasian mothers "tiger moms." She said she had lived in Perth, Australia, for a while, not Paris.