When 11 people were killed in his hometown of Monterey Park on Saturday, Raymond Cheung struggled to find the words to tell his mom. 
As she cooked for her grandkids and handed out red envelopes for Lunar New Year, he couldn't bear to break that news that the city, once her safe haven, had been the backdrop to a grisly crime. 
Cheung's family had spent much of their lives there. After his parents immigrated from China in the 1960s, and then to the West Coast, Monterey Park was the obvious choice. 
Thousands of Asian immigrants share that story. 
"I had times when I'd be speaking Chinese with my family and someone would say, 'Hey, you're in America, speak English,'" Cheung, 42,  said. "We didn't have to worry about that in Monterey Park. It was just kind of like an extension to your home, you felt safe and comfortable."  
Identified by author Timothy Fong as the first suburban Chinatown in the U.S., Monterey Park has long attracted Asian immigrants from all over the world. Residents say they never expected to see mass violence touch their vibrant, singular sanctuary. As the city's safe image is shaken and residents come under a national microscope, they wonder — what will happen now? 
Leland Saito, a professor of sociology at the University of Southern California, has spent much of his career researching Monterey Park and the surrounding San Gabriel Valley. He's seen Chinese newspaper articles talking about the city for decades, even reaching Asian pockets in countries like Brazil. 
It was the first city in the continental U.S. to have a majority Asian population, he said. And it was more than just residential. Businesses thrived there that one would be hard-pressed to find outside  China, he said. 
"You want to buy a house, you want to rent an apartment, you could go to a real estate agent that speaks Mandarin or Cantonese," he said. "You want a supermarket that has the kind of food that you want, you need to open a bank account, you want to go see a doctor, you need an attorney, an accountant. Everything that you need is there." 
And though tourists came by the busloads, the city didn't directly cater to them. It was designed for those who lived there, giving access that was unparalleled.  
"This was an interesting phenomenon to many Chinese around the world, the establishment of this city," Saito said. 
After a boom in the Asian population in the 1980s, it seemed like everyone immigrating from Asia knew someone who lived there. Moving there cushioned much of the discomfort that came with integrating into American life, Cheung said. 
"That's where our family was, that's where our friends were," he said.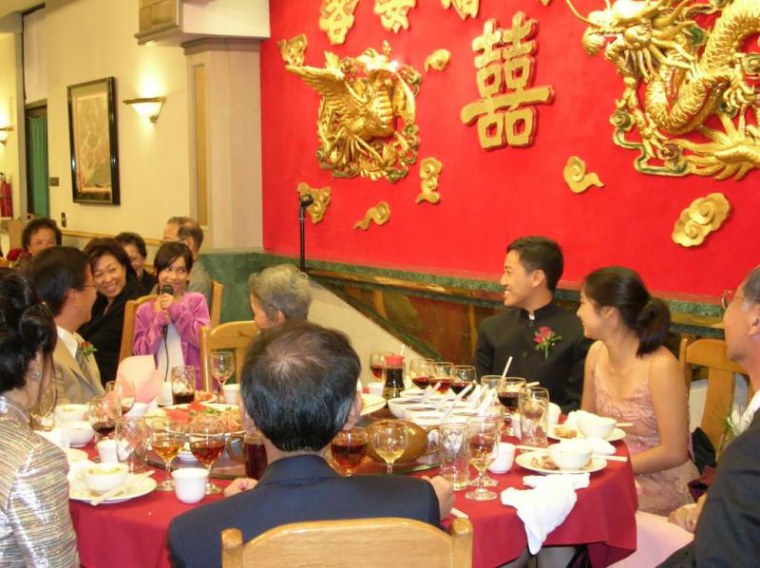 A history of resilience
The residents of Monterey Park have never been strangers to hatred and vitriol. When Asian Americans first began to leave Los Angeles and settle in the area in the mid-1900s, they were battling racial restrictive covenants that made it difficult for people of color to buy land or property. 
But by the 1980s, the city was majority Asian. The population spread eastward throughout the San Gabriel Valley over the next few decades, and the whole area went from a predominantly white suburb to a hub of Asian life and culture, Fong wrote in his book "The First Suburban Chinatown: The Remaking of Monterey Park, California."
In turn, hate crimes followed, Saito said.
"In the 1980s and 90s, people were physically attacked, people's homes were vandalized, crosses were burned on the lawns of Chinese churches," he said. "Even though it was directed at Chinese Americans, it impacted all Asian Americans."
Though he's seen that hatred mirrored over the last few years, the 2000s and the 2010s proved Monterey Park was a safe haven. The city thrived, and so did its people. 
The recent shooting makes Saito think of the times that he himself went to a different Monterey Park dance studio to take salsa lessons. He says he's not sure what this city will look like after the mass shooting. 
Cheung, who spent many moments of his childhood in the public spaces of Monterey Park, not too far from the location of the attack, said the violence is something uniquely horrifying for all Asians who have ties there. 
"Because we thought of it as this extension to our home, it was very personal, even for those of us who don't live there anymore," he said. 
Though the road ahead isn't clear, and he feels the fear in the community, he knows that what made Monterey Park so special to him won't disappear anytime soon. 
"It may be shaken, but that sense of family and belonging, I don't think it's shattered," he said. "The folks who live in Monterey Park are super resilient. It's just another challenge that they undoubtedly will overcome."