Escorted by a police cruiser in front and another in back, Eh Wah made his way to the Muskogee County Sheriff's Office in Oklahoma one late February evening. The cops had pulled him over earlier and wanted to know why the 40-year-old was traveling with $53,234 in cash.
"Once I got to the station, after a long questioning and long interview, I asked them — because I don't want to do anything that they don't want — so I asked them can I just make some phone calls to the people so they can tell you who I am and what I am doing," Eh Wah told NBC News.

Eh Wah, who was not under arrest, was granted his calls — one to the head of a Burmese Christian rock band, the other to a church. He was also told to speak in English. Eh Wah was hoping that the band leader, Saw Marvellous Soe, would clear everything up by explaining that most of the cash was raised at 19 U.S. concerts and that it would be donated to a Christian school in Burma and an orphanage in Thailand.
But the cops didn't believe Saw Marvellous Soe.
"Even though they talked to him, they don't want to listen anything from him," Eh Wah said.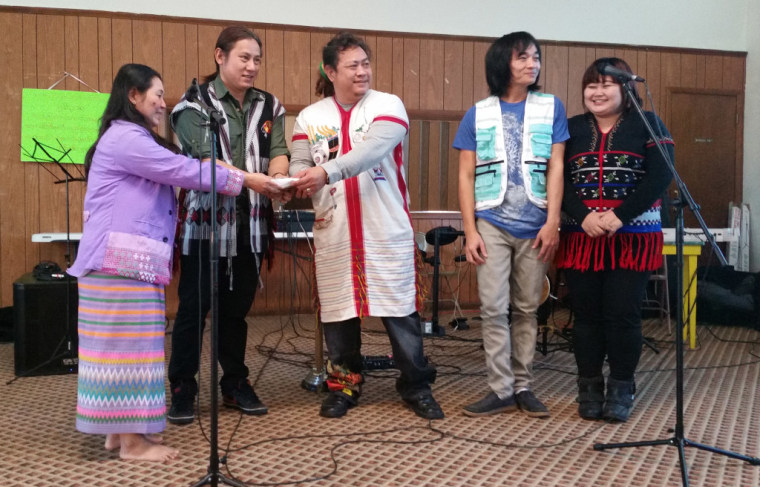 Eh Wah left the sheriff's office around 1 a.m., minus the money that the police had seized. He got into his car, a four-door black Suzuki, and made the four-hour trek back to Dallas, Texas, where he lives with his parents.
Eh Wah's case — which Muskogee County District Attorney Orvil Loge told NBC News his office dropped last week — trains a spotlight on a practice called civil forfeiture, which allows U.S. law enforcement agencies to seize and keep property if they suspect it's connected to a crime. While American civil forfeiture laws date back centuries, their application has grown over the last few decades in popularity and scope on the local, state, and federal levels, according to a 2015 report by the Institute for Justice, a legal nonprofit in Virginia that agreed to represent Eh Wah pro bono.
"That's the part that really scared me. I wasn't doing anything, and being charged with a felony like that — who would have thought?"
Since 2001, net assets in the Department of Justice and Treasury forfeiture funds increased 485 percent, totaling $4.5 billion in 2014, the report said. In Oklahoma, a state with a low bar for forfeiture, which requires proving a link between seized property and a crime by merely a preponderance of evidence, nearly $99 million was forfeited between 2000 and 2014, the report said. Some 72 percent of that was cash.
Although law enforcement agencies often get to keep at least part of the proceeds from forfeited property to augment their budgets and help with crime fighting, the Institute for Justice report argues that such financial incentives create "a conflict of interest and encourages the pursuit of property instead of the pursuit of justice."
In Eh Wah's case, his encounter with police began on Feb. 27 around 6:30 p.m. when he was pulled over for a broken brake light, according to Eh Wah and police. That morning, he had started out from Rock Island, Illinois, where the band had held a concert seven days earlier, and dropped off two of the Klo & Kweh Music Team members in Des Moines, Iowa, he said. Eh Wah, a Burmese refugee who came to America in 1997 and is a naturalized citizen, was planning to surprise his parents in Dallas later that evening, he said.
Following the traffic stop, Eh Wah, who served as the band's volunteer U.S. tour manager, said he was asked many questions such as where he was coming from, where he was going and where he was staying. It was only after the exchange with police that he was told he was pulled over because of a broken tail light, he said.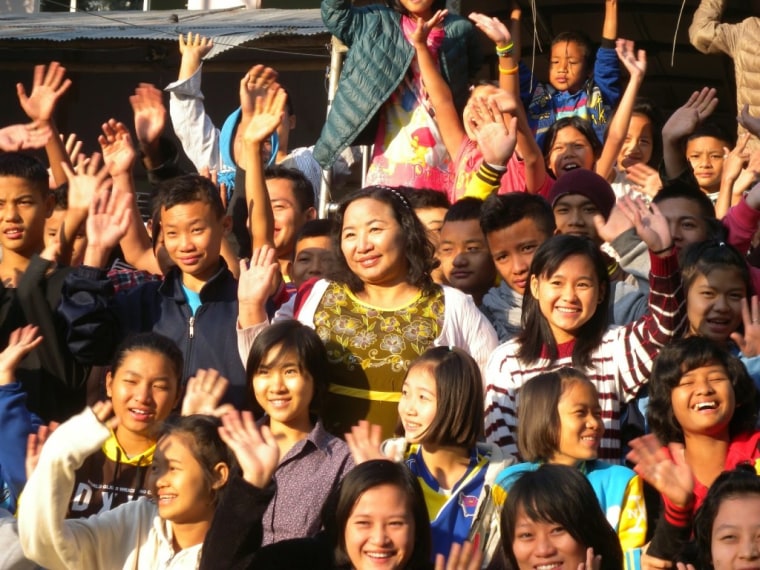 More officers arrived soon after, including one with a K-9 partner, Eh Wah said. According to a police affidavit, the police dog "had a positive alert on the vehicle," and Eh Wah said he let the officers search his car.
There were no drugs in Eh Wah's sedan, according to the Institute for Justice, but the search did turn up more than $53,000 in cash. In a red-and-white gift bag in the car's trunk was around $32,000 the Klo & Kweh Music Team had raised from ticket sales and received from individual donations. Some of that money had also come from collections taken up by Karen Christian churches. The Karen people are an ethnic minority in Burma and Thailand.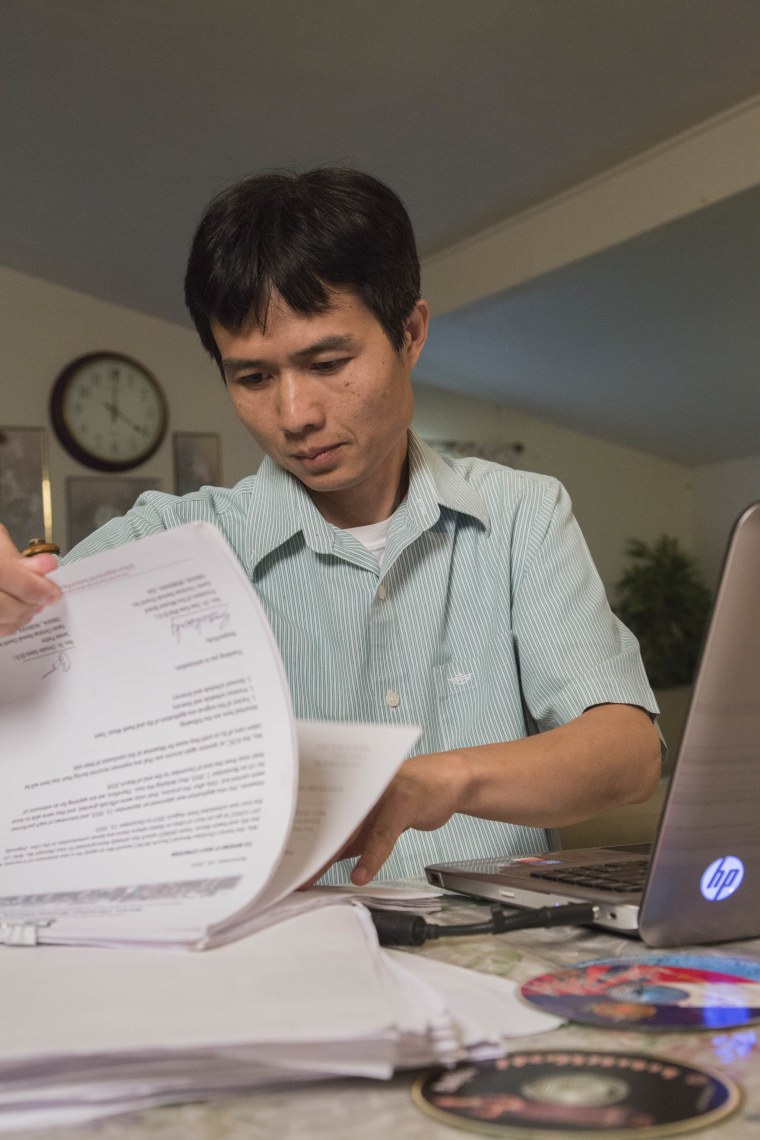 Also in Eh Wah's laptop bag and duffle bag with clothing was $7,300 from the band's souvenir and CD sales. In the driver's side door in 30 envelopes bundled together was $1,000 in donations for the Hsa Thoo Lei Orphanage in Thailand. And in a blue-and-white gift bag was a $10,980 gift for the band's bassist, as well as $2,000 of Eh Wah's own pocket and travel money stored in his bags.
Eh Wah, who said his only previous encounter with the law was a traffic ticket in 2001, said officers continued to question him on the roadside about the money. "Whatever I say just create more problems for myself," he said. "I was frustrated why they don't try to listen."
In the end, the police decided to seize the cash.
"Due to the inconsistent stories and Wah unable to confirm the money was his, the money was seized for evidence, awaiting for charges to be filed for possession of drug proceeds," according to a police affidavit.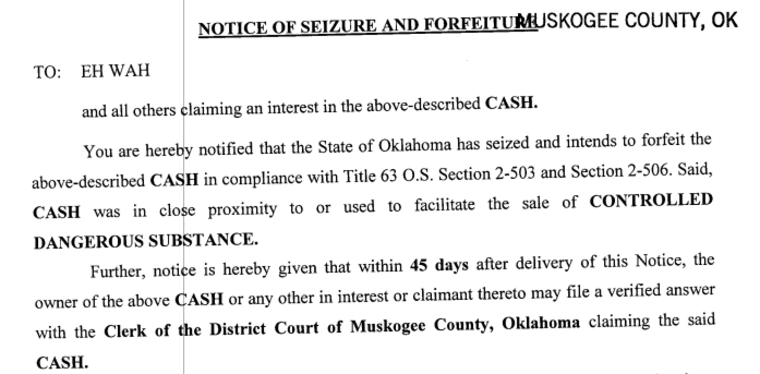 After arriving at the Muskogee County Sheriff's Office under police escort, Eh Wah was questioned for hours, he said. According to the Institute for Justice, Eh Wah attempted to explain that he was on tour with the Klo & Kweh Music Team and that most of the money in his car was for charity. The officers also looked through photos of the band's concerts on Eh Wah's phone, visited Klo & Kweh Music Team's website, and spoke with Saw Marvellous Soe for between five and 10 minutes, according to the institute.
Even though he wasn't under arrest, Eh Wah said he didn't feel like he could just get up and leave.
"One of them, for many occasions, mentioned things like you're going to jail tonight, a few times," Eh Wah said. "I was like, I didn't say anything but I thought, why you saying that? I didn't do anything wrong."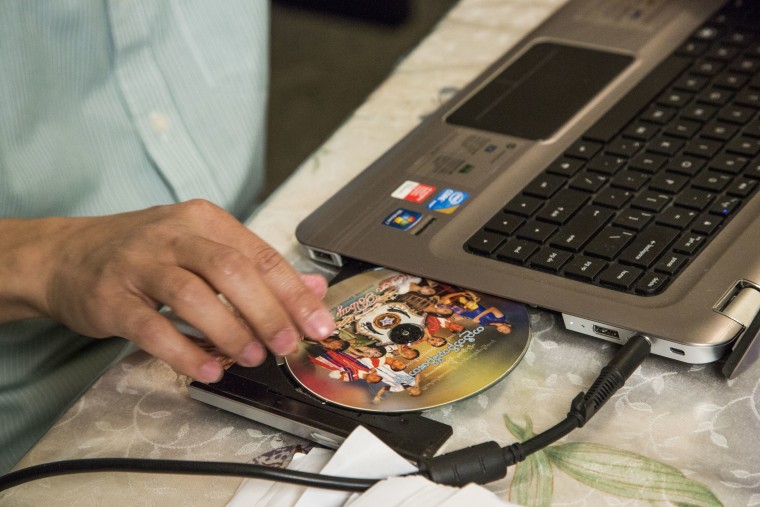 On March 11, the Muskogee County District Attorney filed a notice of seizure and forfeiture for the money, saying it was "in close proximity to or used to facilitate the sale of controlled dangerous substance." Eh Wah was given 45 days to respond. The band leader contacted a church where Klo & Kweh Music Team performed in St. Paul, Minnesota, and church workers put them in touch with the Institute for Justice, Eh Wah said.
Then on April 5, Eh Wah was charged criminally with one count of felony "acquire proceeds of drug activity," and a warrant was issued for his arrest. Within 48 hours of learning about the warrant, Eh Wah traveled back to Muskogee and turned himself in on April 8.
"That's the part that really scared me," Eh Wah said. "I wasn't doing anything, and being charged with a felony like that — who would have thought?"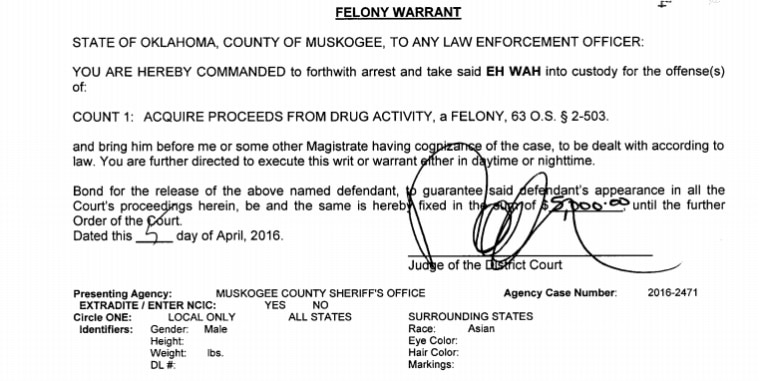 But last week, the Muskogee County District Attorney's Office dropped both the forfeiture claim and the criminal charge.
"We thought we had probable cause to file the case," Loge, the district attorney, said in a phone interview. "Once you file the cases, if at any time you think you can't meet your burden of proof on those cases that requires you to have them, so I made that determination and dismissed the cases."
Loge also said his office mailed out a check to Eh Wah's attorney for the money the sheriff's office had seized.
Loge said "there's lessons that we learn from every case," but added that "specifically, I wouldn't want to comment on this case." He said he believes that the justice system worked fairly for Eh Wah and that law enforcement couldn't have done anything differently.
"I think based on what they had and what they were presented with, I think they submitted probable cause to my office to file the cases, so I think they acted appropriately," Loge said.
Institute for Justice attorney Dan Alban disagreed.
"Muskogee has no excuse for this gross miscarriage of justice," Alban said in a statement. "Based on next to no evidence, what started as an ordinary traffic stop turned into a nightmare. They turned a man's entire life upside down."
Follow NBC Asian America on Facebook, Twitter, Instagram, and Tumblr.