Thirty-three Islamophobic groups had access to $205 million between 2008 and 2013 to spread fear and hatred of Muslims, according to a new report by the Council on American-Islamic Relations (CAIR) and the Center for Race and Gender at the University of California, Berkeley. "Confronting Fear: Islamophobia and its Impact in the U.S. 2013-2015" documents the ways this and other funding has made Islamophobia manifest in America, as well as a new national strategy to improve American understanding and acceptance of Islam. The report also found that mosque attacks had reached an all-time high in 2015.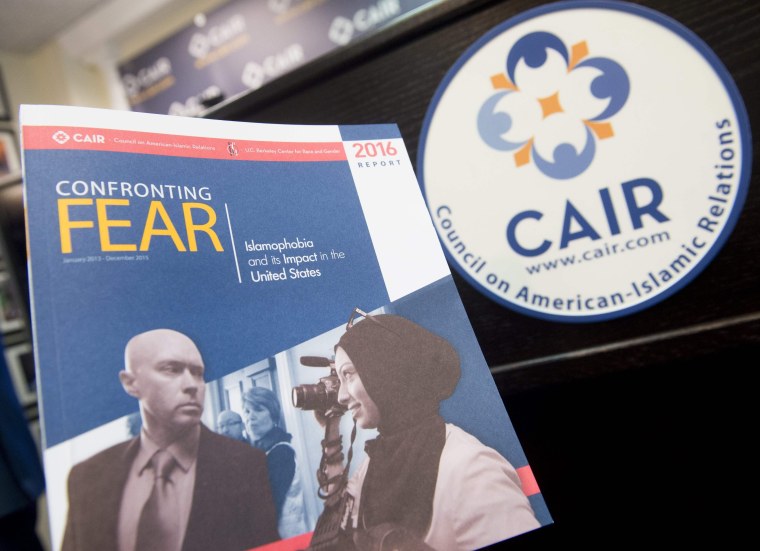 "The last two months of 2015 saw 34 incidents in which mosques were targeted by vandals or those who want to intimidate worshippers," Nihad Awad, CAIR executive director, writes in the introduction. "This is more incidents than we usually record in an entire year. This report makes a case that those who value constitutional ideals like equal protection, freedom of worship, or an absence of religious tests for those seeking public office no longer have the luxury of just opposing the U.S. Islamophobia network's biased messaging."
The number of Islamophobic groups in America has increased from 69 groups in 2013 to 74 groups in 2015, according to the report. Thirty-three of these groups are considered the inner core of the American Islamophobic network because their primary mission is to promote hate and prejudice against Islam and Muslims. Among the report's other findings: Attacks on mosques have increased, with 78 recorded incidents in 2015. Ten states have passed anti-Islam laws. Two states have changed the way textbooks are approved in order to change the way Islam is taught in schools, law enforcement trainings on handling anti-Islamic crime has decreased, and a new phenomenon of "Muslim-free" businesses and armed anti-Islam demonstrations has developed.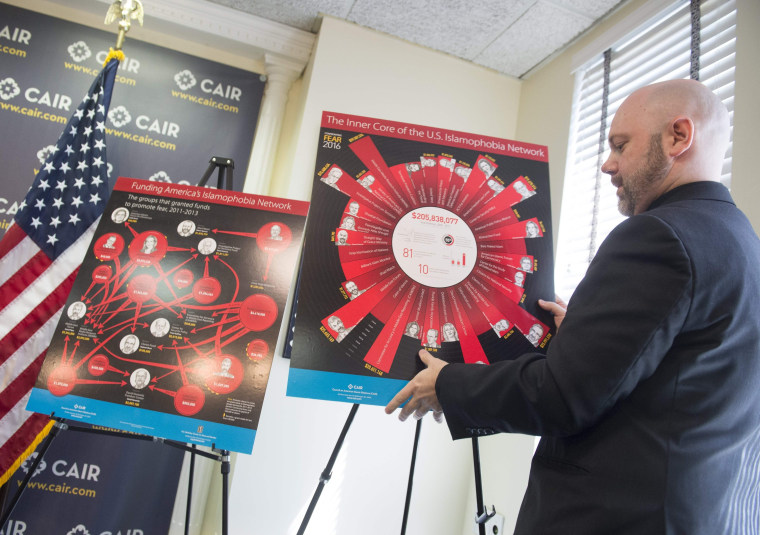 "The 2016 presidential election has mainstreamed Islamophobia and resulted in a number of un-constitutional proposals targeting Muslims," Corey Saylor, director of CAIR's department to monitor and combat Islamophobia, said in a statement. "'Confronting Fear' offers a plan for moving anti-Muslim bias back to the fringes of society where it belongs."
The report also presents a national strategy to increase American understanding of Islam by increasing the participation of Muslims in community issues, establishing Islamophobia as the same as other types of prejudice and one that undermines American ideals, empowering a diverse range of Muslim voices to contribute to public discourse, and increasing the participation of Muslims in politics through public service and voting.
"The hope is that this report and others like it will provide the needed grounding for communities across the country to use for effective engagement with policy makers, educators, civil society leaders, and media outlets," Dr. Hatem Bazian, director of the Islamophobia Research and Documentation Project at the Center for Race and Gender at the University of California, Berkeley, said in a statement. "Education and applied research is the best avenue to uplift and bring about a social justice transformation in society and this report is a step in that direction."
Follow NBC Asian America on Facebook, Twitter, Instagram, and Tumblr.
RELATED