BERNARDS TOWNSHIP, N.J. — Jutting out of a utility pole on Church Street is an American flag that flutters in the gentle winter wind.
It's the largest of three that share the side of the road with snow-dusted evergreen trees that shield from view a 1950s colonial home that an Islamic society is suing to turn into a mosque.
Pull into the circular driveway, and another American flag on a pole comes into view. A sign in the lawn featuring Old Glory reads "Proud to be an American."
Nadim Ahmed, a Muslim born and raised in London, has mixed feelings about all the flags.
"I'm glad, but in a way, I'm sad too," 49-year-old Ahmed, who moved from Pennsylvania five-and-a-half years ago for a biopharmaceutical job, told NBC News. "Can't we be accepted for who we are? Would we be more accepted if we have 10 American flags in the driveway versus no American flags?"
"What kind of society do we live in when we have to celebrate a federal intervention to support a community, a minority, to assert their basic constitutional rights?"
Ahmed, an American citizen, is a member of the Islamic Society of Basking Ridge, which in March went to federal court to fight for the right to raze the two-story house it bought in 2011 and construct a 4,216-square-foot mosque.
The lawsuit capped 39 hearings held by Bernards Township over four years, a process that ended with the society's application being denied last January. The group alleges that in disapproving its bid, the planning board caved to anti-Muslim sentiment in the community and discriminated against the Islamic society based on religion.
For its part, the township has repeatedly denied the allegations, saying the decision was based solely on land-use considerations. Then Mayor Carol Bianchi, who is still a township committee member, has told NBC News that Bernards Township, an affluent community about 40 miles west of New York City, is warm and inclusive.
She has also defended the planning board members as "ethical, dedicated volunteers."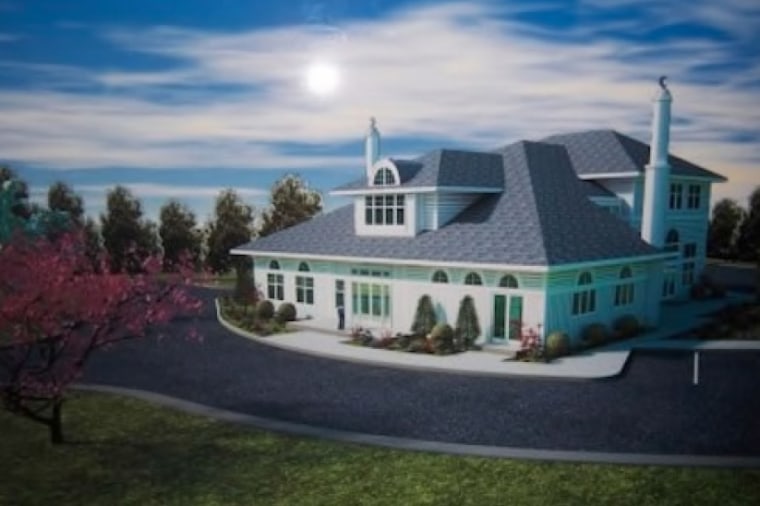 On New Year's Eve, the Islamic society scored an important victory when a federal judge ruled the township discriminatorily enforced a parking ordinance against the society by requiring it to have more spots than churches or synagogues. That requirement, the society said, "laid the groundwork for each of the board's bases for denying [the society's] preliminary and final site plan approval."
The township committee and planning board will reportedly discuss the ongoing suit when it meets on Tuesday.
For Ahmed, who is married with four kids, the latest ruling served as vindication, not an occasion for celebration.
"What kind of society do we live in when we have to celebrate a federal intervention to support a community, a minority, to assert their basic constitutional rights?" he said.
RELATED: Federal Judge Rules New Jersey Town Discriminated in Mosque Case
"I think there's a lot of misinformation out there about Muslims in general," Ahmed added. "And that for me, actually, is another major reason why we should have a mosque here, so that people can engage with us, that we can engage with others."
But some Bernards Township residents are wary of the society. Among them is Tim Brush, the third-generation owner of Brush's Deli.
"I feel like if I walked in there, I would not be welcomed, but they would be welcomed in any of our churches," Brush told NBC News while ringing up customers. "We're treated like outsiders. They live in their own tight-knit community. It makes people a little nervous."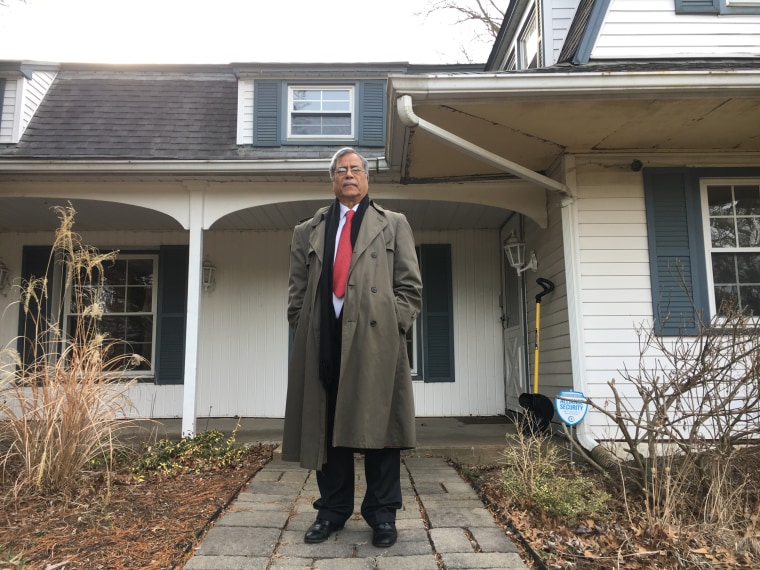 Just 24.5-square-miles in all, Bernards Township in Somerset County includes the communities of Basking Ridge, The Hills, and Liberty Corner, where former township mayor Mohammad Ali Chaudry, president of the Islamic society, wants to build the mosque. (Through an attorney, Chaudry declined to comment for this article because of the ongoing litigation.)
A combination of sprawling homes, working farms, horse-riding facilities, and a dozen houses of worship, including a synagogue, Bernards Township counts just over 27,000 people as its residents, according to the U.S. Census. From 2000 to 2010, the Asian population grew from 7.8 percent to 13.8 percent, census data shows.
"To each their own. If they come in there, we'll just keep a sharp vigil on them too, to make sure that they're not stepping out of line."
Known for its good schools, The Hills has become a popular destination for Chinese, Indians, Pakistanis and other people of Asian descent to live and raise their children. Some of the township's 70 Muslim families reside in the roughly 1,900 homes and condos built on the Basking Ridge swath of The Hills.
With the nearest mosque a 25-minute car ride away, members of the Islamic Society of Basking Ridge pray at the Bernards Township Community Center, an olive green clapboard house with a separate garage that once served as the township administrator's residence.
On Friday afternoons at around 1 o'clock, 60 to 70 worshippers lay rugs on the floors of the two structures, and an audio link between the house and garage allows everyone to hear the guest imam who leads the roughly 40-minute service. Chaudry, a native of Pakistan with a doctorate in economics who has lived in New Jersey for 40 years, served as chair of the community center advisory board.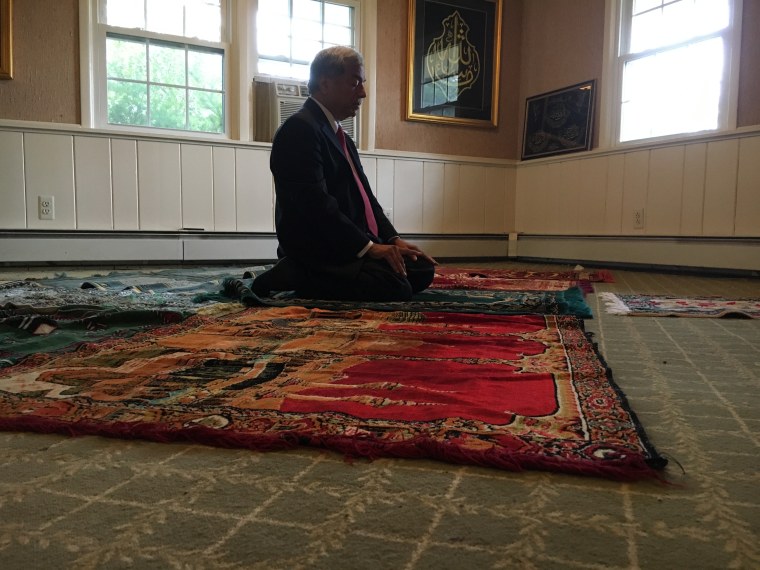 Basking Ridge once made national headlines for having the country's oldest white oak tree, dating back more than six centuries. George Washington himself was believed to have enjoyed a picnic under it with the Marquis de Lafayette.
But over the past year, lawsuits filed by both the Islamic society and the Justice Department have brought a different national media attention to this township.
On South Finley Avenue, Basking Ridge's main strip that ends with a 300-year-old Presbyterian church, many pedestrians and shopkeepers smiled politely and declined comment about the case when approached by a reporter Saturday afternoon.
"I think there's an enormous amount of mistrust on both sides of the discussion."
Some called it a "touchy issue"; some said they feared speaking might hurt their business. Few were willing to give their names. Most closed the conversation by saying Bernards Township welcomes everybody.
One resident, who identified himself only as Ken, told NBC News he believes the township did not discriminate against the society and that "it followed the letter of the law" in rejecting the proposed mosque.
"I think there's an enormous amount of mistrust on both sides of the discussion," he added.
Asked whether he would oppose a mosque anywhere in Bernards Township, he replied: "The reality is, it makes a lot of us uncomfortable."
Brush, the delicatessen owner on South Finley Avenue, also dismissed allegations of township discrimination.
"If they lined up all their ducks in a row, and they did everything they were supposed to do in the proper manner, how are you going to stop them from getting what they want?" Brush said.
Asked how he'd feel about a mosque in town, Brush responded: "If I go back to the way my forefathers thought, I'd say, yes, it does make me uncomfortable."
"To each their own," he continued. "If they come in there, we'll just keep a sharp vigil on them too, to make sure that they're not stepping out of line."
But not everyone here shares those views. Evelyn Drake, 67, lives in nearby Bernardsville and got to know Chaudry, the society president, shortly after Sept. 11, 2001.
Drake, a congregant of the Basking Ridge Presbyterian Church on South Finley Avenue, told NBC News that in the wake of the terrorist attacks, she and Chaudry participated in a series of interfaith gatherings in homes and at synagogues, churches, mosques, and Hindu temples.
"Can't we be accepted for who we are? Would we be more accepted if we have 10 American flags in the driveway versus no American flags?"
She praised Chaudry for inviting Christians hostile to Islam after Sept. 11 to attend a mosque in Boonton, New Jersey, and learn more about the religion.
"That was so significant because you are afraid of what you don't know," she said. "Your mind creates images drawn by fear. And if you meet people and find out they're housewives and teachers and doctors, lawyers, and engineers, and they have children in the school system, and you exchange conversation with each other, your hopes and dreams — that creates a big bridge to mutual understanding and respect."
Drake said she also attended the public hearings in Bernards Township that were held to decide the mosque application. The proceedings each time were filled with high emotion, she said. Police officers stood post inside and out.
"It was very distressing to me, personally," said Drake, who at one hearing commented publicly on behalf of the mosque. "I felt uncomfortable to see people band together. It was mob-like, emotionally."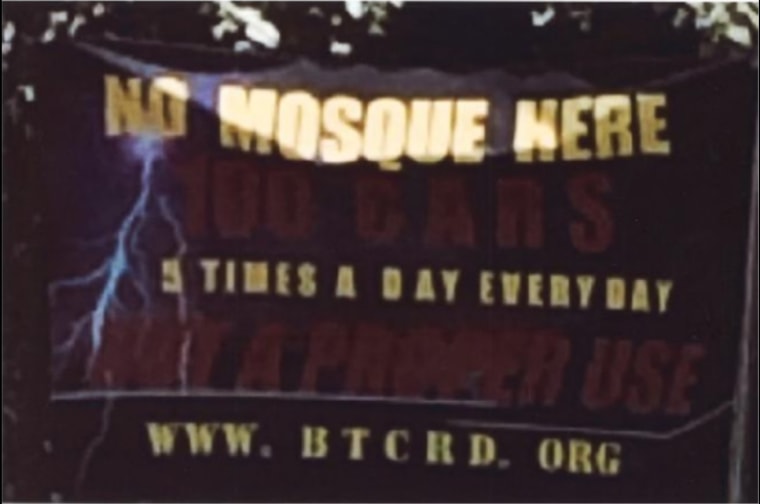 Rousing applause, she said, punctuated almost any point made in support of defeating the society's mosque application, despite board members telling attendees not to react. Unfounded fears pervaded, Drake said, including that the mosque would receive funds from Saudi Arabia and that blazing car lights would disturb residential neighbors.
The society's mailbox was also allegedly defaced, with the acronym ISBR changed to ISIS, and some members of the township committee and planning board allegedly sent emails that were biased against Muslims, according to court filings.
"The undercurrent is that if [the mosque] is here, this will change the nature of the town," she said.
Angelo Calamusa, owner of the South Finley Barber Shop, told NBC News he's not opposed to a mosque in town, though not on Church Street because it's crowded and would be between homes in a residential area.
When the society bought the property and applied to build the mosque, according to court papers, the land was zoned to allow houses of worship — an ordinance the township changed only as the group's application was pending.
Calamusa said he has a lot of Muslim customers, but doesn't discuss the mosque because it "would be too uncomfortable." He insisted that Bernards Township is an open, laid-back community.
"I don't hear talk of racism or anti-semitism, anti-Muslim," he said. "It's just not that type of town."
But Ahmed, the Islamic Society of Basking Ridge member, painted a different picture. For him, one of the early warning signs was the racist jokes and epithets his children overheard in high school, Ahmed said.
"I was like, wow, the kids get this from somewhere," he said.
While Ahmed said residents here tend to keep to themselves, he did express optimism that the divisions in his community will someday be bridged, even though interactions, he said, feel more superficial than when he and his family once lived near Philadelphia.
"A part of the healing process is, in my view, the leadership, our elected officials, to step up to the plate and understand that this test that they've had from day-one is still there for them to avail themselves of," he said. "They [should] take the position that says we have a second chance now to reset, and we want to support the Muslims in our community because they're members of our community like everybody else is."
Follow NBC Asian America on Facebook, Twitter, Instagram and Tumblr.