Move over Cronut, there's a new food craze sparking long lines down the block: the Milky Bun.
Andy Nguyen (no relation to the writer) and Scott Nghiem — founders of Afters Ice Cream — created the Milky Bun by putting a new twist on classic sweets: stuffing homemade ice cream inside a warm glazed donut.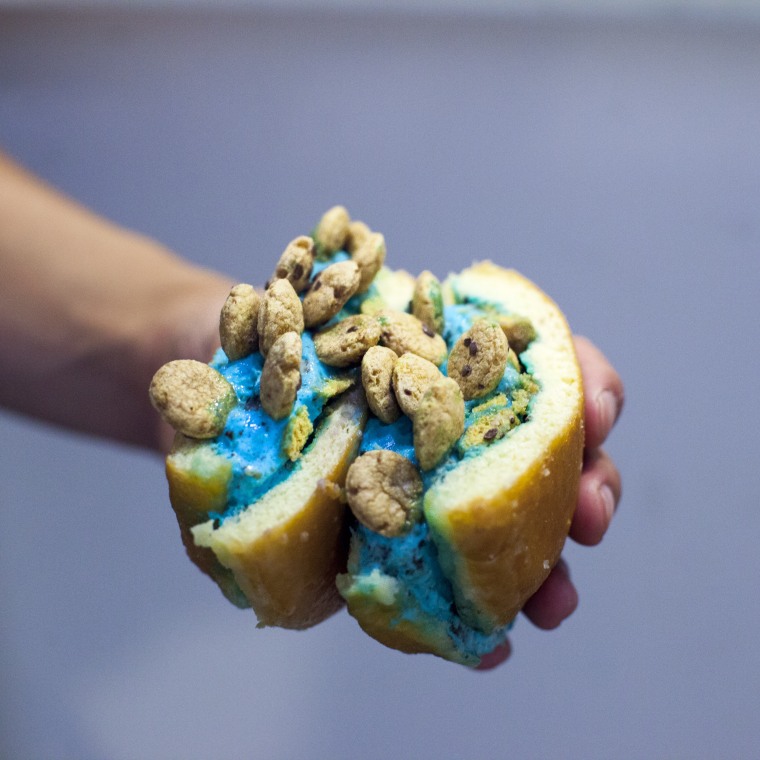 "When [customers] tried the Milky Bun for the first time, that's when the wild fire started," said Nghiem. "We did not expect the scale of how large everything went." The pair say the lines outside Afters Ice Cream in Fountain Valley, CA have not slowed down since their first location opened in February 2014.
This sweet success came after a long journey for entrepreneurs Nguyen and Nhiem, who first met in the second grade at Susan B. Anthony Elementary School in Westminster, CA. At 19 years old, Nguyen dropped out of school to start his first real estate appraisal business. After the market began to crash in 2006, Nguyen switched gears and started a new venture which would go on for nine years, a clothing brand called "IMKING."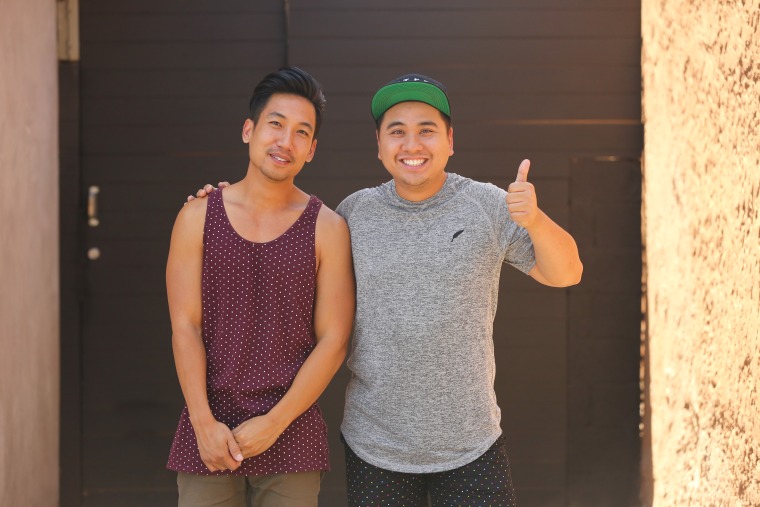 "School and higher education was never a strong point for both of us," said Nghiem. "If we weren't going to make it very far with education and a traditional career, there was only one choice for us and that was to be entrepreneurs." Nghiem has had multiple businesses since the age of 16, including ventures in the automotive industry, technology, real estate, fashion and fitness.
In 2013, the long time friends and entrepreneurial spirits joined forces to develop Afters Ice Cream. One of the main goals of starting Afters was to add to Orange County's mellow night life. "There is a need for a late-night dessert place that's cool and hip…like Los Angeles," says Nghiem. "Our mission at the time was to sell enough ice cream to cover the rent. That's it," he laughed.
"Having bread and ice cream is much more a common thing in Asian countries than America...we couldn't easily explain to people that bread and ice cream would be good together."
But both Nguyen and Nghiem knew having an ice cream shop with tantalizing flavors wasn't enough. "We needed something more in order to get people really excited," said Nguyen. The two said they "tried anything and everything" that could hold ice cream, including shells, waffles and breads.
"As a kid my dad would buy sweet Hawaiian bread and we would eat it with ice cream at home," said Nguyen. "Sometimes we'd put condensed milk on it as well." Even though Nguyen and Nghiem enjoyed sweet bread with ice cream growing up, they knew the Milky Bun needed an extra flare.
"Having bread and ice cream is much more a common thing in Asian countries than America," said Nghiem. Not only did the founders find the price point on sweet breads too high, but also Nghiem felt "we couldn't easily explain to people that bread and ice cream would be good together." They went back to the drawing board for weeks.
One day while Nghiem was on his way to meet Nguyen for lunch, he drove by a donut store and suddenly, it clicked. Nghiem brought a donut to lunch and the two of them taste tested the idea. They loved it.
"The raw concept of a donut with ice cream was exciting and easily recognized by all, and the flavor profile together was amazing," said Nghiem. The pair teamed up with a pastry chef and worked for weeks reformulating a traditional donut, removing the donut hole and correcting the density of the dough.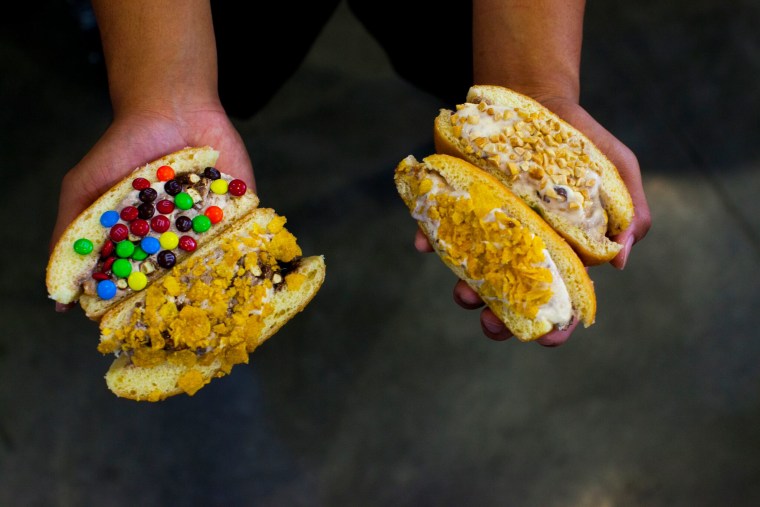 Nguyen and Nghiem take an innovative approach to creating their unique brand of ice cream flavors as well. "The flavors are all based on what we love, where we've traveled and how far we can push the limits of taste buds," said Nghiem. The founders partnered with an experienced ice cream maker to develop original flavors such as Jasmine Milk Tea, Churro and Vietnamese Coffee. "We wanted it to be flavors the typical stores weren't doing," said Nguyen.
But it wasn't long before other stores started imitating the Milky Bun. "We have seen knock offs from locally to all around the world," said Nghiem. "You know you made it when everyone is trying to knock you off."
The duo say they are not concerned with the imitators. They are focused on the success of their company and rapidly growing, with three open locations (hosting long lines every night) and plans for seven more by the end of this year. "Having a superior quality product and creating our experience," said Nguyen, "that can't be replicated."
Nguyen and Nghiem now say there was no way to anticipate the public reaction to the Milky Bun.
"Our plan was to grow slowly with the business," said Nghiem. "That obviously did not work since people were coming through our doors at an aggressive rate. We ran intro issues with crowd control…issues with the city for the mass amount of people that were coming." People were driving hours from all over southern California to try the Milky Bun.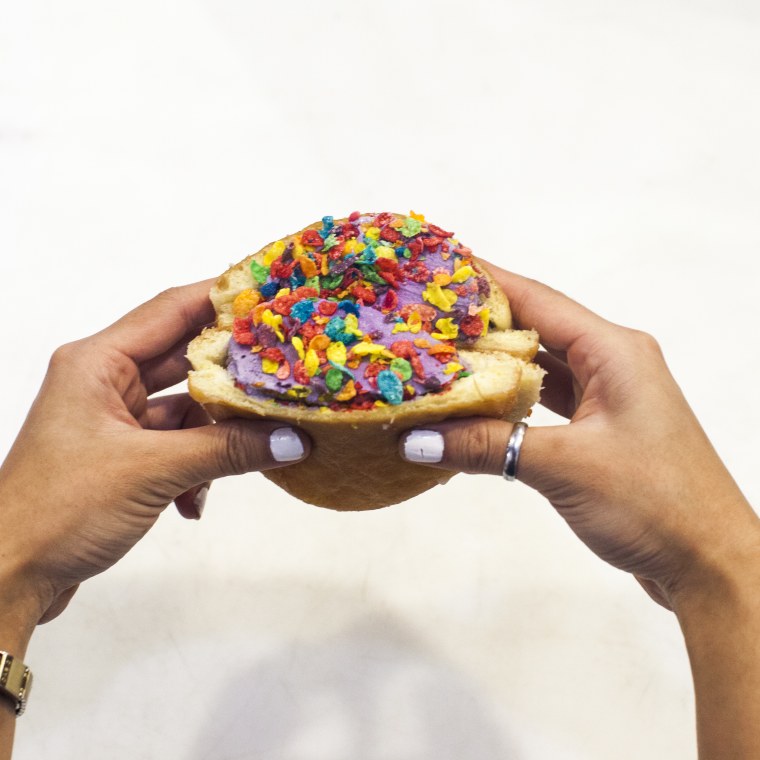 In addition to great sales, Nguyen and Nghiem say they are thrilled to see they've made a real impact in elevating the Orange County night life. "We have noticed most new concepts in the OC area open way later now because of us when they would traditionally close at 9pm," said Nghiem.
At the core of their success, Nguyen and Nghiem describe Afters Ice Cream as a "lifestyle company."
"Yes, we sell ice cream and milky buns, but we are also very innovative…in the sense we don't do things traditionally," said Nghiem.
And they don't plan on stopping with ice cream. "My vision is to continue pushing fresh ideas," said Nguyen. "We started from the bottom and worked our way up and I truly believe it's possible for anyone that believes in themselves."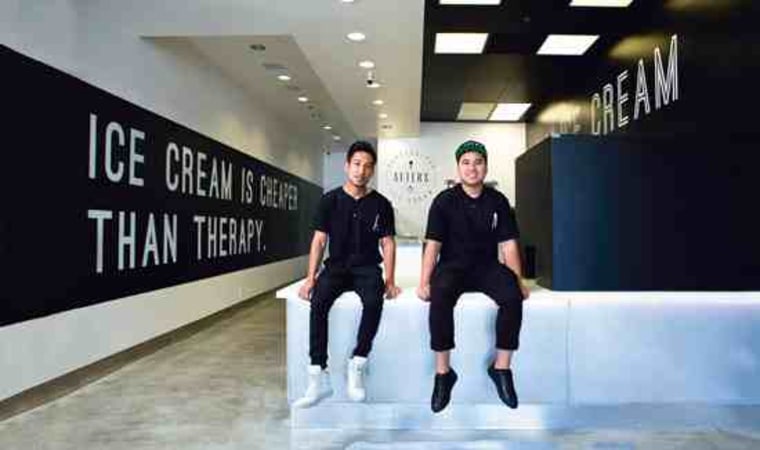 Like NBC Asian America on Facebook and follow us on Twitter.