"The biggest problem was that people didn't see me as being American. They wanted to put me in a box, and I didn't belong to that box."
Marisa Marquez was a junior in college in 2002 when she watched Caryl Churchill's "Top Girls" in London, a play focused on feminism in Britain during the 1980s — but, for Marquez, the play's feminism seemed to be missing something.
"I didn't understand it because it didn't speak to the Asian-American female experience, and what it's like to be in the United States where we are just not represented well," Marquez told NBC News.
That experience served as the catalyst for what would become "Ms. Oriental," a play written by Marquez currently developing through workshops in New York City.
The play follows defeated actress Michaela on her journey in finding her identity in an industry that irons race into one stereotype. With the help of six notable Asian women throughout history — including China's Empress Dowager Cixi, Japanese novelist and poet Lady Murasaki, and former Philippines President Corazon Aquino — Michaela is forced to connect with her roots and evaluate her purpose in life before unexpectedly waking up in a hospital bed in the play's second act.
"We cover all these Asian women through history, and they are such brilliant, powerful women that we aren't taught here in America," Marquez said. "We constantly get pigeon-holed [into] being the model minority or the geisha, and these stereotypes don't belong to me. They don't belong to the women I know, and they certainly don't belong to the characters in the play we represent."
'People Didn't See Me as Being American'
Born and raised in Sacramento, California, Marquez moved to New York in 2003 right out of school to pursue a career in acting, but she found the path fraught with challenges — specifically as an Asian-American woman. In one memorable experience, Marquez recalled a call-back to audition for the part of a Vietnamese woman. At that audition, Marquez, whose ethnic background is Filipino, also realized that her outgoing and lively personality was a huge liability in an industry that typecasted an entire continent into one role.
"I remember the hallway going into the audition room was lined with all of these beautiful women, but not me," Marquez said. "I was bigger than everyone, I was probably shorter, I didn't have that kind of stereotypical 'Asian look' they were probably looking for. I was too American. The biggest problem was that people didn't see me as being American. They wanted to put me in a box, and I didn't belong to that box."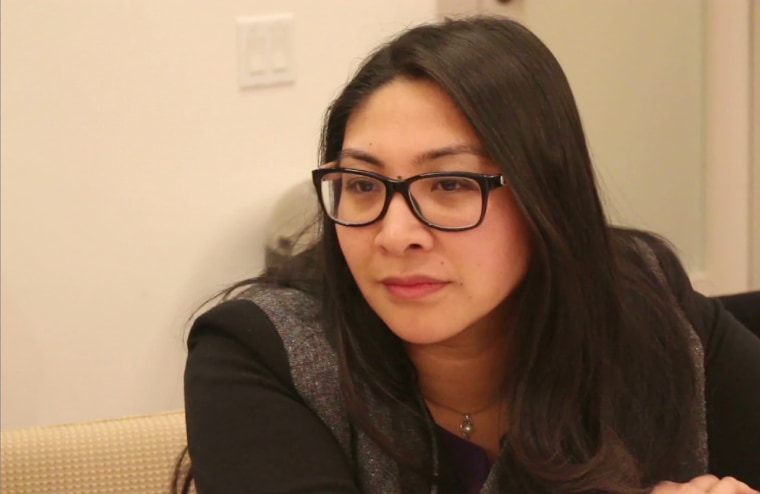 Marquez begin writing "Ms. Oriental" in the winter of 2013, incorporating her own personal struggles as an actress into the main character, Michaela. In addition to her personal experiences, Marquez stumbled on the alarming statistic that American-born Asian women had a higher lifetime rate of suicidal thoughts than that of the national population.
"Ms. Oriental" soon became more than a play about representation, and Marquez's vision expanded to address that dark reality of suicide and the pressures that cause those thoughts.
After four public readings and numerous private readings with actor friends, it became clear to Marquez how much passion was contained in the story. Initially, "Ms. Oriental" was written as a one-act play, but over time grew into a solid two-act play with seven actresses.
"It gave me a voice to show the world how women are being portrayed on a daily basis and not only that, how we've lost our own sense of history," Marquez said.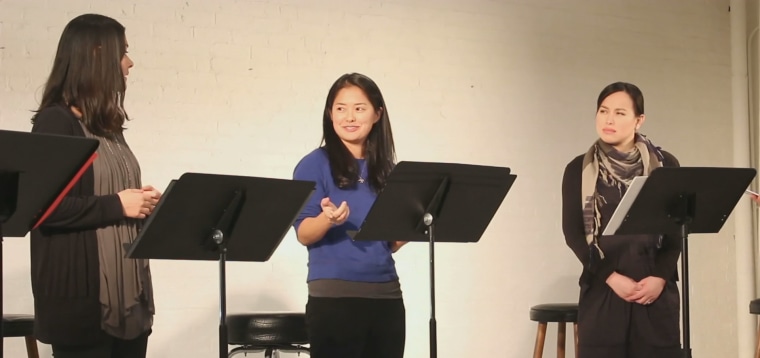 For actress Alyssa Kim, a Korean-American actress who plays the role of Queen Seondeok of one of the Three Kingdoms of Korea in "Ms. Oriental," learning cultural ties was never a craving until she met the women that came together for Marquez's readings.
"They're our stories, they're real people."
"It was that initial meet and greet ... that really got me hooked on the idea of what was lacking in, not only in the entertainment industry and theater, but what was missing in personally my own life of not having much culture," Kim told NBC News. "Because of the fact that I'm adopted, I never really grew up with that."
Actress Anjili Pal, whose "Ms. Oriental" character Lakshmibai, the Rani of Jhansi, told NBC News she felt a deep connection to the story after reading the play for the first time.
"You'll see a lot of Indian actors with really light skin," Pal said. "And I think you see that with a lot of Asian cultures — the whole light skin versus dark skin has completely permeated everywhere. The standard of beauty has been whitewashed with the same standard of beauty."
She added, "The number one thing about Marisa's writing is that she's looking at these people like they're human beings before they're Asian. They're our stories, they're real people."
'We All Understand What It Is To Grow Up'
The problem of limited casting opportunities is not new, nor is it unique to the world of theater. According to a February report released by the University of Southern California's Annenberg School for Communication and Journalism, more than half of all Hollywood projects failing to feature speaking Asian or Asian American characters. (The report examined hundreds of films and television scripts from dozens of networks and streaming services released between September 2014 to August 2015, and found that only 1.3 percent of all lead characters were Asian.)
Pursuing an all-Asian female cast was a challenge from the start for Marquez, who said she received negative criticism for a choice seen as uncommon in American film and theater.
"I don't think ["Ms. Oriental" is] meant to be a general indictment of an industry or a general indictment of a culture," director Elyzabeth Gorman told NBC News. "It's meant to really be this one woman trying to work her way through this [struggle], but in looking at just Michaela's struggle, I think everyone relates to this. We all understand what it is to grow up."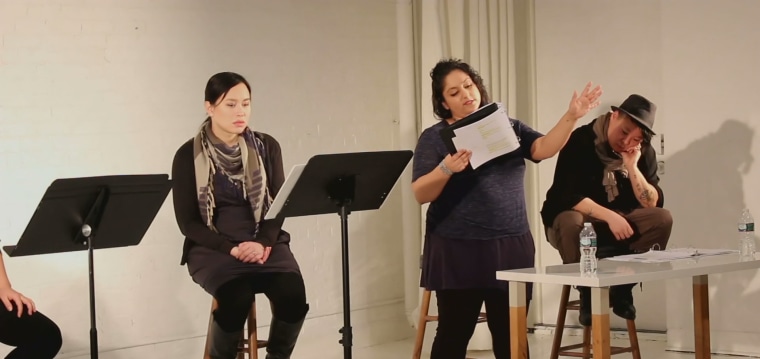 After receiving an $8,000 grant from the Asian Women Giving Circle — which supports women-led projects that uses the arts to highlight issues that affect Asian-American women, girls, and families — Marquez launched an Indiegogo campaign in February to help contribute to funds for costumes, actors, crew, rental fees, and a set. The money raised through crowdfunding would move the project into its next stages.
"We would like to do a workshop of the play, but that's only if someone can donate more money or sponsor it. A workshop would put the play on its feet," she said. "The showcase is more of a shortened professional run in the hopes that producers, investors, or theater companies would give it a home to be heard."
For Marquez, the goal of "Ms. Oriental" is to address multiple issues affecting Asian-American women; for the performers, it will provide an opportunity for Asian-American actresses to be cast in leading roles; for the audience, it will help those individuals struggling with personal identity to find a positive outlet.
"When you have a problem identifying who you are, it causes a kind of emptiness and I think that kind of emptiness has caused a lot of issues in young Asian Americans — even older Asian Americans — to live in a world where they are not accepted, and sometimes that causes them to think there's an out," Marquez said. "Maybe they want out of this society that doesn't accept them for who they are, and if this show does anything, it will show them that they are a part of this place that wants them to be here."
Follow NBC Asian America on Facebook, Twitter, Instagram, and Tumblr.
Correction: An earlier version of this article mis-identified the actress who portrays Corazon "Cory" Aquino in the photo captions.