This is not your typical Bollywood love story.
The village girl falls in love with a local boy. They get married, and he whisks her away to Mumbai, India's city of dreams.
But in this story, the bride is 10 years old. And her husband betrays the girl and sells her to the highest bidder. A brothel is now her home. It's the beginning of her long journey as a sex worker.
This tale is based on the real-life story of Sumaiya Sheikh's mother and is one of the acts in the play "Lal Batti Express," which means "Red Light Express." The play is performed by Sheikh and a group of teenage girls who are from Kamathipura, a red-light district in Mumbai, as they bring their own stories of struggle and survival directly to an American audience.
"When I was younger, I used to look at the women in the red-light district wearing makeup and all dressed up and thought they were movie actresses, including my own mom," said Sheikh,14, in her native language, Hindi.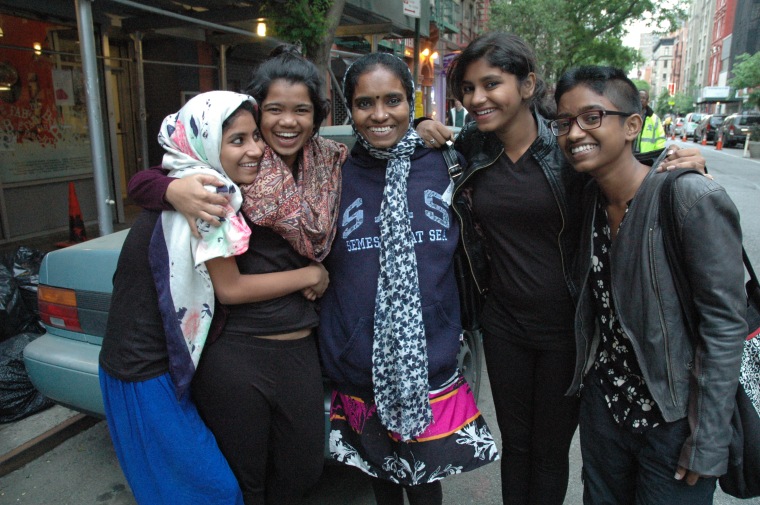 These girls have all grown up in or around brothels. Some of them were trafficked; many suffered emotional and physical abuse and have seen their mothers abused as well. Sheikh's older sister was sexually assaulted by her alcoholic father for years. The sisters were brought to the non-governmental organization Kranti by their mother so they could get a chance at a different life.
"There's this belief in India that if you've been raped then no one is going to marry you. Or if you start doing sex work, your life has come to an end," said Kranti co-founder Robin Chaurasiya. "We really wanted to battle that mentality. Teenagers are so young. It's not too late to start fresh."
"These kids have a chance to explore their dreams and passions and live to their potential rather than be restricted by a lack of choices"
Chaurasiya started Kranti four years ago to specifically heal teenage girls from the red-light district by providing them with therapy, education and creative outlets. Kranti means revolution in Hindi and Chaurasiya sees her organization as a place for girls to train to be tomorrow's leaders. The play is one of their first large-scale initiatives to empower the girls and hopefully even bring about social change, explained Chaurasiya. They'll be traveling cross country, starting in New York and making stops in Washington, D.C., Chicago, San Francisco and Los Angeles. For some, it's their first time outside of India.
"The confidence boost they get from having an audience listen to them, appreciate their stories and their background rather than being ridiculed is a very different experience for the girls," said Chaurasiya. "And for a lot of people in the audience, theater gives them the opportunity to listen to these voices that they otherwise wouldn't be able to hear."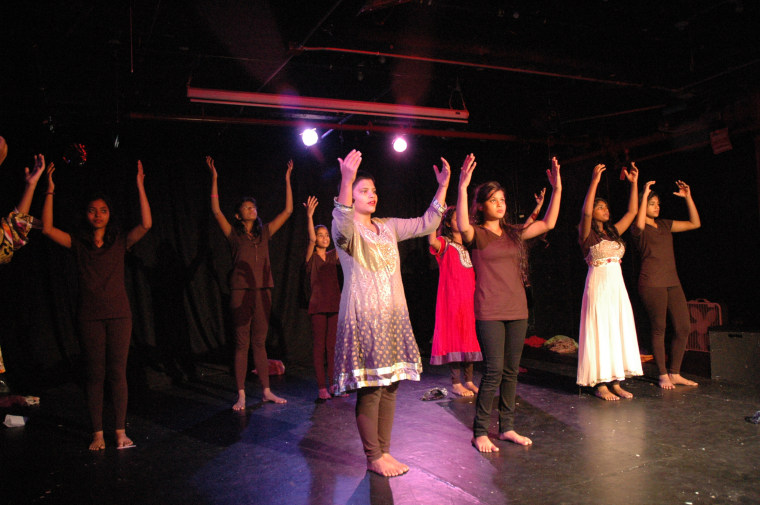 The play highlights the discrimination the teenagers constantly face in their daily life. They express frustration with not being able to attend school because of the stigma associated with their background. They face difficulty getting ID's or passports made without a father's name for the paperwork. Doctors sometimes refuse treatment to their mothers or the girls, if it's discovered they are sex workers, say the girls.
Through the support and programs at Kranti, they say they now see a way to reach their goals for the first time.
"These kids have a chance to explore their dreams and passions and live to their potential rather than be restricted by a lack of choices," said Chaurasiya.
Traveling is a big part of the learning experience. Along with theater shows, the group will also be performing in schools, a jail in Washington, D.C., and a domestic violence support group in Chicago.
"There's so much more to the United States than its pretty sights. There's discrimination, racism and sex workers here too," said Chaurasiya, who wants to expose the girls to all kinds of people. "These are things that are so closely tied to their lives."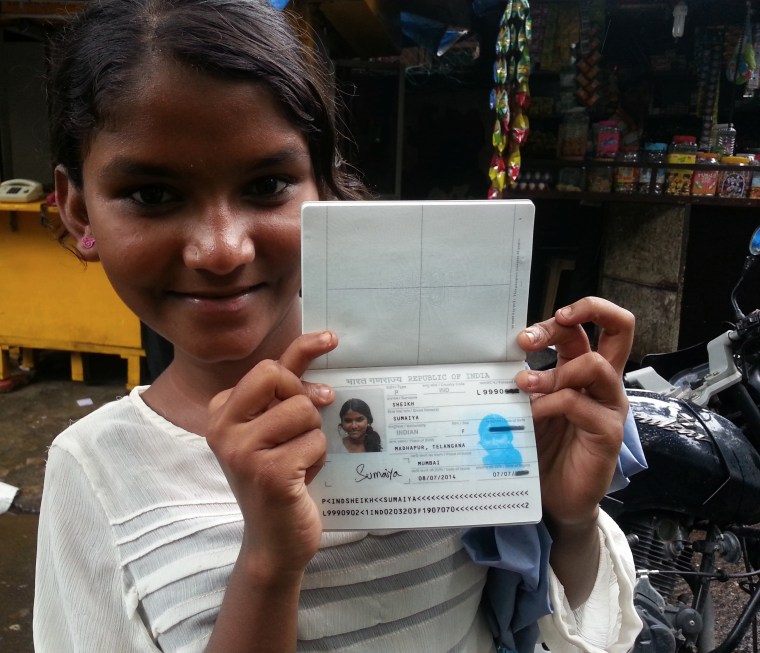 For Sheikh, Kranti is now home. It's where she's learned how to tell time and speak proper Hindi and English. She loves her art classes and has even gone to a horse-riding camp. For now, Sheikh says she wants to be a journalist.
"I like learning new things and asking questions," said Sheikh. The rest of the girls joke that you don't want to sit next to her in a movie because she'll "bite your ear off" with her commentary and never-ending questions.
The play they've produced includes stories of growth, the girls' hopes for the future and how they've already broken through their glass ceiling. Several of the girls have given TEDx talks in India. Sheetal Jain, 19, is an aspiring drummer and recently completed a drumming program in Washington, D.C. Rani Patil, 14, wants to be a Bollywood actress. She learned to dance in her mother's brothel, waiting to practice after everyone went to sleep. Last year, she attended a six-week dance camp in Minnesota.
"Who knows where else they'd be otherwise."
But Kranti's biggest success story so far is that of Shweta Katti, now referred to as the celebrity alum of the group by many girls. Katti, 20, not only received the UN Youth Courage Award in 2014, but she was also the first girl from Mumbai's red-light district to go to college in the United States. Her picture and story were splashed across India's newspapers.
"It was a culture shock at first coming to America, especially with most people at school already knowing who I was, but I got used to it" said Katti, who has been at Bard College for the past two years. "But learning how to study has been a very difficult task. I had never studied before."
Even though her mother, Vandana Katti, was a factory worker, Shweta Katti was born in the red-light district and grew up in a brothel. Her childhood was punctuated by harassment everywhere she went, and regular abuse by her step-father. Kranti offered the teenager a way out.
"I do want to go back to Kamathipura and do something for the community," said Shweta. She plans on opening a cafe with two other Kranti girls after finishing college. "It would be a safe place for kids to come after school."
Her three other half-sisters followed her footsteps and are now part of Kranti as well. They are all touring together on this trip.
"I could have never imagined, whether two years ago or 10 years ago, that I'd be in America with all of my girls," said a beaming Vandana Katti in Hindi. "I just want them to be happy, become successful and follow their dreams. They wouldn't be able to do this without Kranti. Who knows where else they'd be otherwise."