In celebration of its 25th anniversary, the Asian American Women Artists Association has launched a campaign to create a collective mural honoring the contributions of women artists in the Asian American and Pacific Islander community.
The community mural will be located in the Richmond District of San Francisco and is expected to be completed by the summer. "Mural Muses" would be one of the first large-scale murals in the Bay Area honoring Asian-American women artists, according to AAWAA.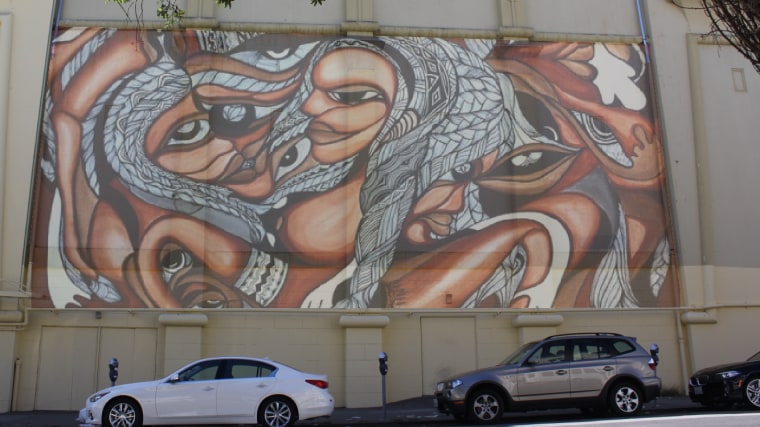 The organization will collaborate with Erin Yoshi and Cece Carpio, two prominent Bay Area Asian-American artists who are part of the Trust Your Struggle artist collective.
Melanie Elvena, programs manager at AAWAA, explained to NBC News that the collaborative mural is another way to raise visibility for Asian-American women artists in a space that has traditionally been dominated by males.
"The street art scene is mostly male—very male-dominated—so for us to commission these works of Asian-American women, I feel like it's [making] a statement," Elvena said.
RELATED: Breaking Into One of Los Angeles' Toughest Boys' Clubs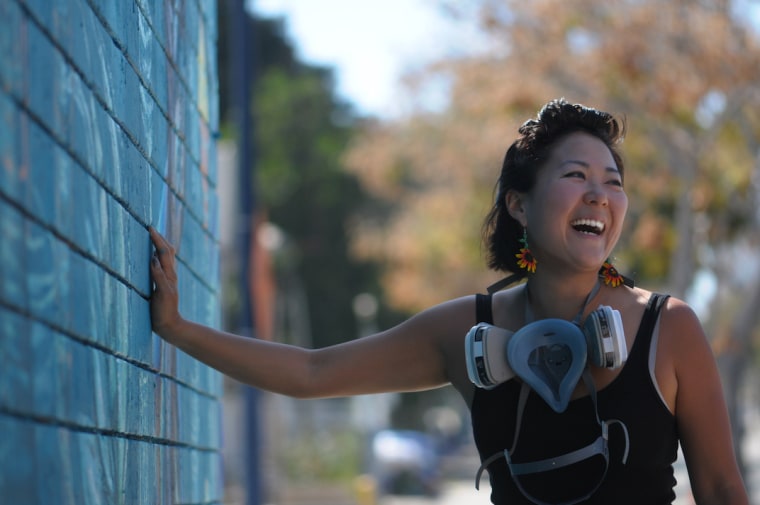 Elvena says the project is also a response to the lack of a physical space dedicated to Asian-American art.
"We don't have an actual physical space dedicated to Asian-American art, so we thought this is the perfect time to do this project and to put it out into the world, where people could go to a wall and see a mural dedicated to our community," she said.
Asian Americans make up 33.3 percent of the population in San Francisco, according to 2010 Census estimates.
AAWAA's mural comes at a time of increased sightings of vandalism, hate crimes, and racial slurs directed at the Asian-American community. Elvena cites the recent arrest of a man in connection with the spray painted words "No More Chinese" throughout a neighborhood in San Francisco.
Elvena hopes the mural will enhance dialogue and encourage Asian Americans to reclaim public space. "There's been a lot of push-back against Asian Americans and so for me, it's like we really need to raise our visibility. There's been so much negativity," she said. "I think it's important to be able to honor the communities that have been in San Francisco. This mural to me is honoring our community and [showing] that we're here."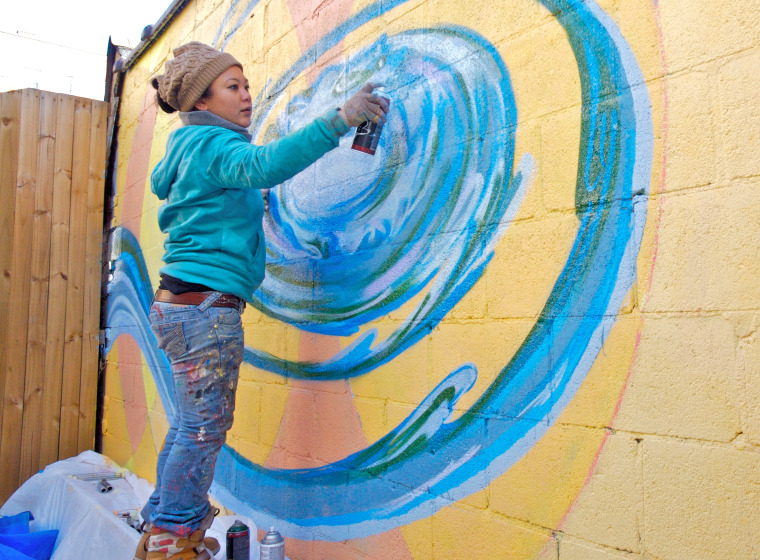 Elvena adds that San Francisco's creative arts community is currently going through some major changes. According to a recent survey by the San Francisco Arts Commission, 70 percent of artists acknowledged that they were being displaced or in the process of being displaced.
"There's a lot of change going on. A lot of the more minority communities are having to move out, and are being pushed out," Elvena said. "Many artists have experienced displacement, so for us that's a hard thing to hear because we want to make sure that in 5-10 years, we have artists and that we are serving the community."
AAWAA's "Mural Muses" project, Elvena says, comes at a crucial time when the organization is trying to hold its space down and continue its mission to empower artists.
"What I really want the piece is to have a public physical presence that can represent our community," she said. "I really wanted to provide something visual that would hopefully inspire future Asian-American artists. Personally, for me, if I had more role models that spoke to my narrative or looked like me growing up in terms of my creativity, it would have been more empowering to see that."