A judge denied a defense motion Tuesday afternoon to dismiss charges against Peter Liang, the New York City police officer charged in the shooting death of Akai Gurley, who was unarmed, in a Brooklyn housing project last November.
"Thank you, God, thank you," Hertencia Petersen, Gurley's aunt, said in a hushed tone as State Supreme Court Justice Danny Chun announced his decision.
As Liang, 27, left the Brooklyn courtroom, packed mostly with Gurley supporters, some shouted the words "murderer" and "coward," prompting court officers to admonish those in attendance.
Flanked by family, friends and members of the Committee Against Anti-Asian Violence, a Chinatown organization that addresses police and hate violence toward Asian immigrants, Petersen exited the courtroom soon after and walked toward the elevator bank on the 19th floor, clapping her hands and shouting, "My God is an awesome God."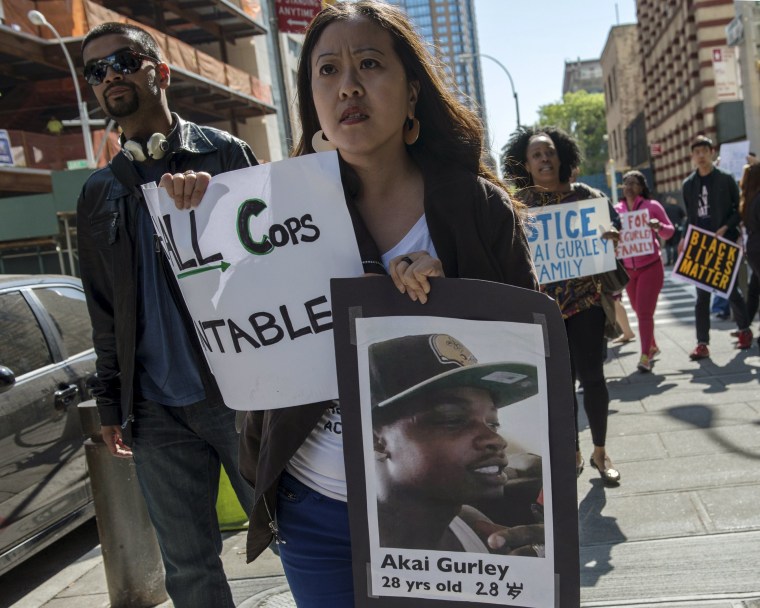 Liang, a rookie officer with the New York Police Department for less than two years, was patrolling a darkened stairwell in the Louis Pink Houses with his partner when his gun, which was drawn, went off, police have said. The single shot was said to have ricocheted off the wall, striking Gurley, 28, who had entered the stairwell with his girlfriend. New York Police Commissioner William Bratton said in November that the fatal shot "appears to be an accidental discharge" of Liang's gun.
A 57-page court filing unsealed Tuesday laid out the prosecution's account of what happened on November 20, the night of the shooting. Among other things, the document said that Liang and his partner argued for two minutes over who should report the shooting to their superiors. It also said that the officers waited almost 20 minutes before radioing in to report an "accidental fire."
Liang has been charged with second-degree manslaughter, among other charges, and has pleaded not guilty. Chun said Tuesday that the case would go to trial sometime in late fall or early next year.
Related: Race 'Doesn't Matter': Reactions to Officer Liang's Indictment
Phil Gim, one of the organizers of several large-scale rallies attended by Chinese Americans who have been critical of the indictment against Liang, said he wasn't surprised by the judge's decision, considering the extensive media coverage of fatal police incidents around the country. He added that the case should be tried in civil court, not criminal court, since it was an accident.
"We all feel for the [Gurley] family," said Gim, who also attended the court hearing with roughly 10 Liang supporters, all Asian Americans.
In late May, Gurley's family filed a civil lawsuit on behalf of Gurley's daughter and mother, naming Liang, his partner Shaun Landau and the New York City Housing Authority.
"We all have the same struggle, and we will always have the same fight -- equality."
The question of whether Liang should have been indicted at all has brought Asian Americans into a wider national debate about the role police officers have played in incidents involving civilian deaths, many of them black men. Some, like Gim and those who have attended rallies in support of Liang, believe that the Chinese-American officer has been made a scapegoat to compensate for the lack of indictments in other fatal incidents involving police, including the chokehold death of Eric Garner last summer in Staten Island.
But others, including CAAAV Executive Director Cathy Dang and city Councilmember Margaret Chin, whose district includes Chinatown, have maintained that the indictment was just and that Liang must be held accountable.
Petersen, Gurley's aunt, said that this case transcends issues of race and ethnicity.
"We all have the same struggle," she said, "and we will always have the same fight -- equality."