Singer-songwriter Connie Lim wanted to make her voice heard at the Women's March on Washington. After brainstorming with her friends from the Pussyhat Project, the 30-year-old Los Angeles-based musician came up with the idea of performing her single, "Quiet," on the streets of Washington, D.C.
But Lim didn't want to sing the song alone. She found 26 other performers — including DC-based a capella groups DC Sirens and Capital Blend — to sing with her. Just days before the march, she rearranged the song into a choral piece and rehearsed with her collaborators a few times over the internet. A recording of the group taken during the march went viral on social media, currently with more than 13.6 million views.
"I thought how art is amazing," Lim, also known by her stage name MILCK, told NBC News. "And I always loved how people make art for everyone else. I thought I could do that with the song. But I didn't want to sing it by myself. I wanted to sing it with a group of women to symbolize us coming together, and it's better to sing with people I didn't know."
The reaction has been overwhelming but largely positive since the video — which Israeli director Alma Har'el recorded by chance during the march — was posted, Lim said.
"I think if great work is honest, it will resonate with people. So my job is to be very vulnerable and very open about how I want to express myself."
"It's been pretty crazy," she said. "But I feel so alive and so grateful and very surprised, and I'm just taking it in stride. People have been saying awesome things. I've been going through messages and connecting with people and thinking about how we can take advantage of the moment and create more art."
Numerous singing groups have showed interest in performing the song since the video was posted, and Lim has since published the lyrics and music on icantkeepquiet.org for choirs to download. She also encourages those groups to share their own versions online.
Lim said her own performance with the 26 singers will also be available to purchase soon. She and the singers recorded a version of the song on Jan. 23, and Lim said proceeds from its sales will go to charity. She has one in mind but is still working out details.
"We want to get our ducks in a row and announce it in the next few days," she said.
While the song's lyrics resonated with demonstrators at the Women's March, Lim wrote "Quiet" while channeling her feelings about being stereotyped as an Asian-American woman.
"I came across a lot of these situations where I'm like, 'Wow, why is this person saying, 'Oh, you're really smart,' or they'll say, 'You must have really strict parents,' which is true," she said. "But the thing that really hurt me is that ... how I look or my respectfulness or easygoingness gave people the license to think 'she doesn't have enough edge to be an artist.'"
But Lim said that it's her mission as an artist to write music that can appeal to others.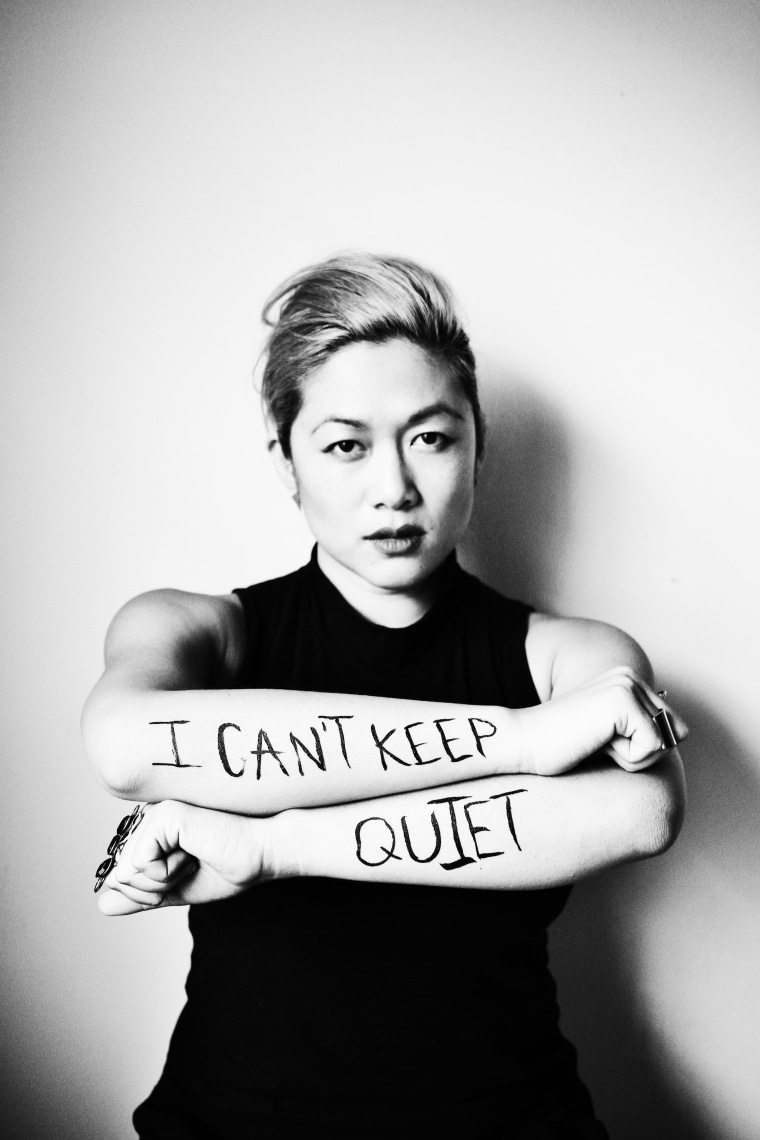 "As a songwriter, I like writing something that's completely true to me and sing it so truthfully that it true for other people even though it's a different truth," she said. "I think if great work is honest, it will resonate with people. So my job is to be very vulnerable and very open about how I want to express myself."
Since she was young, Lim had aspirations to be a singer but kept them a secret for a time due to what she called a "conservative" upbringing, telling people she wanted to be a doctor or lawyer instead.
"It wasn't easy because my parents are very conservative and traditional. There's a lot of push back, even until last year," she said. "They were like, 'Maybe you should get your realtor license or maybe you could work in your dad's office.'"
In the beginning of her career, Lim pushed herself in order to prove to everyone that she could make it, auditioning for the first season of "The Voice" and making music catered toward commercial success. But in the seven years since then, Lim has focused on the kind of work that she enjoys instead. She offered some advice to anyone who's been in her position.
"I would say focus on the progress and the day-to-day," she said. "I felt like growing up and being Asian American, it was all about the outcome. Get the A. Get into college. Get a good job. It's about the outcome, but for art, it's not about that. It's about the process and little moments of success and learning from the failures."
"I would say be easy on oneself, she added. "And work for people you admire for free and learn from them and make meaningful relationships."
While Lim is currently working on the growing #icantkeepquiet movement, she plans to make more music that could be "a playlist for someone driving to the Women's March" and also looking at her next steps as MILCK, she said.
While she has gotten some offers from labels since her song went viral, she said she's taking time to figure out what she wants next.
"Things are changing very quickly… I want to take my time and be true to myself," she said. "Things can be shiny and seem really impressive, but I've learned through my seven years of hustling through the music industry that shiny doesn't stay for long. So I want to find something that's meaningful and with a company that I believe in. And if not, I'll just go indie."
Follow NBC Asian America on Facebook, Twitter, Instagram and Tumblr.