Donald Trump has a Muslim daughter — or, at least, that's what Fawzia Mirza wants you to think.
The Chicago-based actress and writer is the driving creative force behind Ayesha Ali Trump, a character she portrays set to appear in a forthcoming Internet mockumentary series about the presidential hopeful's theoretical Muslim daughter.
Born of a mile-high tryst with a flight attendant during a transatlantic flight, Ayesha Trump has never known her father and cooks food "under the counter" and drives an Uber to make a living, according to Mirza. She's a way to use satire to criticize Donald Trump's comments on Muslims out in the open, Nabeela Rasheed, the project's executive producer, said.
"This viewpoint that Trump is putting forward, it seems as though Muslims talk about it in hovels and corners, but no one is coming out to point out how ludicrous this man's position is," Rasheed told NBC News. "Art, poetry, and literature are very powerful weapons to fight back."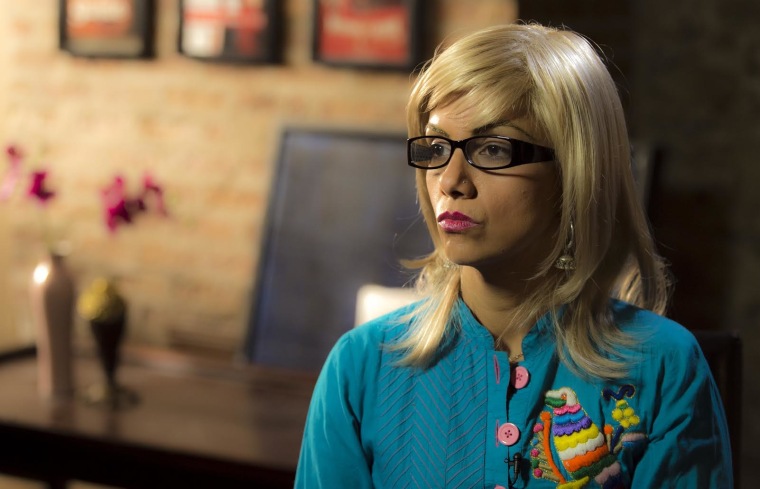 Mirza, who is Muslim, decided to start the project after Trump's statements on Muslims failed to attract the kind of reaction she was expecting.
"It really hit home when Trump began talking about banning Muslims, putting them in concentration camps, and having them wear bands around their arms," Mirza told NBC News. "People were outraged, but they weren't as outraged as they should have been. ... This thing Donald Trump has done, he's taking away any humanity with what he says and how his supporters talk about Muslim people. He's made us open to not being treated as human beings."
In crafting the character, Mirza took elements of Donald Trump's real life to inform Ayesha Trump's background. In Mirza's setting, Donald Trump built the Trump Taj Mahal in Atlantic City as a symbol of his love for the character's mother.
The project is scheduled to premiere on March 11 ahead of the Illinois primary and, Mirza hopes, will get some people to question Trump's candidacy and authenticity. If Ayesha Trump proves successful, she may continue to appear, Mirza said, perhaps in a cooking series.
"I like using satire as a rule," Mirza said. "People realize that what Ayesha and Donald have in common is they don't have to prove anything they say. If you are willing to vote for Trump, you have to believe that Ayesha is his daughter. They are equally true, equally as valid."
Follow NBC Asian America on Facebook, Twitter, Instagram, and Tumblr.
RELATED