During Sunday night's presidential debate, Gorbah Hamed, a Muslim woman who was part of the debate's night's "uncommitted" audience, asked both presidential candidates how they would help Muslim Americans deal with the rise of Islamophobia.
"There are 3.3 million Muslims in the United States, and I'm one of them," Hamed said, addressing Republican presidential nominee Donald Trump and Democratic presidential nominee Hillary Clinton. "You've mentioned working with Muslim nations, but with Islamophobia on the rise, how will you help people like me deal with the consequences of being labeled as a threat to the country after the election is over?"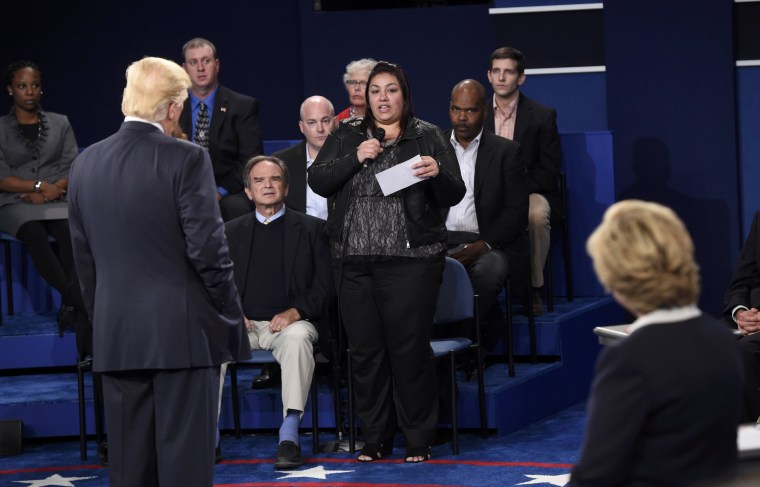 Trump began his response by acknowledging Islamophobia, calling it "a shame," and argued that Muslims must do better to "report when they see something going on."
"When they see hatred going on, they have to report it. As an example, in San Bernardino, many people saw the bombs all over the apartment of the two people that killed 14 and wounded many, many people. Horribly wounded. They'll never be the same. Muslims have to report the problems when they see them," Trump said.
However, as NBC News reported Sunday in its live blog of the debate, there is no evidence to support the claims that Muslim neighbors of the San Bernardino couple saw and did not report explosives in their apartment.
Trump has made similar statements previously, including after the deadly mass shooting at an Orlando nightclub in June, when he told CNN, "For some reason, the Muslim community does not report people like this."
In response to those claims, FBI director James Comey commented on the agency's relationship with Muslims, saying, "They [Muslims] do not want people committing violence, either in their community or in the name of their faith, and so some of our most productive relationships are with people who see things and tell us things who happen to be Muslim."
Comey added, "It's at the heart of the FBI's effectiveness to have good relationships with these folks."
RELATED: Muslim, Asian-American LGBTQ Advocates Call for Love, Solidarity After Orlando Shooting
According to a Muslim Public Affairs Council policy report about post-9/11 terrorism incidents, Muslim communities helped U.S. security officials prevent nearly two out of every five al Qaeda plots threatening the U.S. since 9/11.
Clinton responded to Hamed's question by highlighting Trump's "demagogic rhetoric" toward Muslims and how it aids the recruiting efforts of ISIS.
"We are not at war with Islam. And it is a mistake and it plays into the hands of the terrorists to act as though we are. So I want a country where citizens like you and your family are just as welcome as anyone else," Clinton said.
But Clinton also echoed the need for Muslims to be part of the efforts to ensure safe communities. "We need American Muslims to be part of our eyes and ears on our front lines. I've worked with a lot of different Muslim groups around America. I've met with a lot of them, and I've heard how important it is for them to feel that they are wanted and included and part of our country, part of our homeland security, and that's what I want to see," she said.
Many Muslims were disappointed by both candidates' rhetoric towards Muslims, often regarding them as tools in the war against terrorism, and took to Twitter to share those frustrations:
The hashtag #MuslimsReportStuff also took off on Twitter, with many humorous tweets, in response to the debate:
Follow NBC Asian America on Facebook, Twitter, Instagram, and Tumblr.