"Letters from Camp" is a new short film featuring Muslim-American youth ages seven to 13 reading letters written during World War II by Japanese-American youth incarcerated in concentration camps to Japanese-American elders today.
The letters talk frankly about life in camp, discrimination, and the children's hopes for the country after the war. The film, made by filmmaker Frank Chi, is sponsored by the Smithsonian Asian Pacific American Center and scheduled to be shown at a Smithsonian arts event, CrossLines: A Culture Lab on Intersectionality, on May 28 and 29.
RELATED: Behind Barbed Wire: Remembering America's Largest Internment Camp
"In times when hate is making a real comeback in America, it's important for all of us to respond to hate with love," Chi told NBC News. "Making this film was for me, an act of love. Over the past year, I've heard Japanese-American camp survivors talk about how the hate they hear targeted at Muslim Americans reminds them of what they heard when they were young. I made this video because we should remember the mistakes of our past and make sure it never happens again."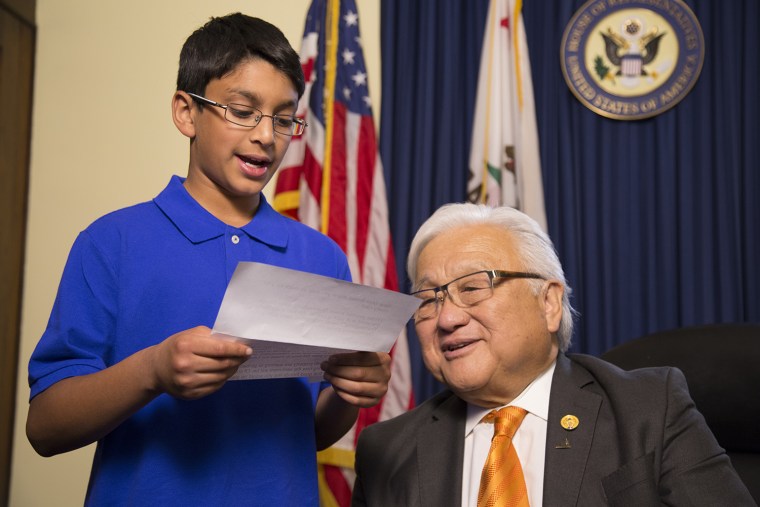 The Japanese-American elders in the film — including U.S. Rep. Mike Honda (D-CA) — did not write the specific letters featured, but like the letter writers, were incarcerated as children during World War II along with 120,000 Japanese Americans, two-thirds of whom were American citizens.
The U.S. government has since apologized and paid redress. The letters come from a collection of 300 wartime letters written by Japanese-American children to San Diego librarian Clara Estelle Breed. In 1990, Breed gave the entire collection to one of her former correspondents, Elizabeth Kikuchi Yamada, who then donated the letters to the Japanese American National Museum. In 2006, the book, "Dear Miss Breed: True Stories of the Japanese American Incarceration During World War II and a Librarian Who Made a Difference" was published by Joanne Oppenheim.
RELATED: Hate Attacks on Muslims in U.S. Spike After Recent Acts of Terrorism
"The Smithsonian has a responsibility to draw relevance in concepts that some might find abstract or distant," Adriel Luis, curator of digital and emerging media at the Smithsonian Asian Pacific American Center, told NBC News. "We're presenting 'Letters From Camp' to show that the Japanese-American incarceration experience wasn't just a moment in time isolated to a singular community — it still informs critical conversations today, including inaccuracies and biases which harm Muslims and Muslim Americans."
Follow NBC Asian America on Facebook, Twitter, Instagram, and Tumblr.