An NYPD officer was physically attacked and called a "Muslim bitch" as colleagues attempted to rip off the hijab she was wearing, a new lawsuit filed in Manhattan federal court alleges.
Officer Danielle Alamrani, who became a cop in 2006 and converted to Islam a year later, claims in her suit dated Feb. 2 that once she started wearing the headscarf on duty, her colleagues refused to work with her.
In 2010, a sergeant joked in front of fellow officers that Alamrani should not "detonate on patrol," a comment that drew laughter, according to court documents. And on Christmas day in 2012, two officers allegedly attacked Alamrani at the precinct and tried to rip off her hijab, the lawsuit states.
RELATED: Read the court papers
"They were screaming that nobody liked Plaintiff Alamrani while she did this and referred to Plaintiff Alamrani as a 'Muslim bitch' and said 'I will punch you in the face,'" according to the religious discrimination suit.
The city Law Department, which handles lawsuits against the City of New York, did not immediately respond to an NBC News request for comment. The NYPD referred comment back to the Law Department.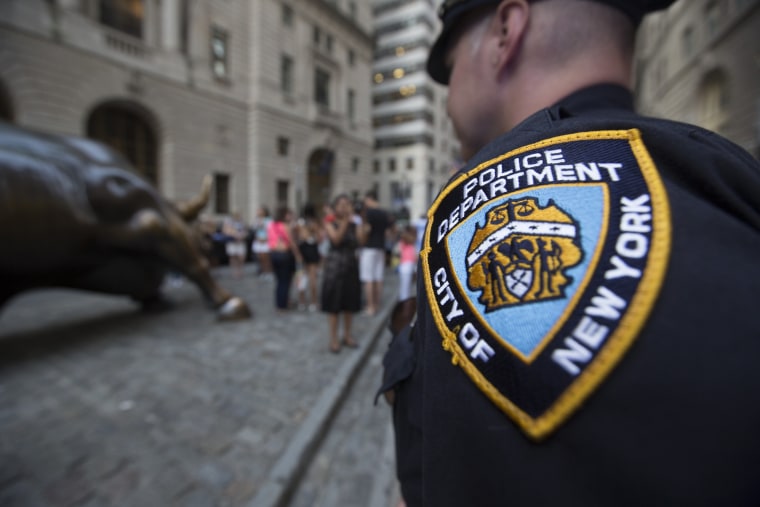 According to court papers, Alamrani, 38, was told her hijab was a safety hazard and was given non-patrol assignments, such as desk duty or security posts, which affected Alamrani's chances of earning overtime.
She was also called names like "terrorist" and "Taliban" and was told daily that she was "a disgrace to the NYPD," the suit claims.
Court papers noted that Alamrani received a religious accommodation in 2009 to wear a hijab at work.
Alamrani said she reported the harassment to a supervisor, who notified the department's equal employment opportunity office, but it allegedly kept up even after a complaint was filed, court papers said.
In response to the attack, officers allegedly involved in it were assigned to different shifts, but they all still encountered one another in the station house's common areas, such as the locker room, according to court papers. One of those officers, the lawsuit said, was Alamrani's equal employment opportunity liaison.
The harassment continued, court papers allege, and included one instance in September 2014 when an officer responded to a noise complaint where Alamrani lived in Brooklyn, New York. She and her husband were allegedly arrested, and her children were detained for eight hours.
"During this incident, the responding officer...made numerous comments about Plaintiff Alamrani's religion including that Plaintiff Alamrani's family were '[A]rabs' who 'slept on the floor like animals,'" the lawsuit reads.
Alamrani was placed on modified duty for nine months, court papers said. Unable to take the alleged harassment any longer, she went on early retirement for three months in 2015, until being brought to the 94th Precinct in Brooklyn during that summer.
In November of that year, Alamrani visited the gun range for work reasons and was allegedly photographed wearing her hijab, the lawsuit alleges. That photo was posted on Facebook, and coworkers left comments with profanity, some of them with threats of violence, court papers claim. She was also called a "moving target," the lawsuit alleges.
Alamrani filed a complaint with the Equal Employment Opportunity Commission in December 2015 and was given the right to sue on Jan. 20 of this year, court papers state.
The lawsuit claims Alamrani suffered discrimination and retaliation because of her religion, her requests for religious accommodation, such as wearing a hijab and praying on the job, and her complaints of discrimination.
It seeks unspecified compensatory and punitive damages, lost wages, and attorney's fees.
"I think justice, if there is such a thing in our legal system, would be to hold people accountable for their actions within the NYPD, that there would be at least some disciplinary or other action taken to let people know that you can't treat coworkers this way," Alamrani's attorney, Jesse Rose of The Rose Law Group, told NBC News.
Follow NBC Asian America on Facebook, Twitter, Instagram and Tumblr.