With just weeks to go before the general election, Democratic nominee Hillary Clinton enjoys strong support from registered Muslim voters, most of whom say they feel the Republican party is unfriendly toward them, according to a new survey released Thursday.
The nationwide telephone poll of 804 Muslim-American registered voters, commissioned by the Council on American-Islamic Relations (CAIR) found that 72 percent of those surveyed intend to vote for Clinton, while just four percent said the same of Republican nominee Donald Trump.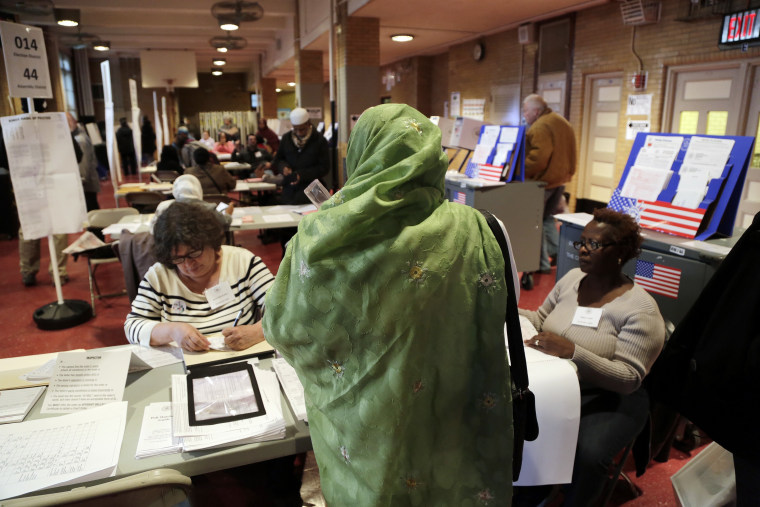 Three in five Muslims also said they believe the Democratic party was friendly toward them while 37 percent said it was neutral, according to the survey. By contrast, less than one in 10 felt the same way about the GOP, though 31 percent said the party was neutral, the poll showed.
RELATED: Clinton Holds 41-Point Lead Over Trump Among Asian-American Voters: Survey
"Islam and Muslims have become central issues in the presidential election," CAIR national executive director Nihad Awad said in a statement Tuesday.
Also among the poll's findings:
Civil rights, education, jobs and the economy, and protecting students from bullying and harassment were the top four issues of importance this election season.
Islamophobia and anti-Muslim sentiment, 85 percent of respondents believe, has increased in the past year.
Trump's ban on Muslims entering the United States is the wrong decision, according to 91 percent of those surveyed.
Syrian refugees should be permitted to resettle in the U.S., 82 percent of respondents said.
American Muslims for Trump founder Sajid Tarar dismissed the CAIR survey.
"It won't be news for Muslims if they say Trump is losing and Hillary is winning," Tarar told NBC News.
The results from CAIR's survey — which said 86 percent of registered Muslim voters intend to cast ballots in November — come as Gold Star mother Ghazala Khan joined around 20 Muslim women on Tuesday to launch the American Muslim Women Political Action Committee geared toward getting Muslims to vote. (The PAC has also endorsed Clinton for president, according to Politico.)
RELATED: How Trump Nod Could Cause Record Muslim-American Voter Turnout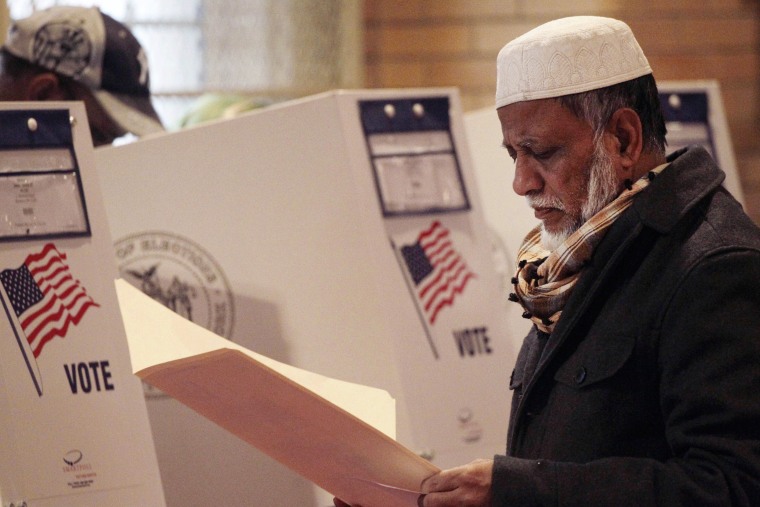 Khan appeared on stage in July at the Democratic National Convention with her husband, Khizr, who spoke about their son, U.S. Army Capt. Humayun Khan, who was killed in Iraq in 2004. Khizr Khan criticized Trump at the DNC and accused him of sacrificing nothing, prompting the real-estate mogul to question his wife's silence at the convention, implying Ghazala Khan wasn't permitted to speak because she is Muslim.
Tarar wrote off the PAC and Ghazala Khan's involvement in it. "I don't think it will have any value or any impact on anything," he said.
RELATED: Muslim Americans Express Disappointment Over Debate Rhetoric Tying Muslims to Terrorism
This November, the Muslim-American electorate could play a role not only in the presidential election, but also in local, state, and federal contests. Around 3.3 million Muslims lived in the U.S. in 2015, according to Pew Research, and more than 300,000 Muslims may have registered to vote since 2012, possibly the result of rhetorical attacks on the Muslim community, CAIR said in a statement in June.
CAIR's latest survey, which randomly drew respondents from an overall database of roughly 1.58 million Muslim Americans, found that the number of Muslim voters who support the Democratic party rose from 42 percent in 2006 to 67 percent this year.
For Muslim voters backing the GOP, however, that number has slipped from 17 percent in 2006 to just six percent this year, according to CAIR. Some 18 percent said they were unaffiliated or independent.
The poll, conducted during the week immediately following the first presidential debate on Sept. 26, also revealed that 12 percent of respondents were still undecided over who would get their vote. Three percent chose the Green Party's Jill Stein and two percent Libertarian candidate Gary Johnson, the survey found. Seven percent refused to answer the question.
The results of the Fall 2016 National Asian American Survey released earlier this month found that, among Asian-American voters, Clinton held a 41-point lead over Trump. According to an NBC News/Wall Street Journal poll, among all voters, Clinton held a nine-point overall lead over Trump following Sunday's debate.
Editor's note: Roughly four in five respondents were born outside the U.S., and nearly three in five were between the ages of 40 and 69, according to the survey. Fifty-three percent were male and 47 percent female. The poll had a margin of error of +/- 3.5 percent.
Follow NBC Asian America on Facebook, Twitter, Instagram, and Tumblr.