At 17, Yee Wan moved from mainland China to the United States as an international student, immediately enrolling in an English as a second language (ESL) course. Every time she walked into class, she wondered if she would be asked for her "American name" or if one would simply be given to her.
Shortly after starting ESL, Wan's teacher elected to call her "Winnie" instead of "Yee," and the name caught on with her classmates. Because Wan loved her teacher dearly, she didn't feel comfortable voicing her objection.
"I really did not have the courage to tell her, 'I'm not Winnie. Can you call me Yee?' I love her so much that I just don't feel that it's the right thing for me to do," Wan told NBC News. "But I don't want to be called something else."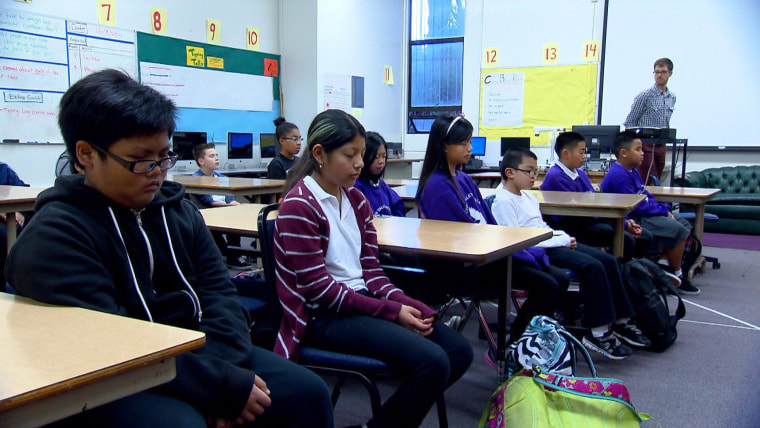 Wan viewed "Yee" as a connection to her parents and home, and she understood then that names have a powerful link to identity. Years later, her experience is the driving force behind "My Name, My Identity," a campaign launched by the Santa Clara County Office of Education and supported by the National Association for Bilingual Education, of which Wan is the current president.
Wan worked with Jon Gundry, the Santa Clara County superintendent of schools, to bring the efforts to a national level and send the message that it's important to properly honor and pronounce students' names correctly.
"If people consistently mispronounce your name, it kind of damages your self-esteem, particularly for kids because it is so much a part of our individual identity," Gundry told NBC News.
Gundry taught English as a second language for 16 years, and from the very beginning, he strived to make students feel included. He said it's crucial that students know that their teachers care.
RELATED: Essay: With Great Privilege Comes Great Responsibility
"I saw how kids reacted when I mispronounced their names, and so I made a specific effort as a teacher to make sure I pronounced students' names correctly," he said.
Rita Kohli, an assistant professor in the Graduate School of Education at the University of California Riverside, co-authored a report in 2012 called "Teachers, please learn our names!: racial microagressions and the K-12 classroom."
"When the knowledge authority in the space is saying that your name is 'difficult' ... that's something that you can easily internalize."
She told NBC News she believes the "My Name, My Identity" campaign is a great first step to reminding students that it is possible to hold on to who they are when they step into a school setting.
"Students who have this experience started to feel embarrassment or shame or feel that their name was a burden, but in part because it was within a larger context of schools not being culturally responsive, not really celebrating or valuing who students are," Kohli said.
Findings in 2011-2012 from the Albert Shanker Institute showed that more than 80 percent of teachers are white, even while students of color are comprising the majority population in schools.
Kohli said it is a common experience for recent immigrants to go into workplaces where their names are unfamiliar. She said it's particularly difficult for children who have been told by their parents to follow the directions of the teacher who is the "knowledge authority" in the school space.
"When the knowledge authority in the space is saying that your name is 'difficult,' is saying that your identity should change to make their life easier, that's something that you can easily internalize," Kohli said. "We're socializing kids to believe that the standard culture of this homogeneous teaching force or this predominantly white school space is correct and who they are is incorrect."
Students may not have the tools to challenge the authority, and therefore they might go through their entire schooling experience having to compromise their identity.
RELATED: U.S. Teachers Are Nowhere Near as Diverse as Their Students
Kohli's parents came to the United States from India when they were in their 20s. Her brother, Sharad, attended school in a predominantly white area, and he saw his name altered time and time again. In second grade, he was signed up for the girls soccer team after his name was thought to be "Sharon." Another time a teacher read his name as "Sharub" and decided from then on it would be easier to call him "Shrub."
"For students that experienced this, so many of them internalized that this was their issue, and we've set up school structures that have socialized students into this belief in cultural hierarchies," Kohli said. "So many of them wanted to invisiblize themselves when roll call comes."
Kohli stressed that it's not about automatically knowing how to pronounce every name perfectly but rather about making an effort and shifting the framework. Rather than attaching students with the label that they have a "difficult to pronounce name," Kohli presented an alternative.
"[Instead] this is 'difficult for me to pronounce, because I have a linguistic limitation or I haven't been exposed, but I'm going to try because you're valuable to me and you matter,'" Kohli said.
Gundry acknowledged that although some teachers may have limitations — some may not know how to roll their "R"s, for example — it is critical that they try their best.
"It's important that you make a conscious and legitimate effort to do the best you can," he said. "I don't think kids should have to take American names when they come here in order to feel part of a new community."
Follow NBC Asian America on Facebook, Twitter, Instagram, and Tumblr.