When Anastasia Lin was given the chance to compete in the 2016 Miss World competition in Washington, D.C., she thought things would be different from last year.
Lin, who was born in China but now lives in Toronto, Canada, is an outspoken advocate on human rights issues in her birth country, particularly its treatment of practitioners of Falun Gong, a spiritual movement that the Chinese government outlawed in 1999 and has called a "cult."
"We have a lot of power. So we don't need to be afraid. We have way more leverage than we think we do."
In 2015, Lin (who told The Guardian last year she is a practitioner of Falun Gong) was denied a visa to travel to China and compete in that year's Miss World pageant. In a statement to the New York Times at the time, the Chinese Embassy in Ottawa said, "China welcomes all lawful activities organized in China by international organizations or agencies, including the Miss World pageant. But China does not allow any persona non grata to come to China."
The U.K. organizers of Miss World allowed Lin to compete in the 2016 finals, which took place on Sunday.
"For me, I went there to raise awareness about the causes I care about. It was never really about the crown," Lin told NBC News. "My goal was to be the voice for the voiceless. I felt Miss World would be a good platform to have my voice be heard. But as it turned out, my voice was not being heard in the last two weeks."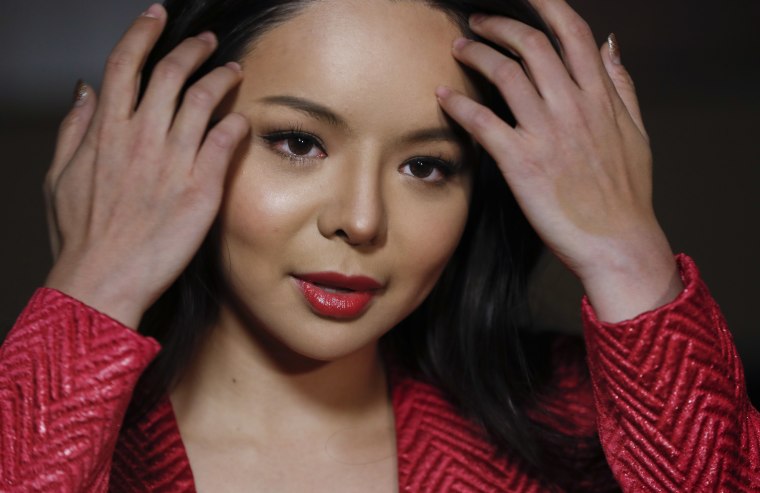 The 26-year-old alleges that thousands of Falun Gong practitioners are punished and killed and that their organs are harvested and sold for transplants, a charge that the Chinese Embassy has told the Associated Press is "sheer fabrication."
Lin said pageant organizers made it difficult for her to talk to media, even after she notified them through email, text messages, and in-person that reporters wanted to speak with her.
Lin added that pageant officials also initially stopped her from attending a meeting with a State Department official about alleged harassment of her father in China and did not grant her permission to attend the American premiere of "The Bleeding Edge," a film in which she plays an imprisoned Falun Gong practitioner and organ-harvesting victim.
Lin said it was only due to intense pressure from the media that the Miss World Organization finally allowed her to speak to journalists and meet someone at the State Department accompanied by an organization chaperone. She was also given permission to attend her film premiere last Wednesday.
When asked about Lin's restrictions, the Miss World Organization referred to a statement issued last week.
"I can tell you absolutely honestly Ms Lin has not been blocked from anything," Miss World Organization CEO Julia Morley said in the statement. "She is a free person to do exactly what she wishes to do."
In the statement, Morley goes on to say that she had no knowledge that there was going to be a screening of "The Bleeding Edge" because Lin had not asked for permission to attend. Morley reiterated that Lin could do whatever she wanted.
Lin said she understands why the Miss World Organization responded the way it did, citing the organization's Chinese corporate sponsors.
"I knew Chinese people were going to watch, and I said I had to stick in there till the end."
While she said not being able to express her opinions during the competition was frustrating, she persevered knowing the size of the audience of the pageant.
"It was very difficult. I felt like giving up," Lin said. "I knew Chinese people were going to watch, and I said I had to stick in there till the end."
She also competed for her father, who currently lives in China. Lin said her activism has gotten him in trouble in the country and that he is facing several lawsuits from old business partners and banks.
"A couple of days before the competition, he sent me a text message and he said, 'I can't take this anymore,'" Lin said. "I can see how much he is in despair. That's what really made it feel so difficult [during the competition], knowing my father is like that and I couldn't speak to the media."
Despite all of this, Lin said was proud to take part in the Miss World competition and represent Canada.
While she has no plans to enter any more beauty pageants, she said she hopes to grow her career as an actress and continue being an ambassador for human rights issues.
She's said seeing Miss World loosen their restrictions on her gave her hope. She also urges the public to continue speaking out against the injustice faced by people in China.
"We have a lot of power. So we don't need to be afraid," she said. "We have way more leverage than we think we do."
Follow NBC Asian America on Facebook, Twitter, Instagram, and Tumblr.