Chinese- and Korean-American nail salon owners and workers traveled to Albany, New York, Monday to call on state lawmakers to pass a bill that would require state agencies to annually release reports on the race, gender, and district of owners whose businesses they have inspected.
State Assemblyman Ron Kim, a Democrat from Queens, told NBC News that the Transparency in Enforcement Act, which he introduced in the State Legislature in late January, would ensure that state agencies, such as the Department of Health and Department of Labor, are not selectively targeting particular communities with their inspections.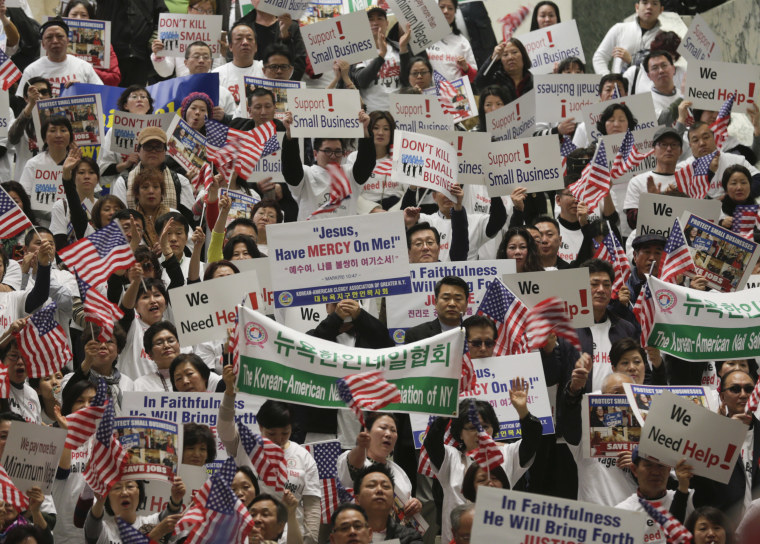 Asian-American salon owners, many of whom attended Monday's rally, have argued that the state's nail salon legislation, signed into law last July after a two-part New York Times series examined worker abuse in the industry, has unfairly penalized mom-and-pop businesses.
"They felt this sense of injustice, that despite them pleading with the governor and the state, they're trying to follow the rules, and they're trying to do the right thing," Kim said. "But they feel they've been singled out, and they've been made into a scapegoat by the state because they're easy targets. And I think that's the side of the story they want the legislators to know."
Kim, who sponsored the nail salon law, said around 1,000 Asian-American nail salon owners and workers attended Monday's demonstration, first going office-to-office to share their experiences with the state's 213 senators and assembly members, and later gathering outside the governor's office where they wrapped up their rally.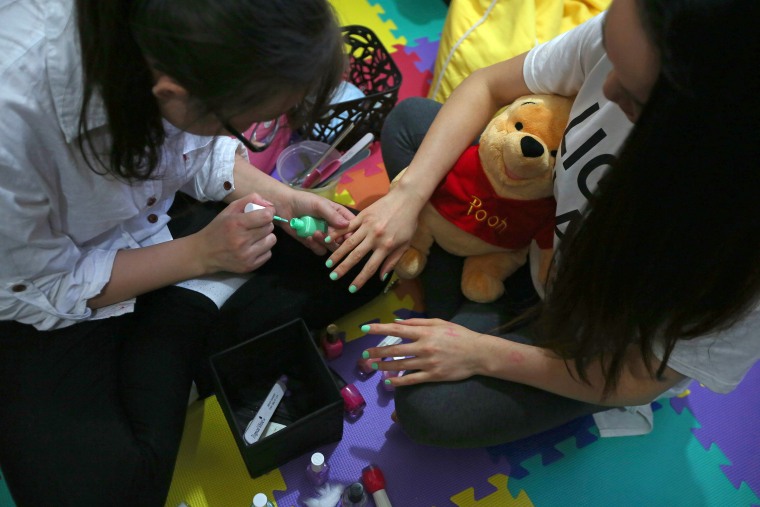 Joe Lin, an organizer with the Chinese-American Nail Salon Association who attended the demonstration, told NBC News that some of his 200 members, most of them nail salon owners, have been cited for failing to keep proper payroll records. Lin said that not being versed in the technicalities of maintaining payroll registers, coupled with language barriers, has netted state labor violations for some owners, even though they pay minimum wage.
"If you don't do the paperwork right, you always get cited," said Lin, adding that many Chinese-American owners pay a flat wage based on a day's or a week's work, not on the number of hours worked.
RELATED: Nail Salon Owners Complain of Tough Time Implementing Reforms
Frank Sobrino, a spokesman for Gov. Andrew Cuomo, told NBC News that employers are informed ahead of time in writing about the risks of not paying hourly wages. He said the method of converting flat rates into hourly rates is written into state law to ensure workers receive the wages owed to them, including overtime.
"We are not cracking down on innocent bookkeeping errors," Sobrino said. "We are fighting to recover unpaid wages and improve working conditions for exploited nail salon workers."
The way the state converts daily or weekly rates into hourly rates — by dividing the flat rate by the total number of hours worked, which during a week can be more than 40 — can result in a violation for paying insufficient overtime, according to a New York Times article published Monday.
That discrepancy arises because New York law requires that time-and-a-half be paid after 40 hours of work each week, according to the state Labor Department.
The Times' report said an analysis of completed investigations late last year for 230 nail salons revealed that 85 percent did not keep adequate payroll records. It also said many owners, including some trying to pay decent wages, did not understand the technical aspects of New York's labor laws.
RELATED: New York Nail Salon Workers Protest Over New Law
Sobrino said the state has held many forums for salon owners, including some specifically for Korean and Chinese Americans, to educate them about the new regulations. Translation services were also available at those events, Sobrino said.
Chinese- and Korean-Americans, who own between 70 and 80 percent of New York City's nail salons according to the Korean American Nail Salon Association, have also complained about difficulties in securing wage bonds, which are activated when an employer fails to pay employees. Gov. Andrew Cuomo ordered that all nail salon owners purchase the bonds before Oct. 6 or face penalties.
Last year, two trade groups sued the state to halt the wage-bond mandate, saying it discriminated against Asian-American owners and would force nail salons to close before they could prove they're committed to meeting the goals of the nail salon legislation. A state judge, however, dismissed that lawsuit in December.
Sobrino said 98 percent of businesses that applied for wage bonds have received one.
Kim said statewide inspections of nail salons have caused many Asian-American owners to rethink whether they should stay in business. According to a survey conducted by the Chinese and Korean nail salon associations, 71 percent of respondents said they wanted to leave the industry and 17 percent had closed their shops. The survey was based on responses from 217 owners, which Kim said is roughly five percent of the nail salon industry.
RELATED: Lawsuit Filed by Nail Salon Trade Groups Against New York State Dismissed
Sobrino said that in 2015, the state inspected 395 nail salons, completing 292 investigations. Roughly 93 percent of salons received at least one violation, and around 41 percent were cited for wage theft, he said.
"New York State is fighting to recover unpaid wages and improve working conditions for exploited nail salon workers, not crack down on the good operators and business owners who treat their staffs fairly and with dignity," Sobrino said, adding that the state is also going after other businesses, including restaurants, in which worker abuse exists.
Follow NBC Asian America on Facebook, Twitter, Instagram, and Tumblr.