His 2018 Winter Olympics may be over, but Nathan Chen's comeback story is only just beginning.
Though his free skate score was the best of the night, Chen finished the night in 5th place overall. Reigning Olympic champion Yuzuru Hanyu of Japan defended his title, becoming the first back-to-back gold medalist in the event since American figure skater Dick Button in 1952.
Chen, who entered Saturday's men's free skate in 17th place after a disappointing short program, finished his performance with a new personal best, 215.08. His score, 297.35, landed him in first until the final group of skaters.
"This is the Nathan Chen we know," NBC Olympics commentator Johnny Weir said after Chen's free skate.
Chen also made history by being the first person to land five clean quads during an Olympics game. Chen had attempted six quads, but touched the ice with a hand on the third.
The decision to attempt six quads, he told NBC's Andrea Joyce after his performance, was something he had been working on, but hadn't yet been able to do until Saturday's skate. After Friday's short program left him in 17th place, Chen returned directly to his room, he told reporters, laying on his bed and clearing his mind of everything but the idea of adding the sixth quad to his free skate.
"I already fell so many times, I might as well just go out, throw everything down, and see what happens," Chen said about the moment.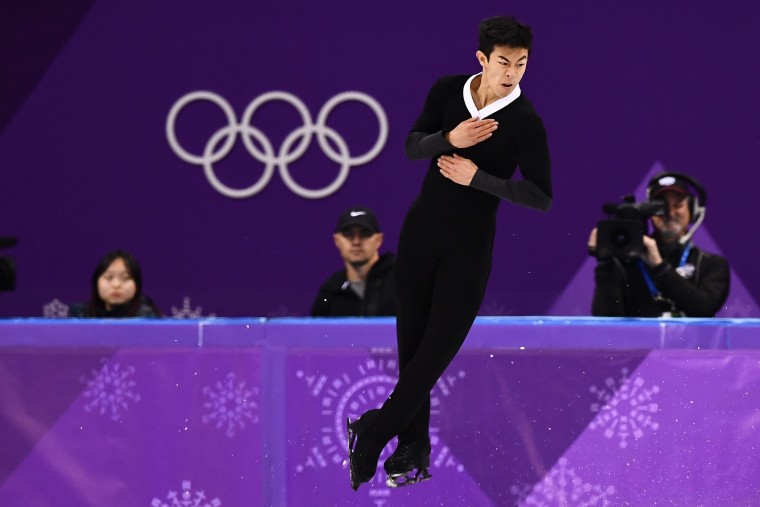 Chen's free skate was redemption after two disappointing performances — the first in the figure skating team men's short program, during which he fell on a triple Axel, among other mistakes, that ultimately landed him in fourth; the second at the individual event that saw the "Quad King" finishing in 17th after the short program.
"I just wanted to be able to leave here satisfied with what I've done," Chen said.
Born in Salt Lake City to Chinese immigrants, Chen first became interested in hitting the ice when he watched his older brothers play hockey. Starting lessons at the age of 3, he made his national debut at the U.S. Figure Skating Championships at age 10, building his presence by racking up big wins with his repertoire of jumps.
In January 2016, Chen become the first American male skater to land two quadruple jumps in a short program and four quadruple jumps in the free skate at the U.S. Figure Skating Championships. But after competition, during the exhibition, Chen suffered an injury in his left hip after a piece of bone was ripped by muscle. After having surgery, he stayed off the ice for almost six months while he attended rehab in California and Colorado Springs, causing him to miss the 2016 World Championships.
Chen returned to competition in October 2016, winning gold at the 2016 CS Finlandia Trophy. The following month, he broke the American short program record with a 92.85 score at the 2016 Trophée de France.
The following year, at the 2017 U.S. Championship, Chen became the first skater to land two quadruple jumps in his short program and five in the free skate, winning the title with U.S. Figure Skating's highest scores in history.
In December, Chen debuted new costumes designed by Vera Wang, which Chen told NBC Olympics helped tie everything together.
"Costumes were definitely the missing link this whole season," Chen said.
Chen's "near perfect" skate is reminiscent of Japanese skater Mao Asada's 2014 Sochi Olympics comeback. After landing 16th in the short program, the 2010 silver medalist performed a powerful free skate that brought her final standing to 6th place.
Chen is expected to take the ice next for competition in March for the 2018 World Figure Skating Championships.
Follow NBC Asian America on Facebook, Twitter, Instagram and Tumblr.