When Nathan Chen takes the ice at the 2018 PyeongChang Winter Olympics, he'll be doing it with the support of a fellow figure skater: famed fashion designer Vera Wang.
A former Olympic hopeful, Wang has used her skating experience to create some of Team USA's most iconic skating outfits, including costumes for Nancy Kerrigan, Michelle Kwan, and Evan Lysacek
"What began with a new pair of skates for Christmas became a full-time passion," Wang said by email. "The Olympics for any serious athlete is always the goal or gold standard."
Wang, 68, started skating competitively as a child growing up in New York City. In the late 1960s, she began competing in pairs figure skating with fellow American James Stuart.
"I too dreamt of representing the U.S. at the Games," Wang said.
But it wasn't meant to be. Wang and Stuart placed fifth at the U.S. Figure Skating Championships in 1968 and missed making the Olympic team. Wang would begin her career in fashion shortly after.
She found a way to combine her love of the sport and fashion when she began designing costumes for Kerrigan, then a star, in the early 1990s. While haute couture gowns do not exactly have the reputation for being comfortable, Wang knew that her priority as a costume designer would be to allow for freedom of movement.
"You wouldn't want someone to lose Olympic gold because their sleeve ripped off," Wang told The Associated Press in 2010.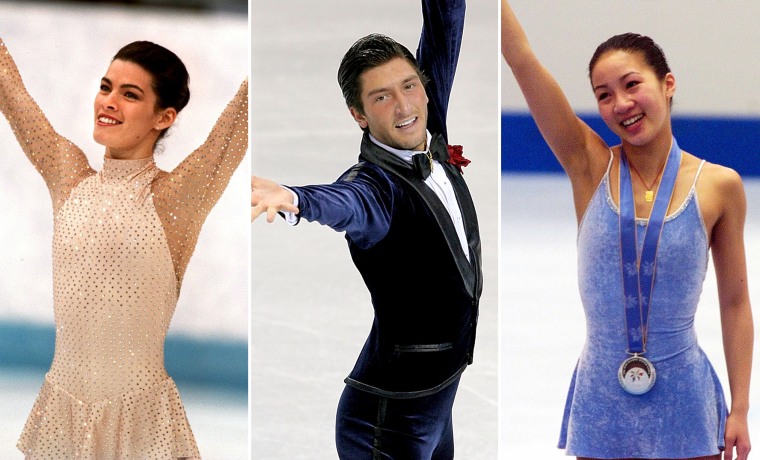 She would go on to design outfits for gold medalists Kwan and Lysacek. While some of the biggest Hollywood celebrities have worn her designs, Wang has said creating outfits for figure skaters was much more difficult, telling The AP that designing Olympic costumes was "more pressure than an Oscar dress in a strange way."
Chen, a current gold medal favorite, debuted his new Wang costume at the U.S. National Championships in December. While Chen has enjoyed a long undefeated streak this season, he told reporters last year that he felt that something was lacking as he prepared for the PyeongChang Games.
"Costumes were definitely the missing link this whole season," Chen told NBC Olympics. Prior to debuting his new Vera Wang outfit, he had skated in black pants with a black shirt or black pants paired with a loose fitting blue shirt and a scattering of crystals for his free skate.
His new costumes are more form-fitting. Both are almost entirely black, with his short program costume featuring a single white stripe along the front and down each sleeve and his free skate costume featuring a subtle contrasting pattern.
"I needed someone who could really tie it all together and Vera was the first person I had in mind," Chen said. "We connected through my agent and other people and it happened. I'm so grateful for the opportunity."
Creating Chen's Olympics costume was a collaborative process. "I went out to New York and had a meeting with her, just talking basically about what my programs were about, what I was looking for," he said. Known for his athleticism and jumps, he knew his costume would have to allow for that.
Wang was equally thrilled about working with Chen. "Nathan embodies all the values we have come to respect: hard work, dedication, passion and accomplishment!" Wang said after it was announced Chen would be wearing her designs.
While Wang never made it to the Olympics as a competitor, the sport she has loved her entire life honored her in 2009, when she was inducted into the U.S. Figure Skating Hall of Fame for her work designing costumes for some of the best American skaters of all time.
All eyes will once again be on Wang's designs when Chen takes the ice in his outfit as he competes for gold. A podium favorite, Chen told NBC Olympics that talking to Wang about her designs and his routine was an invaluable learning experience as he got ready for the world stage.
"It was an incredible opportunity for me to work with Vera this year," he said.
Follow NBC Asian America on Facebook, Twitter, Instagram and Tumblr.