The National Asian American Pacific Islander (AAPI) Video Tour kicked off Monday in Washington D.C., the same day oral arguments were heard in the Supreme Court's immigration case. The tour features a pair of documentaries that will be shown together in over 10 cities — with the potential addition of more locations — through May 20.
The tour was initiated by the National Korean American Service and Education Consortium (NAKASEC), the Korean Resource Center of Los Angeles and Orange Counties (KRC), and the Korean American Resource and Cultural Center of Chicago (KRCC) and focuses on educating AAPI communities on family separation as well as undocumented immigrant youth.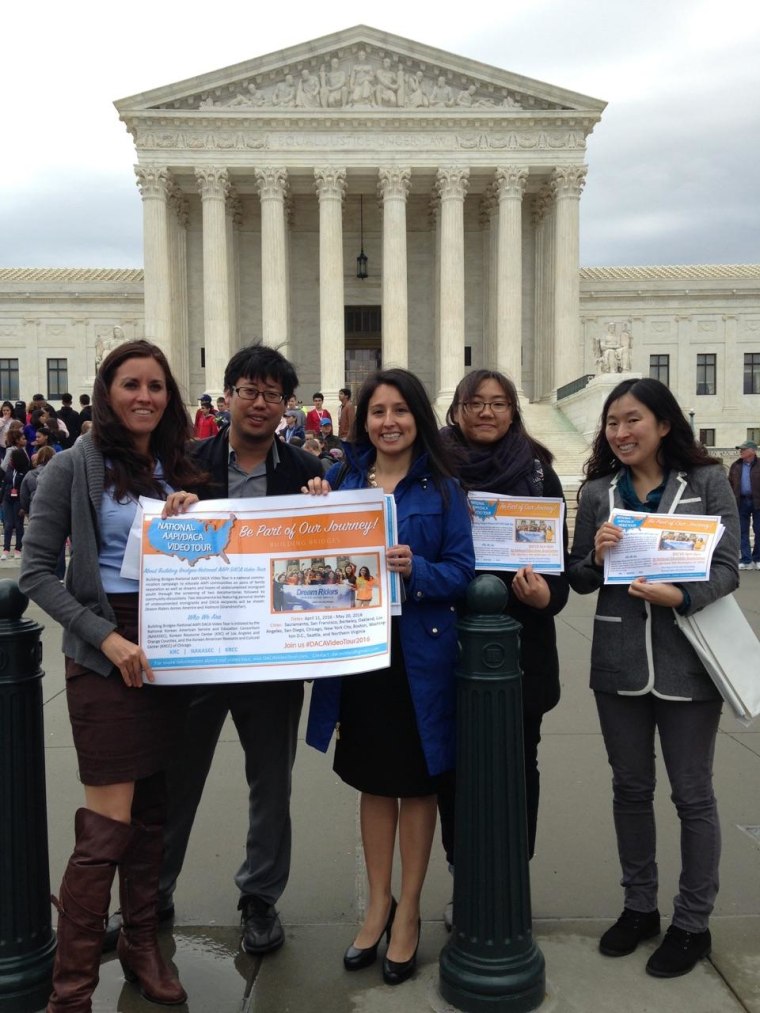 Emily Kessel, advocacy director for NAKASEC in Virginia, told NBC News that the timing of the tour launch was strategic. "The official launch was meant to happen on the day of the oral arguemnts to keep the momentum going from what's happening in the morning," Kessel said. "[It was timed] to make sure the AAPI presence is felt on that day."
The two documentaries, "Dream Riders Across America" and "Halmoni," feature the stories of undocumented immigrants and DACA recipients. "Dream Riders" follows 12 young people in 2015 from different backgrounds as they embark on a road trip to "amplify the voices of young people of color and immigrants."
The second documentary, "Halmoni," tells the personal story of Ju Hong, who is an undocumented immigrant from South Korea. As an undocumented immigrant, Hong was never able to travel freely outside of the country because of the risk of deportation until President Barack Obama announced the Deferred Action for Childhood Arrivals (DACA) program. After Hong became a DACA recipient, he was able to go back to Korea and visit his grandmother for the first time in over 13 years, right before she passed away.
Kessel noted that she's seen "a lot of courage coming from AAPI individuals" in the growing conversation about immigration rights, particularly from leaders speaking out and informing people about their rights.
"Everyone always talks about the stigma in the AAPI community, about not coming out with their status, but we've seen a lot of large number of folks calling in to ask about DACA and how to apply," she said. "It's significant that AAPI are interested and want to take advantage of the benefits out there. It's been really remarkable."
Follow NBC Asian America on Facebook, Twitter, Instagram, and Tumblr.
Correction: An earlier version of this article said that Ju Hong was the filmmaker behind the documentary "Halmoni." The filmmaker is Anna Oh.