April is National Poetry Month and National Poetry Writing Month, sparking poetry readings, new poetry books, challenges to write thirty poems in thirty days, people carrying poems in their pockets to share, and, of course, a multitude of poetry writing assignments in schools across the country. NBC Asian America—with the help of a poetry professor or two—pulled together a sampling, showcasing the diversity of Asian American poetry—poets, spoken word, literary journals, and writing programs.
"It is important to read Asian American poetry, because it allows us access to an underrepresented perspective and to deepen our understanding of the diverse communities that make up America," poet Ravi Shankar, editor of Drunken Boat online literary journal and author of "What Else Could it Be: Ekphrastics and Collaborations," told NBC News. "But just as there's no monolithic 'country' that defines us all, neither is there just one kind of Asian American poet."
Kosal Khiev
Kosal Khiev was born in a refugee camp in Thailand, grew up in the United States, and discovered spoken word poetry while serving 14 years in prison for attempted murder. Upon release, he was deported or "exiled" to Cambodia, a country he had never before seen. There, he was chosen as the poet to represent Cambodia at the London 2012 Cultural Olympiad. Khiev's first book is "Finding Home," and his story as a poet and Khmer exiled American is featured in the documentary film, "Cambodian Son," and the webseries, "Verses in Exile."
Bryan Thao Worra
Bryan Thao Worra is a Laotian American poet and activist whose book, "Demonstra," is a speculative collection of poetry inspired by science fiction about things glimpsed out of the corner of the eye which can never be fully verified. He represented Laos at the London 2012 Cultural Olympiad.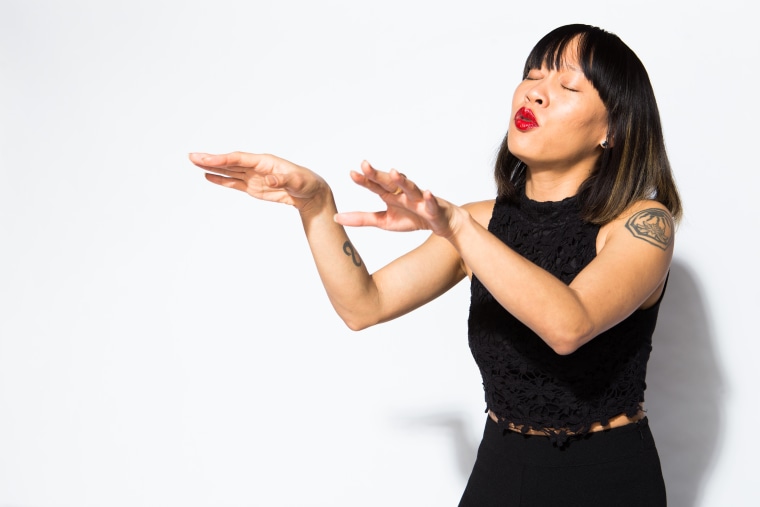 Kelly Zen-Yie Tsai
Kelly Zen-Yie Tsai is a fierce Chicago-born, Brooklyn-based Chinese Taiwanese American spoken word poet, playwright, and filmmaker who has performed around the world and writes about culture, survival, and pride.
Kirun Kapur
Kirun Kapur grew up in Hawaii, and has lived and worked in South Asia. Her debut collection, "Visiting Indira Gandhi's Palmist," moves from the Bhagavad Gita to partition-era India to a bar in Waikiki, with lyricism, humor, and craftsmanship.
Lo Kwa Mei-en
Lo Kwa Mei-en is from Singapore and Ohio and her book, "Yearling," won the 2013 Kundiman Poetry Prize with writing like, "dressed in plain mustard and tiger, / carrying on with my heart-claw and faulty calendar, / the old fetishes-spit and spice and the sea-loaded / behind my teeth."
Nicholas Wong
Nicholas Wong's "Crevasse," forthcoming by Kaya Press, takes on issues of sexuality, masculinity, language, race, technology, and politics, and shows how the experience of "Asian American" can transcend place and language. Wong is currently based in Hong Kong, and writes, "Poetry should take risks and embrace chaos. The pleasure of writing and reading poems relies heavily on how the chaos is rendered and how language reinvents itself in lines."
Vijay Seshadri
Vijay Seshadri was born in India and moved to Ohio at the age of five. His book, "3 Sections" won the 2013 Pulitzer Prize and was described by the Pulitzer committee as "a compelling collection of poems that examine human consciousness, from birth to dementia, in a voice that is by turns witty and grave, compassionate and remorseless."
Bao Phi
Bao Phi is a dynamic Vietnamese American performance poet and activist based in Minneapolis-St. Paul, whose poems and essays are sharp, critical, and fearless. He is a two-time Minnesota Grand Slam champion and a National Poetry Slam finalist, and he has appeared on HBO Presents Russell Simmons Def Poetry. His debut volume of poetry is "Sông I Sing."
To read more great Asian-American (and Asian-Canadian) poetry, check out these literary journals:
To learn more about writing Asian American poetry, check out the workshops at: