Supporters of Peter Liang, the rookie Chinese-American New York City police officer indicted in the fatal shooting of an unarmed black man in Brooklyn, are planning rallies across the country next month to raise awareness for what they believe is an unjust and politically motivated prosecution.
"If it was not for Ferguson and not for Staten Island, Peter Liang might not have been indicted," said Doug Lee, co-chairperson of the Coalition of Asian-Americans for Civil Rights, referring to incidents last year in which white officers were not indicted in the deaths of unarmed black men.
Brooklyn District Attorney Ken Thompson, the son of a police officer and the first African American elected to that office in Brooklyn, has said the prosecution of Liang was not political.
Lee told NBC News that rallies are scheduled for April 26 in Los Angeles, Silicon Valley, Philadelphia, Boston and New York. He said plans were also in the works to hold marches that day in Ohio and Texas.
In New York, Lee said he hopes to attract at least 6,000 participants - more than double the number who attended a similar protest on March 8 in Lower Manhattan. The tentative plan, he said, is to march across the Brooklyn Bridge from Cadman Plaza in Brooklyn, not far from where Liang is expected to appear in court on May 14.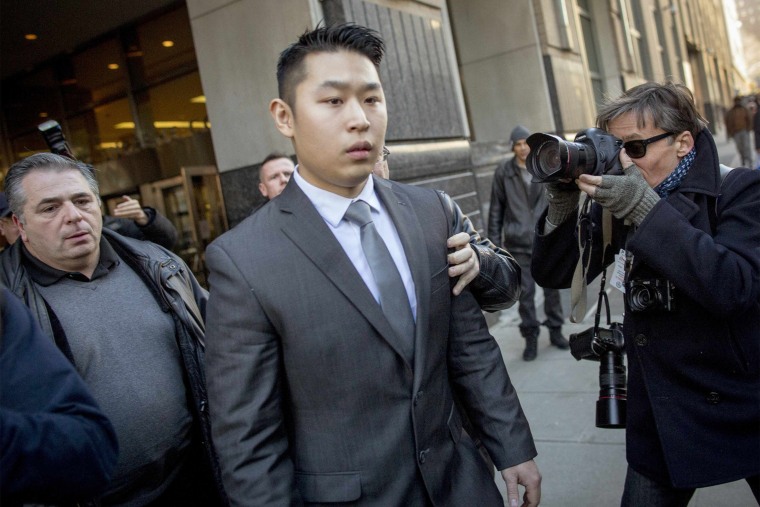 The indictment of Liang, who is accused of fatally shooting Akai Gurley as Liang and his partner patrolled a darkened stairwell in a Brooklyn housing project last November, has stirred a maelstrom of emotions within the Chinese-American community. While some Chinese Americans - including New York City Councilmember Margaret Chin, whose district includes Chinatown, and Cathy Dang, executive director of the Committee Against Anti-Asian Violence - have supported the indictment, others have said they believe Liang is a scapegoat in an accidental shooting death now fraught with racial overtones.
New York State Assemblyman Peter J. Abbate Jr., a Brooklyn democrat whose district includes a sizeable Chinese-American population, said in a statement Saturday that the investigation into Gurley's death should also focus on the New York City Housing Authority and the "inadequate and hazardous conditions" of the Louis Pink Houses in East New York, where Gurley lived.
"In the search for answers," he said, "we must not jeopardize the truth but rather come together as a community to ensure a fair trial for Officer Liang."