After days of blockading the road to prevent construction machinery from reaching the summit, thirty-one out of about 300 protesters against the $1.4 billion Thirty Meter Telescope (TMT) in the Mauna Kea Conservation District on the Big Island of Hawaii were arrested by the Hawaii Police Department and officers of the Department of Land and Natural Resources.
Although protesters disrupted the official groundbreaking ceremony in October, these are the first arrests to be made, as the fight against what will be one of the largest telescopes in the world continues in the courts. Native Hawaiian protestors hope to reach the Supreme Court and worry that beginning construction before the courts reach resolution will cause irreparable harm to the environment and to Native Hawaiian ancestral graves and sacred places.
"Things are very emotional as we must witness desecration of our most revered holy place--and burial ground of our most sacred ancestors. But [things are] peaceful and all are staying in the Kapu Aloha --moving in Aloha with steadfast determination," Kealoha Pisciotta, president of Mauna Kea Anaina Hou preservationist group told NBC News, "We are so proud of the young protectors as they have stayed truly in the Kapu Aloha and have been training others to prepare themselves for staying in Kapu Aloha.
With protesters calling themselves "protectors" and police emphasizing respect and safety on the public road, before making arrests, many police officers first shared a traditional Hawaiian greeting of respect in which they touch foreheads and take a breath together.
Prior to the arrests, prominent Native Hawaiian leaders had been meeting with newly elected Governor David Ige, University of Hawaii officials, the police department, and the county prosecutor in order to try to find a peaceful resolution.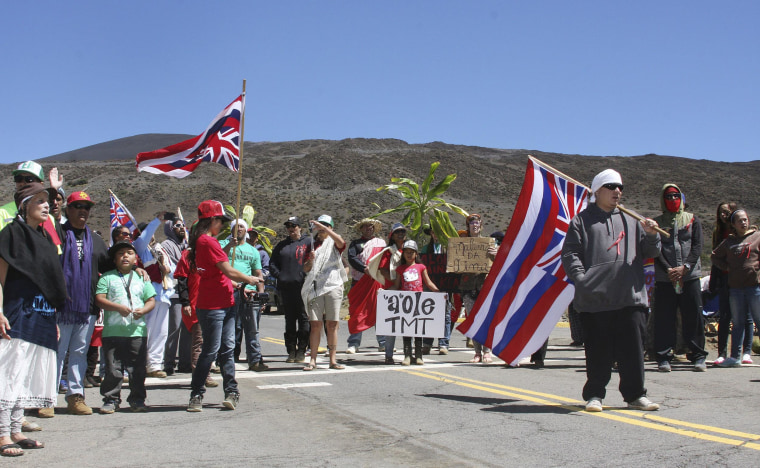 IN-DEPTH