"Deported" is a five-part documentary series by Sahra V. Nguyen on "NBC Asian America Presents...," a digital video channel that features original content centered around themes and voices found in Asian American and Pacific Islander communities.
Watch the full documentary, in five parts, below:
Chapter I: A Grassroots Movement
In 1975, more than 1.2 million refugees from Southeast Asia fled war and were resettled in the United States — the largest resettlement of a refugee group in U.S. history.
But their stories of movement didn't end there: in 1996, the Illegal Immigration Reform and Immigrant Responsibility Act (IIRIRA) expanded the definition of what types of crimes could result in detention and deportation. The IIRIRA also allowed for that broader definition to be applied retroactively, resulting in more than 16,000 Southeast Asian Americans receiving orders of removal — 78 percent of which were based on old criminal records.
In 2002, the United States and Cambodia signed a repatriation agreement that opened the pathway for refugees to be deported back to Cambodia; since then, more than 600 people have been deported.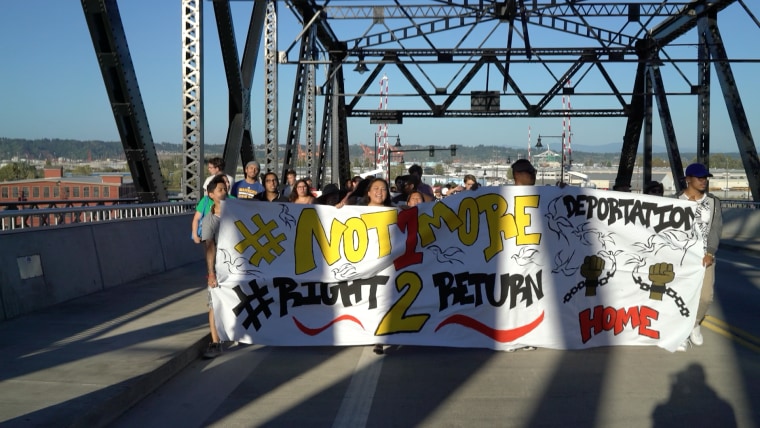 RELATED: Forty Years After Resettlement, Thousands of Southeast Asian Refugees Face Deportation
"For a long time in the immigration movement, there hasn't been any room to talk about or discuss anyone who has any convictions or contact with the criminal justice system because the narrative in the human rights movement for so long as been about the 'DREAMer,'" Mia-lia Boua Kiernan of 1Love Movement told NBC News.
Advocates for years have called on the U.S. to end deportations and to revise the repatriation agreement between the U.S. and Cambodia. In 2015, the #Right2Return Campaign was launched collectively by the Southeast Asian Freedom Network with 1Love Movement in hopes to end the deportation of Cambodian refugees, and the separation of families. Last fall, 1Love traveled from Philadelphia to Phnom Penh, Cambodia, to meet with a task force made up of representatives of the Cambodian government. The goal for 1Love and its partners: halt deportations and renegotiate the 2002 repatriation agreement that opened the pathway for the U.S. to deport Cambodian refugees back to Cambodia.
Chapter II: Forced Family Separation
In Philadelphia, two families reflect on how deportation has affected them.
"[Our] parents worked hard," Chris, who declined to give his last name due to his brother Sophat's situation in Cambodia since he was deported in 2012, told NBC News. "They ran from the Killing Fields to America to escape Cambodia, only to see one son returned back. It's never a good thing when you're ordered to be divided from your family."
Kong Iv, whose son Mout was deported in 2011, told NBC News she hopes the United Nations can help in the effort to end deportations and allow her family to be reunited. "Help my son come back," Iv said through a translator.
Although the UN does not have the power to enforce laws or end deportations, 1Love and its allies are urging the UN to acknowledge the international human rights violations caused by deportations.
Chapter III: An Urgent Appeal
1Love and local organizations in Philadelphia, including Juntos and the Philadelphia Student Union, partnered with the US Human Rights Network in September 2016 to discuss human rights issues.
"Families being denied visitation rights after they've been deported, I think it's a clear human rights violation," Ejim Dike of the US Human Rights Network told NBC News. "People being deported not having access to legal counsel by law, that's a clear human rights violation."
In early October 2016, the Cambodian government officially formed a task force to review and revise the repatriation agreement. For 1Love representatives, the task force — which is made up of representatives from various Cambodian government agencies — signaled the beginning of the conversation to end deportations.
Chapter IV: Beyond the United States
In Phnom Penh, Cambodia, deportees share their stories.
"When my cousin brought me to where I was going to be living, it was just like me entering prison for the first time," Chally Dang, who was deported in 2011 after being convicted of aggravated assault in 1999 and making parole in 2003, told NBC News. "He brought me to a room, there was just a bed with sheets and a pillow and I just sat there...and was like, 'Wow.' Went through the system, got released, got picked up and detained again, now released to 'my country,' and now I feel like I'm being detained all over again because I'm just forced into a little box, placed in a country where I know nothing of."
For Dang and others working with 1Love Cambodia, the news of a task force to review, and possibly revise, the repatriation agreement is hope that it can lead to the right to return to the U.S. to see their families once again.
"I don't tell people outright but it really hurts," Dang said. "Sometimes I find this little dark corner in my own little world and I just let go and break down and let the tears run, and just let it cleanse my soul. And I'll deal with life the next day."
Chapter V: A Global Movement
On November 10, 2016, 1Love Cambodia coordinated a meeting between the #Right2Return delegation, government officials, and the Cambodian task force made up of representatives from the Ministry of Interior, Ministry of Foreign Affairs, and Ministry of Justice).
"It's been a long time coming," Naroen Chhin of 1Love told NBC News.
During the meeting, it was revealed that the Ministry of Interior of Cambodia sent a letter to the U.S. Embassy in Phnom Penh on October 28, 2016, requesting the suspension of all deportations until the repatriation agreement was revised.
"It was such a huge opportunity to be able to sit with the task force that has formed to revise the repatriation agreement," 1Love's Mia-lia Boua Kiernan said. "We just basically stopped thinking about the United States as the center of the earth, right? So I think that for a lot of movements, all we think about is what's happening in the U.S. and how we can engage the U.S. government and what we can do to make them change things. I think that we've done over this last two weeks, and in that meeting, was basically say, 'We're not going to do that anymore,' and there's other ways to make change and that we commit to a global movement that sees strategy beyond the United States."
Since filming, 1Love Cambodia has continued to meet with the Cambodian task force to support their efforts to revise the repatriation agreement. In December 2016, the U.S. Embassy in Phnom Penh denied the request to renegotiate or suspend the repatriation agreement. At the start of 2017, 1Love Movement filed an urgent appeal to the United Nations urging the U.S. government to come to the table for negotiations.
As of last month, more than 30 Cambodians currently held in U.S. detention centers face deportation to Cambodia. (One man in Minnesota, who had deportation orders to Cambodia, was released from Immigration and Customs Enforcement early March.)
In an email to NBC News in February, Sieng Lapresse, adviser to the Cambodian government, wrote: "The Royal Government of Cambodia is deeply concerned about the plight of refugee families impacted by the deportation, as we believe in human rights and family unity. Those being deported by the US government now were born or grew up during a time of war and genocide in our country and our region. They survived this crime of inhumanity only for their families to be broken apart again later in life."
He continues, "We cannot stand by as the US deems Cambodian people unworthy of humanity and compassion. We look forward to in-depth discussion with the US government in order to update the MOU and rectify this situation. We believe Cambodian people should not be deported unless it is voluntary and will not continue to harm the next generation of Cambodian families and children."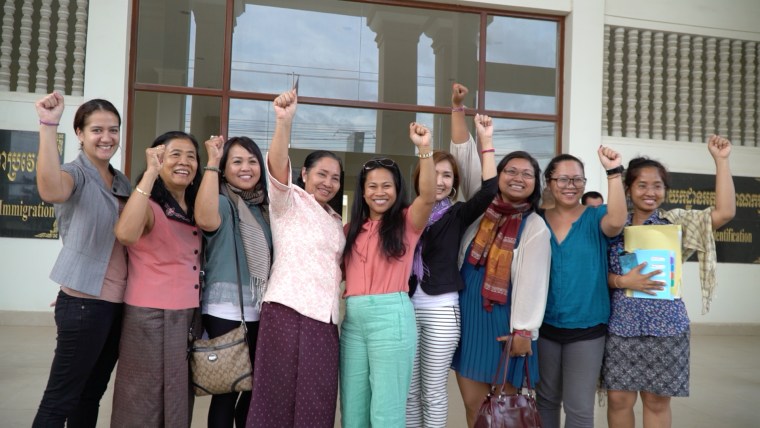 "NBC Asian America Presents..." videos can also be watched on NBC Asian America's Facebook page, NBC News' official YouTube channel, and the NBC News app available on mobile devices, Roku, Apple TV, and Amazon Fire TV.
Catch up on more videos online at NBCAsianAmericaPresents.com.
Follow NBC Asian America on Facebook, Twitter, Instagram and Tumblr.