The Grateful Crane Ensemble's year was supposed to be quieter.
After a decade and a half entertaining Japanese-American elders, the nonprofit theater group hadn't planned anything special for their 15th anniversary in 2016. But after the election and talk from some of using Japanese-American incarceration as "precedent" for policies targeting Muslims, the group decided to refocus its efforts.
"If there's anything good coming out of the current administration, it is that we are taking an active stance to resist what's going on."
"Alarm bells went off within the Japanese-American community and within our group," Soji Kashiwagi, a playwright and Grateful Crane Ensemble's executive producer, said. "We have made a commitment in doing all we can so that what happened to our families never happens again."
The Los Angeles-based theater group recently appeared at the Arab American National Museum in Dearborn, Michigan, and took part in a panel of Japanese- and Muslim-American activists discussing the aftermath of the Sept. 11, 2001, attacks.
The ensemble also has performances scheduled for Chicago and multiple California cities in the upcoming months and is planning to travel to places with large Muslim-American communities.
RELATED: Opinion: Japanese-American Incarceration Is 'Unforgivable Policy,' Not Precedent
Their effort is part of a growing relationship between Japanese- and Muslim-American advocates, which has also included short films comparing the communities' experiences and joint pilgrimages to World War II incarceration camps.
"Before, everyone said, 'Never again,' I saw some old sansei activists with signs that said, 'Never again is now,'" Kashiwagi said, referring to third-generation Japanese Americans. "We do not want this to happen to anyone ever again."
The Grateful Crane Ensemble began as a way to entertain Japanese-American senior citizens. In 2001, Scott Nagatani, the group's musical director, spoke with Kashiwagi about performing classic songs for elders.
RELATED: Muslim-American Manzanar Pilgrimage Finds Parallels Between Internment, Modern Day
The group staged shows at a retirement home in Los Angeles. Once the performers began singing, they were surprised by the reaction they got: The seniors laughed; they sang along; but they also cried.
"We realized how powerful music and memory are," Kashiwagi said.
In addition to Japanese folksongs, the ensemble sang American standards that were popular during the '40s, including Glenn Miller's "Moonlight Serenade" and The Andrews Sisters' "Boogie Woogie Bugle Boy."
Kashiwagi said that many of the seniors were nisei — second-generation Japanese Americans born in the U.S. — who had spent their youth detained in World War II incarceration camps. Hearing the music led them to remember their time in the camp, Kashiwagi said, which many had not discussed with their children and grandchildren.
Many of the performers in the ensemble, on the other hand, were sansei, and had not learned about Japanese-American incarceration or Japanese culture because their parents wanted them to grow up as American as possible, Kashiwagi said.
The ensemble used their performances to honor the elders for the hardship they had endured. After their shows, the group discovered that no one had thanked the seniors before.
"We stand on the shoulders of giants," Kashiwagi said. "What we are wouldn't be possible without them."
"We have made a commitment in doing all we can so that what happened to our families never happens again."
As the seniors grew older and younger generations began to attend performances, the group added educational components so that others could learn about the Japanese-American experience.
One of the Grateful Crane Ensemble's most popular shows is "The Camp Dance: The Music & The Memories," a musical revue about high school dances that young Japanese Americans organized while in incarceration camps.
The show intersperses the song and dance of the '40s with stories about teenage boy-girl anxieties, rivalries, generation gaps, and the importance of these dances in restoring the youth's sense of normalcy.
Other shows include a parody of a long-running Japanese New Year's singing contest in which ensemble members do impressions of famous singers; "Nihonmachi: The Place to Be," which explores 100 years of Japantown history through the eyes of a family; and "Project Momotaro," which introduces younger Japanese Americans to traditional folktales.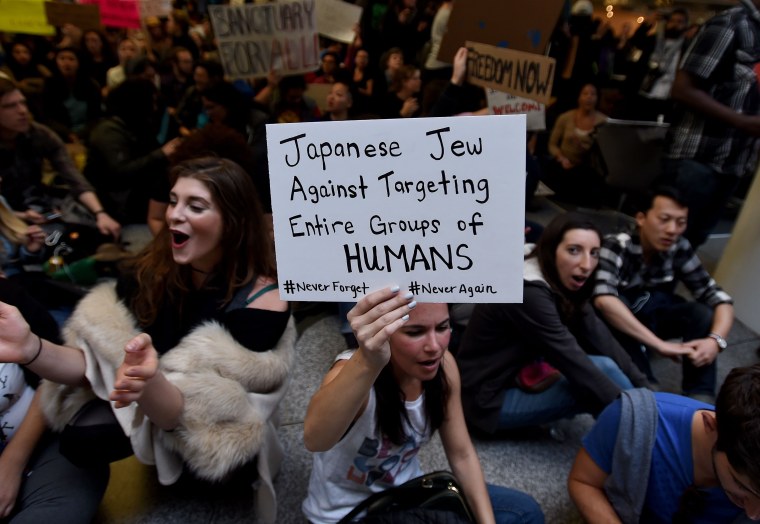 The younger yonsei — fourth-generation Japanese Americans now in their 20s — are also getting involved in the group, Kashiwagi said. The Grateful Crane Youth Singers started in 2011, and a small a cappella group called "The Grateful Four" began performing together in 2016.
"When they were younger, they didn't really understand," Kashiwagi said. "But now that they are older, they want to show gratitude to their grandparents, but from the yonsei generation."
RELATED: The Parallel Between Trump's Immigration Ban and Past U.S. Anti-Asian Policies
Kashiwagi hopes that as more young people — both Japanese American and not — experience the shows, they become inspired to get involved in society and speak up.
"If there's anything good coming out of the current administration, it is that we are taking an active stance to resist what's going on," Kashiwagi said. "But we are going to need a lot of help, and the Muslim community will need a lot of support."
Follow NBC Asian America on Facebook, Twitter, Instagram and Tumblr.