Warning: This article contains minor spoilers.
After four years at Sherman Oaks High School in Los Angeles, Devi Vishwakumar is on her way out of the San Fernando Valley and on her way to college. 
Devi, an overzealous South Asian teenager, spent most of her time in high school navigating budding romances, learning who she is and grieving her father's death. In the fourth season of Netflix's "Never Have I Ever," she finishes her final chapter at the fictional high school as a stronger and better version of herself.
"She's embracing her emotions, and she's learned how to control them in a way that empowers herself and empowers others. It makes her a better friend, a better family member, a better romantic partner and a better version of herself," Maitreyi Ramakrishnan, who plays Devi, said in an interview at the "Never Have I Ever" Netflix Golden reception Tuesday in New York City.
Devi begins her senior year caught in a love triangle with nemesis Ben Gross (Jaren Lewison), to whom she recently lost her virginity, and art student Margot (Victoria Moroles). After Ben chooses to be with Margot, Devi sets her eyes on bad boy Ethan (Michael Cimino).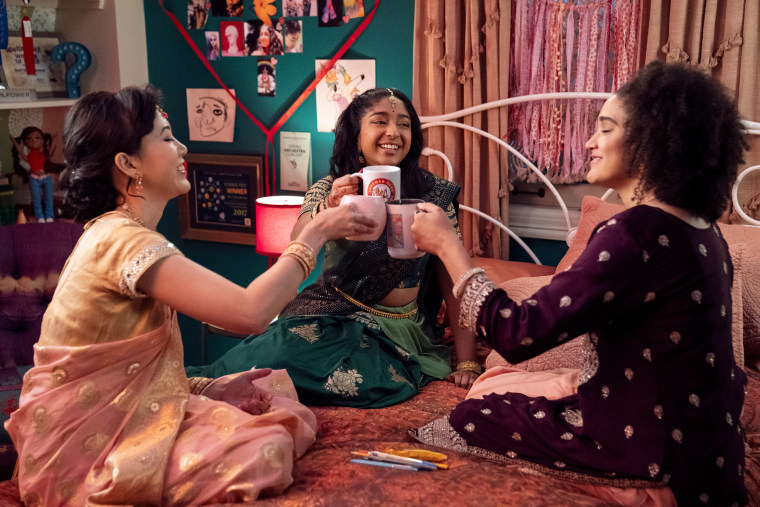 Ramakrishnan said that this season, Devi explores her romantic relationships in a new and healthier way. When Ethan jeopardizes her chances to make a good impression with a Princeton recruiter, she ends their new but passionate relationship.
"I love how she has navigated her worth when it comes to romantic relationships, especially as a young woman. Often, young women lose themselves in relationships because they want to please someone else. You don't want to seem odd. You don't want to seem difficult. You want to be worthy of love," she said.
Being the "it girl" who dates the most desirable guy in school was a dream for Devi for most of the series. But now, Ramakrishnan believes Devi, who did eventually date those guys, has grown past her boy-crazed goals.
She believes Devi's priorities have changed. Devi prays to the Hindu gods at different moments during the show, including the beginning of the school year and during Hindu festivals like Ganesh Puja. She often prayed for a hot boyfriend, no arm hair, smaller pores and invitations to parties with drugs and alcohol. In the finale, however, she takes the time to thank them, instead. 
"At the end, she's praying because she's grateful for the people around her, but she's also grateful for who she is to herself," Ramakrishnan said. "It's amazing to see a young woman be confident and love herself in a world where we don't have enough of that, especially among women of color. It's beautiful to see."
Throughout the series, Devi grieves the loss of her father, who died at her musical recital during her freshman year. Her feelings toward her dad came to a head this season when she yelled at his spirit, who is sitting on her bed while she tries to pack her suitcase. Ramakrishnan said she saw the moment as another step in Devi's grief journey.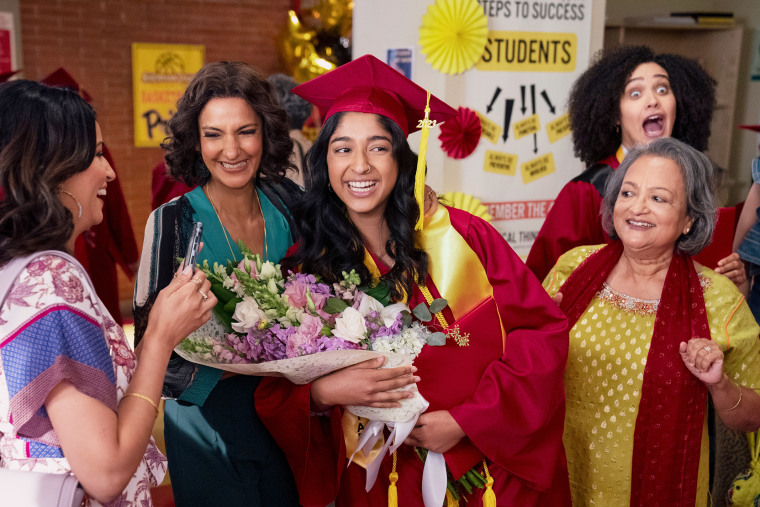 "That's the first time Devi's ever yelled at her dad. All the other times when Devi has gone to him for help in that dream state, she's always embraced his help, even though he's not there," she said. "This is the first time she's saying out loud, 'You're not even here,' and she yells at him. That's heartbreaking, because she knows that, and she's known that all these years."
Often, she found solace in the presence of her dad's spiritlike form. It's her mother who brings comfort to Devi, overwhelmed by the end of her high school career. Nalini (Poorna Jagannathan), who has a complicated relationship with Devi, sits beside her on the floor and helps her pack.
"Nalini and Devi see each other now. In the beginning, they weren't seeing each other or listening to each other. Devi thinks her mom doesn't understand her and is resentful towards her. Truly, she's just deeply sad and doesn't know how to communicate that," she said. "Nalini is disappointed that she doesn't know how to be a better mother. … I think their growth is all about listening and hearing and seeing each other."