The Census Bureau has begun rolling out ads in multiple languages to encourage people in hard-to-reach communities to participate in the congressionally mandated headcount — part of an effort that comes as many Asian Americans still fear that the questionnaire will ask them about their citizenship status.
"The 2020 Census is your census, and its success depends on you," Steven Dillingham, director of the Census Bureau, said in a statement this week.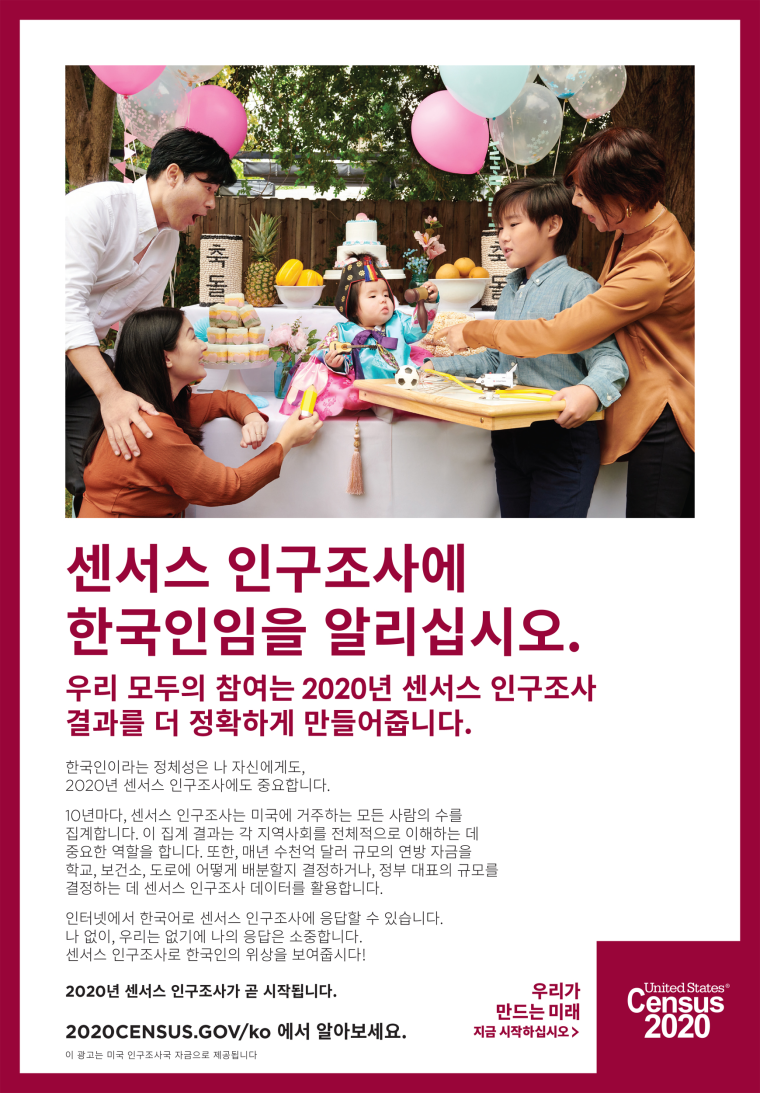 TDW+Co, the official Asian American outreach and communications partner of the Census Bureau, is one of 13 agencies tasked with creating ads for the bureau's $500 million public education and outreach campaign.
Advertisements will appear in Asian languages including Chinese, Japanese, Korean, Tagalog and Vietnamese. The effort will focus on television and radio commercials, digital, social media, print advertising and messaging on billboards and at bus stops.
Tim Wang, founder and principal of TDW+Co, said barriers faced by the Asian American community, such as having the least familiarity with and knowledge of the census and why it's important, were the primary drivers of their advertising campaign.
"We kept our hard-to-count populations in mind — those who are foreign-born or who live in households where English is not the primary language — and developed culturally relevant Asian advertising materials to educate, raise awareness and encourage our communities to participate in the census this year," Wang told NBC News in an email.
Conducted every 10 years, the census is used to decide the number of seats awarded to states in the House of Representatives, how representative boundaries are drawn, and how more than $675 billion a year in federal funds is distributed.
It's also used in determining which states and counties are required to provide voter language assistance according to the Voting Rights Act.
An inaccurate count could affect these outcomes.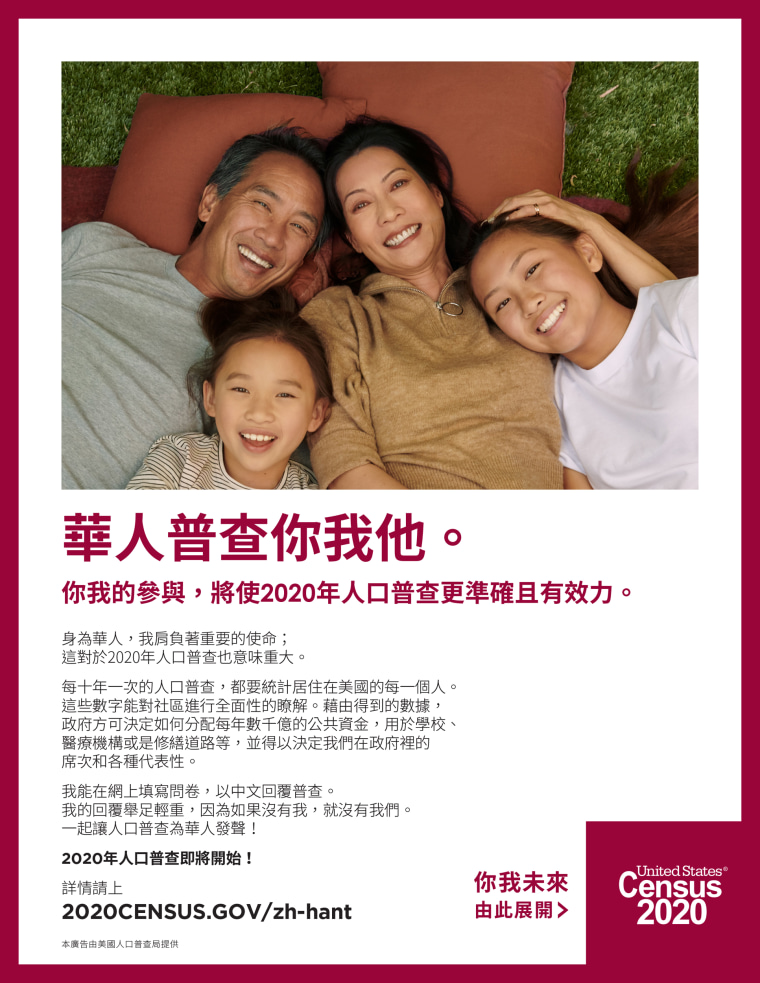 Concerns remain that a citizenship question might appear on the census, despite a Supreme Court decision in June that ruled otherwise. Asian Americans are least likely to fill out the census form — and most concerned their answers will be used against them — according to a survey released in January 2019 by the Census Bureau.
Community advocates have also expressed concern that Asian Americans could be undercounted in the 2020 census, including in the Midwest, which has seen some of the fastest rates of Asian American growth in the last decade.
The Census Bureau said its public education and outreach campaign will convey the importance of completing the census, and will include more than 1,000 ads that are intended to reach 99 percent of U.S. households.
Ads targeting multicultural and historically undercounted groups were unveiled on Tuesday, while those geared toward a general audience will roll out in mid-February.
Beginning in mid-March, people can respond to the census online, by phone or by mail.
In addition to the Asian languages, ads will also appear in English, Arabic, French, Haitian Creole, Polish, Portuguese, Russian and Spanish.
"We are extremely committed to reaching those people who are historically undercounted," Dillingham said. "Today, we will demonstrate how the 'Shape your Future. Start here.' campaign will do just that."