After its world premiere in Lithuania in October 2015, a new film about Japanese diplomat Chiune Sugihara, "Persona Non Grata," made its U.S. premiere this past weekend at the Atlanta Jewish Film Festival.
Directed by Japanese American Cellin Gluck, "Persona Non Grata" was filmed in Poland and stars Japanese actors Toshiaki Karasawa and Koyuki, and Polish actors Borys Szyc and Agnieszka Grochowska.
"Although we started production before the present refugee crisis came to a boil, the film and the events depicted in it seem strangely poignant in today's world," director Cellin Gluck told NBC News. "Both here at home and abroad, I can only feel as though we are headed down an ugly path we have all been down before, to what I would hope would be the dismay of humanity at large."
In an interview with the Atlanta Jewish Times, Gluck added, "It's the classic tale of a classic hero, in the sense that extraordinary things happening to ordinary people and the way in which they react is what creates a true hero. And that was our goal. He did what he believed was right, and his actions ended up making him a hero. He didn't set out to become a hero. It found him. He was a man that was driven by his conscience."
Sometimes called the "Japanese Schindler," Sugihara was a diplomat posted in Lithuania during World War II who defied orders and issued over 2,000 transit visas to Jewish refugees, famously continuing to sign visas even as his train pulled away from the station. He is estimated to have saved over 6,000 lives from the Nazis, who invaded Lithuania a year later in 1941.
Afterwards, his diplomatic career was ruined, he did not know if the visas had made any difference, and he lived a modest life in obscurity until he was found years later by one of the people he had helped.
Now he is considered a hero in Japan, and those people he saved have more than 40,000 descendants.
Sugihara is the only Japanese person to be awarded the "Righteous Among the Nations" (Chasidei Umot Ha Olam) title by Yad Vashem on behalf of Israel and the Jewish people, an honorary title given to non-Jews who risked their lives to save Jews during the Holocaust.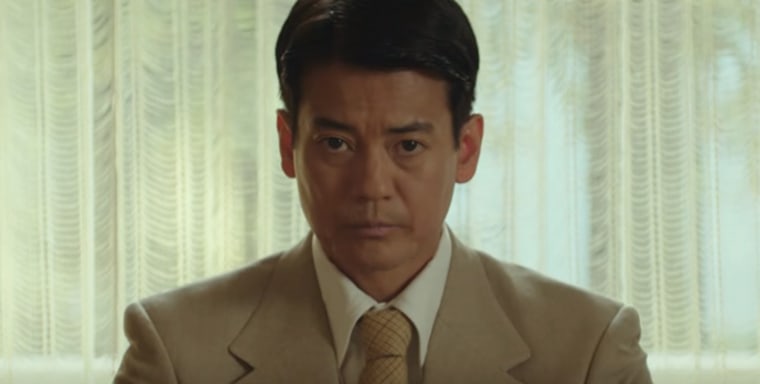 Sugihara's story has been previously portrayed in the 1997 Academy Award-winning short film "Visas and Virtue," directed by Chris Tashima, as well as in the 2000 PBS documentary, "Sugihara: Conspiracy of Kindness."
A bronze statue of Sugihara currently sits in Los Angeles' Little Tokyo, and there is also a children's book about his life: "Passage to Freedom: The Sugihara Story" by Ken Mochizuki.
"Persona Non Grata" open this year's CineMatsuri, the Japanese Film Festival, in Washington D.C. on March 20.
Follow NBC Asian America on Facebook, Twitter, Instagram, and Tumblr.
SOCIAL