A film currently in production wants to explore the origins of the highest-decorated unit in U.S. military history, World War II's 442nd Regimental Combat Team, which was made largely of second-generation Japanese-American soldiers.
"Go For Broke, a 442 Origins Story," is named after the motto of the 442nd and seeks to tell the story of the formation of the World War II-era 100th Infantry Battalion (which later merged with the 442nd), the 442nd Regimental Combat Team, and the Military Intelligence Service linguists.
"People know some of the history of the 442nd on the battlefield, but what led up to its formation is not known," actor Chris Tashima who portrays Shigeo Yoshida, a Japanese-American leader in Hawaii, told NBC News. "It didn't just happen by itself, and there were many fights that had to be won, on the local level [in Hawai'i], in order for government and military leaders to be persuaded to 'trust' the Nisei. This is important history, not yet told."
RELATED: New Smithsonian Digital Exhibition Honors Japanese-American WWII Veterans
Directed by Alexander Bocchieri, the film features actors Ban Daisuke ("Jinzo Ningen Kikaida"), Peter Shinkoda ("Daredevil"), Cole Horibe ("So You Think You Can Dance"), and Tashima ("Under the Blood Red Sun"). The film also features the music of ukulele virtuoso Jake Shimabukuro.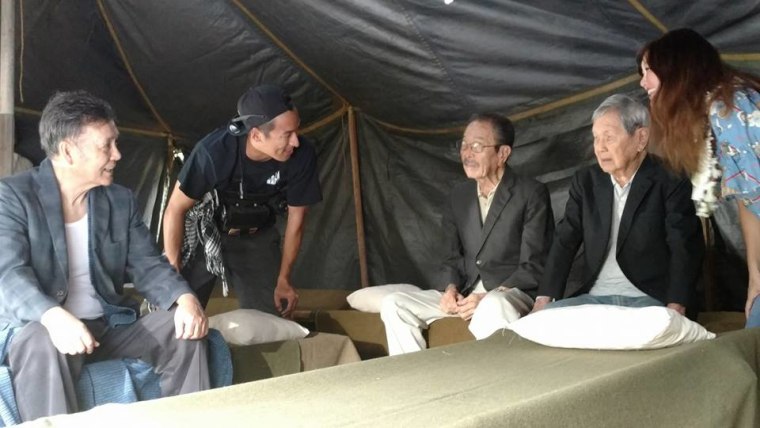 The story follows a group of University of Hawaii ROTC students after the 1941 attack on Pearl Harbor as they face distrust and discrimination in Hawaii, and as they form the Varsity Victory Volunteers (VVV), which leads to the formation of the 100th and 442nd.
"It's my hope that [this film] will create a dialog that helps to heal old wounds in survivors, and that later generations such as my own, as well as Americans of other ethnicities, will stop and think about what being American really means," Stacey Hayashi, the film's writer and executive producer, told NBC News. "I hope we can all better appreciate that our strength lies in our diversity, and in unity of our beliefs in freedom and equality for all. Fear and racism aren't good for anyone or any country, but they really have no place in America, a nation of immigrants."
Filming began in December, immediately after the 75th anniversary of the attack on Pearl Harbor, and is largely complete. One still — in which 17,000 bid aloha to military volunteers at Iolani Palace, the former royal residence of the Kingdom of Hawaii — remains to be to be shot and is scheduled for April, Hayashi said. Afterward, all that remains is post-production, for which the project is currently fundraising.
The film is expected to be released in 2017.
Follow NBC Asian America on Facebook, Twitter, Instagram and Tumblr.
This article has been updated to include the "Go for Broke" trailer.